Sydney
August 16, 1958 – August 2, 2023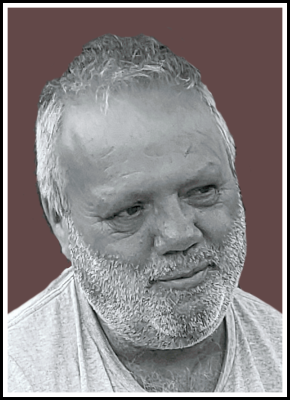 Parting is such sweet sorrow – we have lost the love of our lives; Greg went to his eternal rest on Wednesday, August 2, 2023.
Greg was the youngest son of Mary (MacInnis) Young of Donkin and the late Weldon J. Young of Sydney. Beloved husband of Brenda (MacNeil) Young; adored father to Chelsey Anita (Richard MacLeod); precious "poppy" to Theo Gregory, William Alexander and sweet baby, Violet Mae. Greg's light and love of life will live on eternally in their hearts. Greg will be remembered by his siblings: Hilary, Brian (Norma), Judi (Brian) MacLeod, the late Allan (Dee Dee), Tom (the late Debbie), and Dan (Dale); the MacNeil family: mother-in-law, Anita (Veesh) MacNeil; father-in-law, the late Lloyd MacNeil; Judy (Peter) Roston, Maureen (Bob) Smith, Rob (Maureen) MacNeil, Laurie (Brent) Musgrave, and Shauna (Sergio) Salamonovitz. Uncle Greg was adored by many nieces, nephews, grandnieces, grandnephews and godchildren. Greg is also survived by his uncle, Pius MacInnis.
Born and raised in Whitney Pier, Greg was an avid athlete in many sports throughout the years, but soccer was his favorite. As a passionate Montreal Canadiens fan there were many heated debates over the Leafs and the Habs!
Greg's true love was found with the girl next door and together for more than 50 years they enjoyed a life filled with great friends and extensive travel. A passionate musical fan, he loved live concerts, especially Neil Diamond…so good, so good, so good! Closer to home, Greg spent many summers enjoying the Margaree River, Whale Cove, Johnston's Harbour, and Baddeck making memories that will be told time and time again.
An electrician by trade, Greg was generous with his time and talents and was only a phone call away to help anyone in need. He lit up our lives and our homes on his beloved Cape Breton Island. Your light will continue to shine bright Greg!
His proudest role in life was the role of "poppy" to his three beautiful grandchildren. Greg's love and patience for them was endless; and he learned the new skill of Master Lego Builder which he treasured.
If lucky, people make a few good friends along the way. But Greg, he had many great friends especially Wayne (deceased) and Helen Barrington and Donnie Moore. Greg's unconditional love, kindness, and compassion were evident in his daily life. A life well lived! Greg was present for every celebration, and he was there to lend a helping hand whenever needed – thank you Greg! We love you and will miss you dearly.
The family would like to acknowledge with gratitude, dear neighbors, Ray and Corrine for their friendship, care and support during this most difficult time; the first responders who exemplified compassion and professionalism in our time of need and Father Paul Murphy for his spiritual guidance.
There will be no visitation for the late Greg Young. Memorial Mass will be celebrated on Thursday, August 10, 2023, at 10 a.m. in Holy Redeemer Church, Whitney Pier with Fr. Paul Murphy officiating.
For those unable to attend, Live Streaming will be available on our website.
Click Here: http://Face Book at Holy Redeemer
Faithful to his religion and devoted to his animals, donations in memory of Greg may be made to Holy Redeemer Church or the Sydney SPCA.
Funeral arrangements are entrusted to the care and direction of Pier Community Funeral Home.

Online Condolences
My heartfelt condolences to the young family on their loss….I knew Greg personally and he was a fine gentleman!!! Rest in peace my friend and God Bless you !!!!
From:  Larry (tete) Deveaux
My condolences to Brenda and the family. Greg was one of the good ones. He had that trait where he was always happy to see you when you ran into him. I didn't see him often but I will still miss him. Enjoy the memories.
From:  Dan Fogarty
so very sorry to hear of the passing of Greg prayers and thoughts go out to all the families at the time of this great loss
From:  Roy Campbell
Brenda,Chelsea,Ricky,,Tommy,Danny,Judi,Hilary and families,
Very sorry for the sudden loss . Greg walked into the golden arms of his adorable
loving mother Mary into the safety of love from God and his mother.
God Bless
From:  Michael Ryan
Brenda, Chelsey and family. We were so sorry to hear of Greg's passing, our thoughts and prayers are with you all. Going to miss seeing that beautiful smile and big wave every other day at the HP. God Bless, thinking of you xoxo.
From:  jackie matthews
Dear Brenda and Family; So sorry to hear of Greg's passing. I remember him well from the times we used to drive to work together. May God's presence be with you and your family during this difficult time.
From:  Audrey Dollimount
R.I.P. Greg.
From:   Gerald Davis
Brenda and family, we are so very sorry for your loss. Greg was such an awesome guy, he always brought a smile to my face whenever I ran into him. Thinking of you guys, may all the wonderful memories you made together carrying you through this very difficult time.
From:  Brenda and Paul LEBLANC
Chelsey, my sincere condolences on the loss of your dearly loved dad! He (and your mom) were so proud and happy being at parent teacher meetings to keep in touch with how well you, their daughter, was getting along. He (and your mom) were so happy with the way you were getting along and each time they came they left happy parents. So nice to read that he continued to have a happy life as husband, a father, a poppy, friend and neighbor! May he rest in peace!
From:  Patricia MacDonald
Dear Brenda and family. We were deeply saddened to read of Greg's passing. Please accept our deepest condolences. Our hearts r with you at this very sad time. Mary and Donald MacAulay and Doug and Joan Wrathall.
From:  Mary Macaulay
Our deepest sympathy. Thoughts are with you and yours.
From:  Gord and Susanne Wainwright
Sending my sincere condolences to you and the family. Thinking of you all during this difficult time, may you find comfort in each other.
From:  Dana Tynski
Brenda and family. I am so very sorry to hear of Greg's passing. Greg was truly one of the good guys. I always enjoyed our conversations, May time and family help you through this very difficult time, Rest in peace Greg!
From:  Marj Fogarty
My sincerest condolences Brenda and family for your loss.
From:  Colleen (Gallivan) Pettitt
We are so sorry to read of Greg's passing . May God give you strength and peace during your time of grieving.
From:  Alan and Erin Paruch
Our sincere condolences Brenda to you and your family. May your memories bring you comfort during this difficult time.
From:  Gary Fewer & Maxine Finnell