Regina/Whitney Pier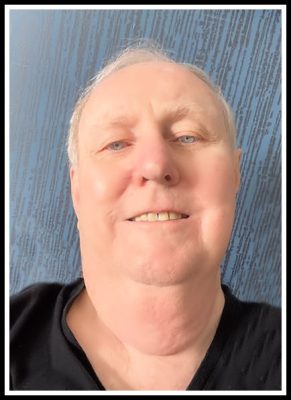 My passage on earth ended on Sunday, October 2, 2022. It was a wonderful journey and I leave behind a tremendous family, several loves of my life, lots of friends and many fond memories.
My greatest legacies are my two children, Stacey (Daniel Chih) and Liam (Sandra McIntyre); three beautiful grandchildren, Ciaran McGrath, Dashiell Black and Esme Pallas Black and furry companions, Rigby, Sushi and Ragnar. I hope I will be fondly remembered by them.
I began my path on May 31, 1949, when I was born to Rod and Mary Black of Whitney Pier. I inherited five brothers and sisters, John 'Barney' [deceased], Roderick 'Brother' (Mary) [deceased], Carmel, Francis 'Frank' (Donna), and Paul (Kaye); it took me a long time to train them. I appreciate all of the advice and support they provided. I want to thank my partner, Nan Mah and her son, Thomas for their love and support. I also want to express my thanks to my devoted friend and travelling companion, Lillie Wong.
I was predeceased by my parents and my brothers, John 'Barney' and Roddie 'Brother'.
My formative years were spent on Matilda Street in Whitney Pier with some of the best people in the world. My adult years gave me the opportunity to explore many careers and occupations that took me to every province and territory in Canada with lengthy stops in Winnipeg and Regina. I could have been a better brother, husband, father, partner, grandparent, friend and colleague, but I really don't have any regrets. I do hope that I will be forgiven for my faults and transgressions, and that I will be remembered kindly.
I now venture from the known into the unknown where our paths may cross again. My earthly remains have been cremated and my ashes will be buried at New Calvary Cemetery in Whitney Pier. A Celebration of Life will be held at a later date, to be announced.
Thank you to all the staff and doctors at Queen Elizabeth II Hospital, Halifax, NS, Chaplain Joanna Badu and Chaplain Ronald Cairns. Special thanks to Dr. Laniyi Ogunsanya, a wonderful family doctor and fine human being.
In lieu of flowers or donations, please show kindness to all.
Funeral arrangements are entrusted to the care and direction of Pier Community Funeral Home.

Online Condolences
our deepest condolences to Paul & Kay & Family on the recent passing of your brother, brother-in-law and uncle Joe.
From:  Bob & Barb MacLean
Joe and I worked together in Winnipeg for the government of Manitoba. He was a trusted colleague and good friend. I always enjoyed "chewing the fat" with Joe, solving the educational problems of the times. He will be missed.
From:  Karen Gregor
Paul, Carmel, Frank and Joe's Families,
I was saddened to hear of Joe's passing. I always enjoyed our chats, usually focused on what our Pier connections were up to, whenever our paths crossed.
RIP Joe.
From:  Chuck Drohan
Paul and Kay, so sorry to hear of Joe's death
From:  Bob and arlene McCarron
Our condolences to Carmel and family on Joe's passing. I knew Joe during my years at STFX Jr. College in Sydney. He was a lovely, fun, loving man, easy to talk with. The world's loss is Heaven's gain. Hugs.
From:  Alena (Bruce) Turnbull
Condolence Message We are saddened to learn of Joe's passing. We will always remember the happy times we spent with Joe. With our sincere condolences to all members of his family.
From:  Lloyd and Nickie Campbell.
My deepest sympathy Stacey and Liam on the death of dear Joe. I have known Joe for many years and enjoyed our many conversations and laughter. I will pray for Peace on his life in Eternity. May our Living God continue to Bless you with Courage. Strength and Courage in this your time of sorrow and loss.
Blessings and Prayers
From:  Audrey M. Brocklehurst
My sincere condolences to all the family who I have known for many years on the passing of Joe. May this celebration of life bring you peaceful remembrances of a very gentle man. RIP Joe. God Bless.
From:  Thelma MacKillop
Please accept my sincere condolences to the family.
From:  Bernadette Hollohan