Catalone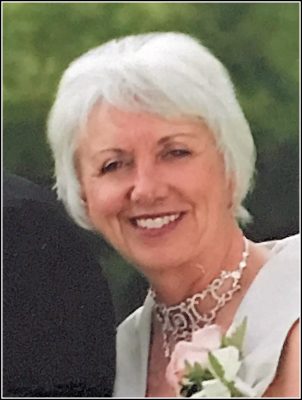 It is with great sadness that we, the family of Linda Kennedy, announce her peaceful passing on Monday, May 3, 2021 at the Cape Breton Regional Hospital, Sydney.
Born December 29, 1951 in Louisbourg, Linda was the daughter of the late Tom and Dorothy (LeBlanc) Lynk.
Linda is survived by her loving husband of 41 years, Tom Kennedy; children, Rhonda Hersey (Aaron), Gerry Lee, Cathy Ballentine (Paul) and Rob Kennedy; the loves of her life, her grandchildren, Colby, Ethan, Parker, Spencer, Katelyn, Justin and Luc.
Linda grew up in Old Town Louisbourg and later moved to Downtown Louisbourg. She worked as a hairdresser, a receptionist at the Best Western Hotel and the Fortress of Louisbourg, where she was a tour guide, a tourism liaison officer and finished her career as a historic interpreter.
Linda always had an attachment to Louisbourg and wanted to contribute to the tourism industry and in 1995, she made her dream come true when she and her husband, Tom, decided to build a tourism accommodation business on the water in Louisbourg, giving life to Point a View Suites. Later on, "Sabean" gave life to the Beggar's Banquet, where many tourists and locals enjoyed an 18th century meal, Nova Scotia traditional live music and a dance with "Sabean".
Linda enjoyed having family meals, watching her grandchildren play sports, picking beach glass with her grandchildren, meeting her friends for coffee and spending weekends in her camper van with her husband, Tom and browsing at Value Village. Linda was one of a kind and her family and friends were nothing short of blessed to have shared her life with her.
Linda will be greatly missed by her family, numerous friends, colleagues and staff at Point of View and the Fortress of Louisbourg. Her loving, warm and friendly personality brightened up a room and deeply touched every person she ever met. She always put the needs of others before her own and will always be remembered for this. Whether you knew her for 4 minutes or 40 years, you became her friend. Even during her battle with cancer, she was concerned for others and gave great advice. She was an active member of the Mighty Fortress Church of God and her faith was strong.
We, the family, would like to take the time to thank the doctors and staff of the Palliative Care Unit at the Cape Breton Regional Hospital and the VON for your compassionate care of Linda in her time of need. You all made her last days a little brighter by showing her compassion and care that was second to none.
Due to Covid-19 restrictions, a celebration of life will be announced at a later date.
Funeral arrangements are entrusted to the care and direction of Pier Community Funeral Home.

Online Condolences
So sorry for your loss, Linda was a special person and my second cousin.
From:  Joey and Madeleine Aucoin
So sorry for your loss
From:  Theresa Mac Donald
Dear Tommy
I am so sorry to hear of your loss- what a void this leaves in your family; and the community really. My heart goes out to you and your family in my thoughts and prayers
From:  Lori Kennedy
Omg I'm so sorry to her of Linda passing. Please except my deepest condolences. Linda you were a great lady, enjoyed working with you. Heaven gained another angel two in a few days a part mom is there with you fly high
From:  Loretta Brookman
Gerry and family
Bob and I are so very sorry about your mom's passing. She was an amazing lady who was loved by all who had the fortune of knowing her. Hang on to those great memories you've always shared about your "best friend", your mom. RIP Linda you will be missed..
From:  Bob and Joanne Beaton
Tom and family, so sorry to hear of Linda's passing, may she Rest In Peace. Sending prayers your way.
From:  Carmel Pasher
My deepest sympathy for your loss. Linda was such a warm and welcoming woman. She always greeted me with with a smile whenever she met me. Linda has was a great ambassador for Louisbourg and her fun loving personality made wonderful memories for countless people who came in contact with her over the years. Sending prayers to you Tom, and your family.
From:  Roberta Kelly
I was devastated to hear of Linda's passing. She was a force of nature, energetic, happy and friendly to all she met – and she met a lot of people. She was the best of ambassadors for the Fortress and community of Louisbourg. My sincere condolences to the family for this great loss.
From:  Anne O'Neill
Deepest Sympathy to Linda's family.She was an amazing person.
From:  Thelma & Sandy Evans
Dear Tom and family . So sorry to hear of the loss of Linda. Words cannot express the sorrow of this loss. May her memory be a blessing in the days ahead. Mac and Marie Mac Lellan
From:  John D Mac Lellan
Writing with a broken heart…no one will ever take her place here on earth. Linda we will miss you dearly, we had so many fun times together. hate that you left us, but to know that now your pain is gone and you will be together with your loved ones who have passed eases my pain of losing you..you will always be on my mind and forever in my heart….love you and will miss you.
From:  Diane and Howard Lawrence
Sorry to hear about Linda's passing. Our thoughts and prayers go out to you.
From:  Donny and Alcida LeBlanc
It's with great sadness that I pass along my deepest sympathy and condolences to Linda's family. She was my cousin and I have very fond memories of her. She was a special person…one in a million.
From:  Anne Marie LeBlanc
Tom and family we are very sorry and sad to hear the passing of Linda, She was a beautiful lady.
From:  Gerald & Karen Pino & Harry Pino
Deepest Sympathy to Linda's family. She was an amazing person.
From:  Thelma & Sandy Evans
Tom and family I'm so sorry to read this .May she rest in peace. Please accept my condolence. take care my friend.
From:  Alan Spinney
Tom and family, I am sorry for your loss. Linda was such a kind person and a good friend. God bless!
From:  Paul Douglas Carrigan
I am so sorry to hear of Linda's passing. I have worked with her and she was always a happy lady she brought a smile to everybody she worked with! May God Bless her!!
From:  Joseph Rosta
We loved Linda from the first time we met her ! What a warm loving and compassionate and talented lady ! Sending our sincere condolences to the family. Linda will continue her community work in heaven and will be sadly missed by all who knew her !
From:  Wilma and John McGrath
Tom – the world has indeed lost a bright light. I have so many memories of all the things Linda and I were part of in promoting our beautiful Island. I always respected her opinions and was so excited when Point of View became a reality. Sending warm thoughts and virtual hugs to you and your family.
From:  Barbara MacLeod
So deeply sorry to hear of Linda we were owners of seal island motel for years and new her well again so sorry .The Skinner family .
From:  Frank Skinner
So sorry for your loss.
From:  Harold and Judy Wadden
Sincere thoughts and prayers go out to Tom and the whole family in the loss of Linda and especially at this difficult time when we cannot be together to share and comfort each other. Linda was a bright light wherever she went and will be greatly missed.
From:  Calvin and Pat Lee
We wish to express our sincerest sympathies to the family and friends of Linda Kennedy. Our thoughts and prayers are with you.
From:  Gilles Maillet
Our sincere sympathy to Tom and all of your family….Linda had so many wonderful qualities….you have so many wonderful memories….we will not forget how kind she was to our parents…Maude and Joe Lovett and Olive and Jackie deVries….you are in our thoughts and prayers……
From:  Caroline Lovett
We extend our heart felt sympathy to the family of Linda Marie Kennedy. Linda was deeply loved and will be greatly missed by the Sajatovich family. She was an inspiration to all of us. We will hold in all the wonderful memories of Linda in our hearts forever Love from everyone Walter (Laddie) Chaline, Paul Sajatovich, Suzanne (Sajatovich) Berrryman.
From:  Paul Douglas Sajatovich
A very special person has left this us all and especially her very saddened family and friends. We can only hope that it doesn't take too long for the tears to turn to smiles at the very thought of this beautiful person, who left this earth too early. Thank you, Linda and Tom.
From:  Brenda and Jerry Redmond
I am sorry for your lost, Linda was a wonderful person, Condolences to the family and friends.
From:  Monique Berger
Tom and family.
We are so very sorry to hear of Linda's passing. She was such a kind and caring person with a real zest for life. We so loved the Beggars Banquet when she came out in costume, having everyone laughing and thoroughly enjoying the evening. She shone brightly wherever she went.
Our thoughts and prayers are with you at this time.
From:  Cathy MacDonald
Tommy and Family…..I am so saddened to hear of Linda's passing. I worked with Linda in the Hospitality Industry for some time. She was a wonderful co-worker and friend, always smiling, laughing with personality plus. My sincere condolences to you all during this difficult time. God Bless,
From:  Gail Murphy
I am so sorry to read about Linda's death. Linda was a remarkable woman. Any time I met her, she was so friendly and kind. In running her business, she went above and beyond to ensure my friends and I had a wonderful time, both at the Beggar's Banquet and the Point of View. My condolences to her family especially her daughter, Rhonda.
From:  Kathryn Cogswell
Very sorry to hear the news of Linda's passing. She was a lovely woman. My deepest sympathies.
From:  Lauri Ravanello
We are so saddened, to hear of Linda's passing. She was a special person and she made others feel special. And what a sense of humour. She will never be forgotten by those who worked with her at the Fortress. Not ever. We pass our condolences to you and your family, Tom. Lillian and Jean Rene Bourgeois
From:  Lillian Bourgeois
Very sorry for the recent loss of your dear Linda. Beautiful write up in the paper of a beautiful lady. Please accept our sincerest condolences.
From:  John & Bev Mullins
Tommy & Family: It is with broken hearts that we send this message. We were so sorry to hear of Linda's passing. She was a real gem. A beautiful friend and a very caring person to all she knew. She always had a sparkle in her eye and full of laughter and fun. We had many good times when Linda came to stepdance classes. We feel blessed to have known her. We know words can't change anything but we want you to know how special she was to us and you and your family will be in our prayers. RIP Sweet lady Linda.
From:  Marie (Currie Wilson) & Tom Wilson
To Tom and family, I'm so very sorry for your loss, … I was shocked to hear about Linda's passing, … she was a great friend of our family. Such a friendly person, always enjoyable to meet at the coffee shop or square dance with her mom and aunt. My deepest sympathy.
From:  Courtney MacPherson
Tom my deepest condolences to you and your family. Linda was one of those people whom one meets in life and never forgets. She had such a positive affect on one and her sense of humour was so uplifting.
From:  Mike Gardiner