Whitney Pier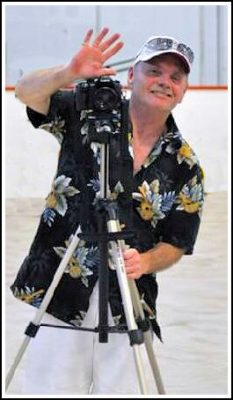 It is with sadness that we announce the passing of Wayne William Krszwda, 62, of Whitney Pier on Wednesday, November 20, 2019 at the Cape Breton Reginal Hospital, Sydney surrounded by family and friends.
Born on May 26, 1957 in Sydney, and raised in Whitney Pier, Wayne was the son of the late Michael 'Mitch' and Cassie (Halleran) Krszwda.
Besides his parents, Wayne was predeceased by uncles, Eddie (Mary), Stanley (Theresa), Rudolf 'Butch' and Vernon; aunt, Sissy, Calgary; cousin, Jokey; grandmother, Josephine 'Baba'; grandfather, John 'Gague' and Uncle Rudolf 'Butzak-Butch'. Wayne is survived by cousins, Danny, Cathy, Michelle, Jackie, Dianne, Belinda, Leo, Heidi, Robin, Ricky, Frankie, Joanne, Marina, Glen, Gary, Janice, Jackie, Robert and aunt, Betty (the late Frank) House.
Wayne was an amateur videographer, musician and an extreme Chicago Blackhawks fan. A graduate of Sydney Academy, he had so many great childhood memories on Ferris St. with all his friends. His grandparents and uncle shared a house on Ferris Street while they owned and operated Purity Bakery for many years employing many of the young men and women in the neighborhood. In his teens he relocated to Lingan Road with mom and dad where he really got busy with his dad as they got involved in the Harness Racing Industry building a very successful stable. Their team included Wayne's cousin Danny House along with drivers Don Codic, Larry and Gerry Snow. They became very respected horsemen winning many of the Maritimes top stake races. Their horses including Gypsy Hillman, Zapatha and Steelette Lady and her daughter Steelette Mist held track records at the Charlottetown Driving Park.
Wayne worked as a job steward for Labourers Local 92 Edmonton in many oil refineries in Alberta. He put his job on the line in defending workers' rights in the oil patch. He was highly respected for his ability to perform any task required. Wayne went on the become an addictions councillor attending many here in Nova Scotia then to New Zealand to become certified in addictions. For the next 25 years he dedicated a big portion of his life to helping the still suffering alcoholic.
Visitation and memorial service to celebrate the life of Wayne Krszwda will be held at Pier Community Funeral Home, 1092 Victoria Rd. (entrance on Church Street) on Tuesday, November 26, 2019. A gathering of family and friends will take place from noon – 1 p.m. with service to follow at 1 p.m. in the All Faith Chapel with Rev. Sheldon Chant officiating. Light refreshments will be served in the funeral home reception area following the memorial service. A private family internment will take place at a later time.
Donations in memory of Wayne may be made to Loaves and Fishes, Sydney.
The family would like to thank all those who had a hand in making Wayne's journey a little easier in his time of need including, Palliative Care, VON, the staff at the Cape Breton Regional Hospital. Special thanks to the ones who stood by Wayne through his illness, Hughie MacArthur, Kodey MacArthur and Jerry Hennessey.
Funeral arrangements are entrusted to the care and direction of Pier Community Funeral Home.
"I had a very beautiful and very good life. To those people of whom I have hurt either in words of actions, I apologize for my offence. My mother Cassie and father Mitch love and cared for me the best way they could, and I wish I could have done some things different in my life to have lessened their worrisome thoughts about me at times. To all my friends out west working in the Oil Sands, keep up the great work. I was blessed by working in Local 92, Edmonton and I have met hundreds of new friends and I thank Barry Hennessey for all his help, especially introducing me to Dr. Robert Smith and Bill Wilson in January 1994. I have so many great childhood memories from living on Ferris Street in my early years. I would like to thank all the nurses and staff at the Cape Breton Regional Hospital – absolutely great people to have by your side. And to all my friends who are friends of Bill W, one day at a time and easy does it. Until we meet again." – Wayne

Online Condolences
Murray Morris – Sorry to hear about Wayne
Martha Ross – I am full of sadness of the passing of Wayne Krszwda this morning. Wayne provided much support and help for NSEF and we are most grateful to him. Wayne Rest In Peace, we will miss you as our dear friend. Thoughts and prayers for his family, friends.
Jamie Andrea Hennick –  Very sad news today, Another Pier Boy gone far to soon! My condolences to Wayne family and friends Rest in Peace Wayne
Ray Anne – My condolences to his friends and family. Such a kind soul.
Helen King – Condolences to family and friends.
A great man..great loss
Tammy Martin – So very sad to hear of Wayne's passing. He was a champion for Cape Breton and will be missed. I'm thankful to have known him and grateful for all he's done for our Island. May he RIP
Mona Fraser –  Oh no 😭
I am so sorry to hear this is so sad.
Wayne was loved by many people. We all enjoyed his live show. My sincere condolences.
Laura Bonaparte – My sincere condolences to all ! We are losing too many people 💔
Charlotte MacMullin – Very sad to hear …great guy …may he now RIP
Chris Laveck-Bonnar – So sorry to hear this about Wayne. A great loss to NSEF.
Mark MacNeill – Sorry to hear this. RIP Wayne and kindest regards Hughie and Coady!
Alice Swan – Such sad news. My deepest condolences to his friends and loved ones.
Bob Gill – I knew Wayne for forty years, he was such a kind person, a great friend to have and he could really put a great song together. I will miss him.
Lynn Hussey – A big loss you will be missed Wayne..condolences to all.
Kathleen Maxwell – Oh my gosh. Such a wonderful kind soul. This breaks my heart to hear, mostly because he was so very optimistic about his health and because he was just a wonderful person. I send my deepest condolences to his loved ones.
Cindy Boutilier – Oh no! 😥 He was a great person!RIP Buddy..You'll be remembered by many ❤
Henry Talbot – God Bless his soul, RIP Wayne 🙏🙏
Wanda Donnie LeBlanc – Sorry to hear the passing of Wayne , deepest condolences. He will be missed and thanks for your support . Going to miss his broadcast 😢❤️. Fly high Wayne 😔
Larry Sr Hrynick – God Bless R.I.P. Wayne, we loss another fine Pier Boy 💔
Terrance W. MacDonald – He loved Cape Breton and he cared enough to fight for his island. We must carry on the fight for him. He will be missed. God Bless you Wayne.
Brian Gill – RIP Wayne, so sad to hear this. Always a smile and a laugh whenever I ran into him. Will miss that buddy.
Cheryl Campbell – May Wayne RIP. God bless.
Brian Steffens – My deepest condolences to you and your family. RIP Wayne
Betty Laffin – So very sorry and Heartbroken hearing this..My Condolences to all the Family..Wayne will always be remembered by those who knew him and to those,whose life he touched through his "Live T.V Programs"..May He R.I.P. and God Bless!Sad Day Indeed..💔😥🙏🏻
Shirley Ann MacLean – May he rest in peace! He is now with Jesus, and no longer suffering. Hugs to all his family and friends!
Derrick Murphy – RIP WAYNE, GOD BLESS YOU 😢😢
Ann Edwards – My heart is broken to hear this news! Wayne was a good friend whom I will miss dearly. My heartfelt condolences are extended to his family as they mourn his passing. Rest In Peace My Friend! God Bless! 🙏😥
Harold Youden – Wayne had a big heart just like His Dad Mitzi they are together again Rest In Peace my friend
Wilma MacInnis – Deepest Sympathy to Family and Friends..May His Soul Rest In Peace 🙏
Donna Binns Schedler – My deepest condolences to the family at this time of sorrow 💔🙏
Cora Moss MacNeil – He was a beautiful person. He is missed by so many.💔
Cathy Campbell – condolences sent to family and friends..RIP
Daryl Gromick – So sorry to hear about Wayne, I've know him since at least the early 80's, a really great guy, RIP Wayne.
Elaine Macrae – Sincere sympathy to his family and friends .
Barry Sr Walsh – Rip Wayne God Bless 😪
Barry Sr Walsh – Nova Scotia Equalization Fairness – Wayne was a great man he will be surly be missed 😪
Mona Fraser – So sad , God Bless him .
Real upsetting to hear this
Amanda Mary McDieu – Such a tremendous loss. A true warrior!
Linda Faye Covin – So sorry to hear this. My condolences to his family and friends.
Jeff Harbin – Rest In Peace my friend. My condolences to his friends and family. God Bless You Wayne
Peter Bee – Rest In Peace, Wayne.
Jeff McNeil – Sending my condolences, Wayne was truly an amazing man. I had the opportunity in the early stages of Cape Breton LiveTv to be on air with him. Even in the Oil sands Wayne did the Cape Breton LiveTv. Wayne will be missed by many. God bless.
Judy Hussey – Condolences to friends and family
Oscar Power – R.I.P My friend. Deepest condolences
Linda Doucet – Very sad! RIP
Mary Mackie – May he be at peace .
Jim Dunphy – Very sad news .God Bless
Taralynn Tankdown – Very Sad to hear of Waynes passing 😢..he was a great support to both our Sydney Roller Skating and to our Tar City Roller Derby Team ❤❤❤❤
Tom Mills – So sorry to see you go my friend .. rest easy ..RIP
Kim Carson Mills – RIP Wayne. You were a warrior til the very end 😞
Jenny Young-Buckland – Rest easy my friend you have left an imprint on the heart of cape breton
Diana Campbell – I have known Wayne all my life , he hung around with my brother who also passed , sore with the angels Wayne , you're truly going to be missed <3 ❤️🙏🙏 R.I.P. Condolences to all his family and friends ,
Wanda Best – Rest in peace Wayne
Tracy Smith – Rest easy my friend. God bless all the family.
Carolyn Jones – Prayers go out to and or family
Joe Hollohan – RIP Wayne!!!
Purvie Power – My condolences Wayne was great person and friend
Sonya R Whiffen – My sincere condolences to his family and to all
Donnie Macrae – Rest in peace my friend
Tom MacIntyre – My condolences…RIP… 🙁
Barbara Matthews – Sorry to hear, RIP.
Joseph Lelievre – God bless you my friend, may you Rest in Peace 🙏
Stacey Ellis – God bless him ❤
Deborah Poirier – Sorry to Here this..🙏❤️
Anita Hussey – My condolences
Richard Globe – A sad day.
Joanna MacIntyre – Rest Easy Wayne……. <3
Lloyd Hussey – RIP Wayne…
Colleen M Butler – RIP my friend, no more pain for you. Ill miss you my friend.
Renee Sampson – RIP Wayne.
Christina Joe – Rip Wayne.
Paul Fraser – Sorry to hear this.
Marilyn Graham – R i P my friend
Pat Gorman – Sorry for your lost
Madonna Doucette – My condolances to his family and friends.
I didn't know Wayne personally but I knew his reputation as a passionate Cape Bretoner who worked hard to make a difference in our community.
His life had an impact on our island, his legacy and inspiration will last forever.
MacD-Kori Kalo – So sad to hear this news, this man used the strength he had left to hopefully make a different for Cape Breton. He seriously, put his heart and soul into wanting better for the island. You could hear the sincerity in his voice.
Doreen Buffett – So soeey for your loss !!! He will be missed dearly !!!
Diane McDonald – Sorry For Your Loss such A Good Man 💔
Mary Thersa Mason – RIP
Jenny Mccarthy – Enjoyed our chats Wayne I learned a lot from you. Fly high my friend 😰🙏🏼🙏🏼💔
Charles Harris – My deepest condolences to his family and friends.
Noel Macleod – Deepest sympathy to his family and friends rest in peace wayne
Though we are miles apart my heart is with you all.Wayne was a real earth angel.He will be missed.I hope he is making beautiful music I heaven now
From:  Julie Hodgson
I wrote a condolence message a few days ago to the family of gordie gosse. today I write to the family of another friend who i grew up with in the pier Wayne krszwda. I will never forget the times we had growing up on ferris street. if kids today could see how it was they would envy us for sure. so many great memories. I spoke with Wayne a few times last week and was glad I did pick up the phone and call. I would like to wish his family and friends my sincere condolences on his passing. he can rest easy now his struggles are over.
From:  Rick Siwak Hamilton Ontario
My sincere condolences to his family and friends. Rest in peace Wayne.
From:  Debbie Kokoski
So sorry to hear about Wayne's passing. We knew each other many years ago and got back in touch through facebook. He was a beautiful soul and was so good to everyone, though sometimes hard on himself. I will always think of him when I hear April Wine. He encouraged me with my photography and art. And I hope I encouraged him with his. God Bless, Shirley
From:  Shirley Day
We were heartbroken to hear of Wayne's passing. He was one of the sweetest people- he always had a kind word whenever he saw him. A genuine,caring man, and also a talented musician.
We are thinking of you all at this difficult time.
From:  Bob and Mona Gill
My condolences goes out to the family and friends of Wayne..Fly high..
From:  Linda Covin