North West Arm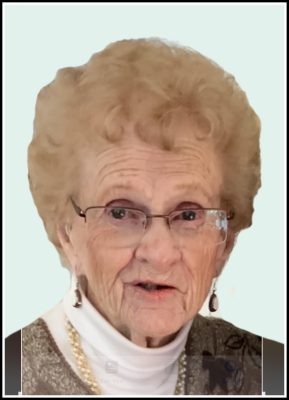 We the family, announce the passing of our beloved mother, Kay, on Friday, October 6, 2023. After a well lived life of 96 years, she passed peacefully with her children by her side. Kay was the daughter of the late Harry Riley and Elizabeth (MacKenzie).
Kay was proud of her Irish heritage, she loved dancing, was a true lady, a good sport with a keen sense of humour and a gift to make everyone feel loved, like a part of the family and always welcome. Born with a natural gift, she shared her soprano voice, never missing a note. She sang at the Lyceum in Sydney, in her home while doing housework or baking many goodies as well as in worship as a choir member for over 60 years at Holy Rosary Church.
Kay took pride in her appearance and her favorite saying was "don't forget-Saturday is do my hair day!".
In her youth, Kay could be found frolicking about "at the bungalow" in Red Islands with her family which became an annual tradition. These years provided her with cherished memories of many fun filled days and adventures. In 1944, during the later part of the war, she was employed with Dominion Steel and Coal Co; the following Year she transferred to the General Office with the Steel and Audit Department. For several Years following, she worked as a receptionist with Dr. H.F. Sutherland.
In 1951, Kay met and later married Stan, her beloved husband of 63 years. Together they raised their three daughters, whom they dearly loved. They enjoyed spending family time at Red Islands with the MacKeigans, taking afternoon drives, socializing with friend, dancing and visiting their girls in California and Halifax.
Kay was a member of Holy Rosary Parish, Westmount, Catholic Women's League and the church choir – a great love in her life. Kay was a recipient with several Certificates of Honor as Team Captain and as a volunteer for the Nova Scotia Heart and Stroke Foundation. She was also a member of Sydney and District "Heart Beats", and The Sydney Steel Workers and Pensioners Club.
Mom will be dearly missed by her two daughters, Colleen McClellan (Forrest), California, USA, and Joanne, North West Arm; son-in-law, Joshua (Rachael) Cua, California, USA; five grandchildren, Shamus, Kyle, Aelish, Jordan and Brandon; seven great-grandchildren, and numerous nieces and nephews.
Besides her parents, Kay was predeceased by her loving husband, Stan; daughter, Kathy Cua and sisters, Anne MacKeigan and Betty Gagne.
Visitation for the late Kathleen Henrich will be held at the Pier Community Funeral Home, Whitney Pier, 1092 Victoria Rd. (entrance on Church Street) on Thursday, October 12, 2023, from 2-4 and 7-9 pm. Memorial Mass will be celebrated in Holy Rosary Church, Friday, October 13, 2023, at 11 a.m. with Father Doug Murphy officiating. Interment will be in the parish cemetery. Reception to follow at Westmount legion.
For those unable to attend, Live Streaming will be available on our website.
Click Here: https://www.facebook.com/35925689617/live/
Our heart filled thanks go to Dr. Margaret Fraser and Julie, Kim Brown, Medical staff and care givers at CBRH, VON, Respite-McGillivary Guest Home and CB County homemakers for their dedicated care. We are truly grateful for your relentless dedication and compassion.
Donations in Kay's memory may be made to the NS Heart and Stroke Association or An Cala Palliative Care Unit in CBRH.
Funeral arrangements are entrusted to the care and direction of Pier Community Funeral Home.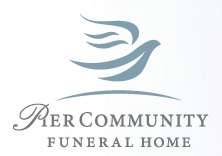 Online Condolences
My sisters Addie, Colleen and I would like to send sincere condolences to the family. May your many positive and loving memories carry you through this difficult period
From:  Terry Hatcher
Condolences to Kay's family and friends. Having known Stan, and Kay , through KOC ,
their leaving is certainly felt by the people who had the opportunity to meet them. Our prayers are with you.
From:  Tom and Agnes Gaskell
So very sorry to hear of the loss of your mom, it's been fifty years but I still remember her as a very sweet Lady
From:  Michael Nugent
A wonderful lady is now at peace. Love and miss you Kay…love No No or Nettie,…her nicknames for me.😘🙏❤️
From:  Annette Mrazek
I was saddened to hear of Kay's passing. She and my mom Sadie MacIntyre became friends when Colleen and my youngest brother Dannie were born at St. Rita's back in 1955. They kept in touch over the years and she and Stan often came to visit our home in Boisdale.May precious memories help you through this difficult time. Our thoughts and prayers are with you all.🙏🏼💕
From:  Peggy MacIntyre
Joey, Colleen and family, I am heartbroken to hear of your beautiful moms passing. I can't even begin to explain how much we all thought of your mom. Our deepest condolences to all of you. She Will surly be missed. My first thought when I read the obit was Mom will be waiting for Kaye with open arms and a good cup of tea. Big hugs to each of you., Pat & Kirby
From:  Pat Stapleton
Our sincere Condolences to Joanne, Colleen and families. Our friend and neighbor Kay was a wonderful person and great friend. Sending love from Mary & Jim Bryden.
From:  Mary Bryden
My deepest condolences Joanne and Colleen,and all the family. Kay was a lovely person, a cousin we enjoyed visiting when it was possilbe. I will be with you today and tomorrow in thought and prayers.. in a very special way. Love to all.
From:  Margaret Wincey
My sincerest condolences to Kay`s family. One of the nicest people I ever met as a child. Nothing but patience as I hung around my dad`s office after school as a 5 and 6 year old. Always gentle with a wonderful smile.
From:  Fabian Sutherland