Sydney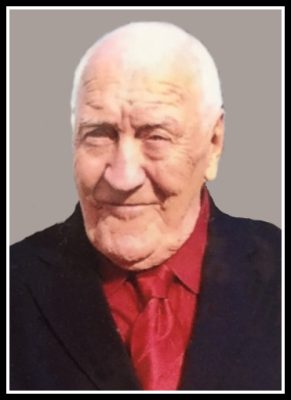 It is with broken hearts that we, the family announce the passing of our beloved husband and father, Maurice Joseph Sullivan on Monday, August 14, 2023, in Sydney.
Born on April 24, 1931, in Sydney, Moe was the youngest son of the late Michael and Suzanna (MacKenna) Sullivan.
Moe is survived by his wife, Joyce Louise Sullivan; daughter, Rose Roach (Bill); grandchildren, Courtney, David (Amanda) and Makayla (Shawn); four great-grandchildren, Madison, Azara, Owen, Larissa and two great great-grandchildren, Hazen and Nova.
Besides his parents, Moe was predeceased by his son, Ronnie Sullivan and his 17 siblings.
Moe was raised in Whitney pier where he was an avid church goer at Holy Redeemer. He was the coach of the Pier Aces baseball team and loved sports, especially bowling. He will be missed by his tarbish partners at Sydney Pensioners Club, and by the ones he loved being around the most, his family and friends.
Moe, you left us on a special day, your mom's birthday, but now you are reunited with all of your siblings and your son, Ronnie.
The family would like to thank the second-floor staff at MacGillivray's Guest Home for their care during Moe's time there, as well as Milo the cat frequent visits of comfort to his bed side.
As per Moe's request there will be no visitation and a Memorial Mass will be held in Holy Redeemer Church at a later date when he is reunited with his wife, Joyce.
Donations in memory of Moe may be made to a charity of one's choice.
Funeral arrangements are entrusted to the care and direction of Pier Community Funeral Home.
Tributes, words of comfort and memories of Moe may be shared with the family at www.pierfuneralhome.com.

Online Condolences
Joyce, Rose, Billy and family, so sorry to hear of Moe's passing, he was a true gentleman and a pleasure to have known.
Our thoughts are with you all.
From:  Jackie, Bruce, Victoria Matthews and Murdock and Angeline Cormier.
So sorry to hear about Uncle Maurice my condolences to Aunt Joyce and Rosemarie and the rest of the family Uncle Maurice was a very kind and friendly man to everyone he met he will be missed by all .So sorry for your loss may he RIP fly high with the Angels
From:  Lorraine Colbourne
So sorry for your loss. RIP my friend
From:  Mary Manning
So sorry for your loss. Prayers for strength for you!
From:  Brenda Tomie
He was a great addition to Fastball in the Pier. The fundraisers and donations that he and his lovely Joyce did out of their home. If not for this there would probably be no ball at all!
From:  John Hudgey Marusiak
So sorry to read of Moe's passing. My deepest sympathy to Joyce, Rose and family. Always a great guy when we use to bowl and he was such a good friend to my brother Bill. If there is a bowling alley in heaven, they will be there. Rest in peace Moe.
From:  Shirley Mclean
Rose and family,
So sorry to hear about Moe's passing. Our thoughts and prayers are with you at this difficult time.
From:  Alan & Alana Falconer
RIP old friend.
From:  Joe Mombourquette
Moe was a great man.I often ate at his kitchen table where you never went away hungry..he was a good provder and family man..he will be surely missed..may he Rest in Peace
From:  Don Mugridge
My deepest condolences to Rosie and the Sullivan family. Moe was a great guy n a carryng coach to all of us guys who played ball for him. He loved to see us all do good and he cared for us with a good heart. Moe… you will always be remebered by me & all the Pier Aces. We love you Moe. Rest with God friend.
From:  John MacDond (Chico)