Sydney Forks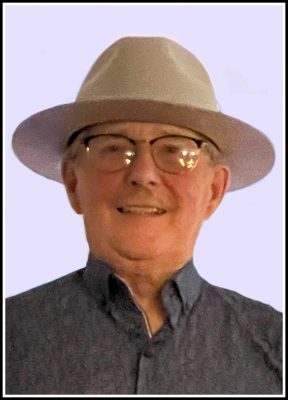 It is with broken hearts that, we, the family, announce the passing of our dear Carl Calder of Meadows Road, on Monday, Aug. 7, 2023, after 13 years courageous battle with cancer.
Born in Sydney, on March 10, 1953, Carl was the son of the late Alex and Margaret Calder.
Carl had a gift of working with his hands. He was a highly skilled motorcycle mechanic with a knack for fixing just about anything mechanical.
When he wasn't tinkering, Carl was using his hands to make music, his preferred pastime and lifelong passion. He was a talented, self-taught musician, who played both drums and guitar. When it came to his music, Carl was a perfectionist who appreciated the art of fine tuning his craft. He was a well-known drummer and a member of numerous bands over the years, playing a wide variety of genres from Rock to Reggae.
In 1996, Carl was the proud recipient of an ECMA award, along with his fellow members of the local children's band, Duncan and the Apple in a Tree Band.
Whether Carl was playing at a big stage event, a kitchen party, or a backyard bash, his wife and number one fan, Patricia, was always in the crowd, cheering him on.
Over the years, Carl and Patricia travelled to many places together, such as Ireland, Nashville, and many of the Canadian provinces. While they cherished all of their adventures abroad, day trips exploring the scenic back roads of our beautiful island or just relaxing in Gabarus with the peaceful ocean view were some of their fondest memories.
Carl was an avid sports fan, from hockey to Formula 1, baseball to Moto GP. This past June, Carl fulfilled his bucket list trip to the 2023 Montreal F1 race.
Of all his favorite sporting events, Carl was happiest watching his own boys', David and Andrew's, hockey and soccer games. He was a proud father and a pillar of support throughout their childhood, a constant that continued even after they grew up and moved away from home.
Carl is survived by his loving spouse of 33 years, Patricia (MacLeod), sons, David (Canmore, AB) and Andrew (Fort McMurray, AB); daughter, Kim Calder; grandson, Brandon, and his fur buddy and loyal companion, Dre. Carl is also survived by his sisters, Katherine Ravanello, Jean MacLean, and Debbie Calder (John Haughn); brothers, Stewart (Janet), and Peter (Judy); sister-in-law, Bonita Calder; mother-in-law, Marion Macleod; sisters-in-law, Charlene (late Danny) MacPherson, and Ann (Reid) Lea; brother-in-law, Alan (Debbie) Macleod; as well as many nieces and nephews.
Besides his parents, Carl was predeceased by his brothers, Alex, Bruce, and his father-in-law, Roy Macleod.
We are forever grateful for our wonderful family and friends for your love and support over the years. Your visits, phone calls, texts, and food deliveries were a great comfort during these last few weeks. The chats, the songs, the guitar tunes filled our hearts, and Carl's final days, with joy.
The family would like to thank Carl's family physician, Dr. Azer and oncologist, Dr. Khodadad, along with the staff at the Cancer Centre for their professional and compassionate care throughout Carl's illness.
A special acknowledgement to Palliative Care, VON, and Hospice for the exceptional support they provided, allowing Carl to stay in the comfort of his home with his family by his side.
Visitation and memorial service to celebrate the life of Carl Calder will be held at Pier Community Funeral Home, 1092 Victoria Rd. (entrance on Church St.), Whitney Pier on Thursday, August 10, 2023. A gathering of family and friends will take place from 1 to 3 p.m. with the memorial service to follow at 3 p.m. in the All Faith Chapel with Rev. Sheldon Chant officiating.
In lieu of flowers, donations may be made in Carl's name to Tom MacNeil's Cancer Patient Care Fund or Caleb's Courage through the Cape Breton Regional Hospital Foundation, or to a charity of one's choice.
Funeral arrangements are entrusted to the care and direction of Pier Community Funeral Home.
"The song has ended but the melody lingers on."
~Irving Berlin

Online Condolences
My deepest condolences to you all. Hugs and prayers.
From:   Agnes Harriss
Sorry to hear of Carl's passing. We worked side by side at motorcycle shops together over the years, we had a lot of good laughs together never a dull moment. Always remember him bringing his white mgb to work at leon's sport centre and rebuilding the motor on his spare time. I used to joke with him it will never go again and that we would have to fit a kawasaki engine in it.
From:   Jim and Lisa Jones
So sorry to hear of Carl's passing, our thoughts are with you Trish at this sad time
From:  Nancy Maxwell
Patricia & Family
Deepest sympathy to all of you.💔 We we're so glad to get together with Carl for a night of much music fun &
laughter after our move back to C.B.
He will be missed by all.
Hugs 💕 & A.F.F.A.
From:  Doddy & Bobby
Dear Trisha and family Our deepest sympathies go out to you all,Such a loss to you all , Carl was such a lovely kind quiet talented person and quite the fight he gave this disease !We Will remember him fondly as many more will do .Love to you all. Mike and From:  Delores Henick .
So sorry for your loss. Carl was a great musician and we enjoyed the time we got to witness his talent. Our thoughts are with you all during this difficult time
From:  Glenn, Eleanor & Morgan Shepard