Sydney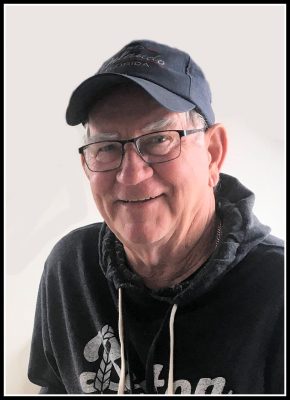 It is with broken hearts that we announce the passing of Daniel Gordon MacPherson, age 76, on Monday, July 24, 2023, after a valiant battle with cancer. In "true Danny fashion", on the hottest day of summer (his favorite kind of day), with his wife by his side, and the most magnificent sunset to light the way, Danny said his final farewell.
Danny was a proud "Shipyard" native, born in Sydney, on May 18, 1947, to the late Johnny and Pauline (Sheppard) MacPherson.
After working many jobs following high school, he found his niche in painting, and worked tirelessly as a self-employed painter for over 35 years. Anyone who hired "Danny the Painter" was guaranteed top-quality work, plus a bonus barrel of laughs and likely a lifelong friendship.
Danny was lucky enough to find love, not once but twice in his lifetime. He was a devoted husband to his first wife, Ann Marie, for close to 30 years until her passing in 2003. In 2005, Danny met the second (& last) love of his life, Charlene, and together they spent 18 glorious years together (11 years of marriage). They shared a zest for life which fueled their many adventures, big and small, over the years – exploring beaches from Cheticamp to Mexico, frolicking to live Celtic music at The Doryman or karaoke classics in the shed. Wherever they were, they were always happy together. Charlene loved to bake, and Danny had the world's biggest sweet tooth. Charlene loved to laugh, and Danny loved to make her laugh. They were truly a match made in Heaven!
Always the life of the party, Danny could loosen up even the toughest crowd with his quick wit and (often inappropriate) jokes. He was known to entertain a room with his "self-taught" guitar & harmonica skills. His jovial, carefree singing could be heard all over Shompe Dr. on a summer evening. He was always up for a good time, never a worry in the world about what others thought.
Danny also enjoyed the simple life – warm summer days sitting on his patio soaking up the sun, blasting his favorite tunes and having a chat with anyone who walked by. Neighbors quickly became friends, and friends became family whenever Danny was around. He had a way of bringing people together and keeping them coming back time after time with his playful spirit and countless collection of stories from his past. Danny could put a hilarious twist on the most ordinary series of events.
Family was everything to Danny. His grandchildren, Emily and Declan, were his greatest treasures. When Danny and Charlene met, he welcomed her family as his own, and proudly watched it grow into the "orphanage" it is today. Although remembering names was not his strong suit, his amusing attempts became the norm, and all the grandkids quickly learned to respond to "Johnny". This year, Danny's most precious gift was the birth of his first great granddaughter, Saoirse, a tiny blessing who has brought tremendous joy during trying times.
Throughout his illness, Danny's strength and courage never wavered, nor did his clarity and perspective. He remained positive, focusing on the quality of his life, the good years he lived, the good days remaining, and most importantly, the people he shared them with. Danny never took for granted the love and support he received from those who matter most, throughout his life, particularly, the last few months.
Danny is survived by his beloved wife, Charlene MacPherson, and their sweet furbaby, "Maggie Mae from Margaree"; son-in-law, Blair Crane; grandchildren, Emily (Stuart Morley) and Declan Crane, and great granddaughter, Saoirse; Michael and Nicole, Ella, Aubreigh, Lauchlin and Emery MacArthur; Michelle and Scott, Cate, Jena, and Carter Macaulay; sister, Sarah ("Bunnie") Bailleul and brother, Frank (Patricia) MacPherson. Also, Charlene's mother, Marion MacLeod and siblings, Ann (Reid) Lea, Alan (Debbie) MacLeod, Patricia (Carl) Calder, and many cherished friends and extended family.
Besides his parents, Danny is predeceased by his first wife, Ann Marie (parents, Leo and Vera Deveau); sister Cheryl ("Okie") MacAdam, and his grandson, Caleb MacArthur.
Heartfelt gratitude to the Palliative Care and VON teams, especially Heather and Lois, for their exemplary care, making Danny's wish of staying home possible.
Visitation and memorial service to celebrate the life of Daniel MacPherson will be held at Pier Community Funeral Home, 1092 Victoria Rd. (entrance on Church St.), Whitney Pier on Friday, July 28, 2023. A gathering of family and friends will take place from 1 to 3 p.m. with the memorial service to follow at 3 p.m. in the All Faith Chapel with Rev. Sheldon Chant officiating. Interment will take place in Resurrection Cemetery, Sydney Forks at a later date.
In lieu of flowers, memorial donations in memory of Danny may be made to "Caleb's Courage" or "Tom MacNeil Cancer Patient Care Fund" through the Cape Breton Regional Hospital Foundation.
Funeral arrangements are entrusted to the care and direction of Pier Community Funeral Home.
"If I had to do it all over again, I would find you sooner so I could love you longer".

Online Condolences
My deepest condolences to you and all. Hugs and prayers.
From:  Agnes Harriss
Dear Charlene, so very sorry to hear of Dannie's passing. He painted here many times and we had many laughs. He would paint and sing all day. If he didn't agree with what I wanted to do he would say, "Are you sure you want to do that?" We would talk about it and come to a compromise. He will be dearly missed. Our Condolences to you and all the Family.
From:  Harold & Lynn Gillespie
Condolences
From:  Charlene Marion Frankie(Pat) Michael(Nicole) Allan and families
Charlene & family we are so very sorry on the loss of your loving Danny we have been long time friends with great memories….words are scarce at this time.kindly extend our sincerest condolences to extended family Love Brian & Annette
From:  Brian Tetford
Dear Charlene: I was away and just learned of your husbands passing.. So sorry, did not know him but know that he must have been lovely to have been married to someone as nice as you. It is so hard to lose a wonderful mate and forge onward again but you have all your wonderful family and friends to help you through. Sending you lots of love and hugs & prayers, Sincerely Helen MacLeod, Howie Centre(retired from, GYN. Associates)
From:  Helen MacLeod
Dear Charlene: I was away and just learned of your husbands passing.. So sorry, did not know him but know that he must have been lovely to have been married to someone as nice as you. It is so hard to lose a wonderful mate and forge onward again but you have all your wonderful family and friends to help you through. Sending you lots of love and hugs & prayers, Sincerely Helen MacLeod, Howie Centre(retired from, GYN. Associates)
From:  Helen MacLeod