Cheticamp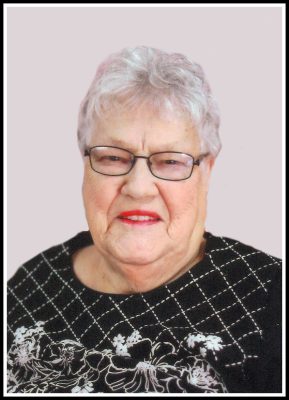 It is with profound sadness that the family of Dorothy May MacKinnon, age 91, formerly of Pleasant Bay, announce her passing on Sunday, July 30, 2023, in Foyer Père Fiset Guest Home, Cheticamp.
Dorothy was the daughter of the late John and Bertha (Burton) Timmons.
Dorothy loved children and looked after many, but there were three that were near and dear to her heart that she looked after for long periods of time just like her own, Angela, her granddaughter, Shawn Fraser and Matt Mattie (nanny's boy).
Dorothy enjoyed bingo, knitting, puzzles and going out for lunch with her sister, Eileen. She was an awesome cook.
Dorothy is survived by her children, Doreen (Wayne) MacKinnon, Pleasant Bay, and Wilson, Chéticamp; brother, Lawrence (Laura Lee) Timmons, Pleasant Bay; grandchildren, Angela and Adrian; great-grandchildren, Jillian, Jensen, Caylum and Samara; great-great-grandchild, Jace; sisters-in-law, Wilma and Gladys; as well as many nieces and nephews.
Besides her parents, Dorothy was predeceased by loving husband, Neil; sisters, Florence, Lena, Eileen, and brothers, Murdock, Kenneth, William, Donald and Winston.
Special thanks to Dr. Amelie Maillet, Brenda Poirier and staff at Foyer for their care of Dorothy in her time of need.
Graveside service to celebrate the life of Dorothy MacKinnon will take place at 2 p.m. on Friday, August 4, 2023, at the United Church Cemetery, Pleasant Bay.
Family flowers only. Donations in memory of Dorothy may be made to a charity of one's choice.
Funeral arrangements are entrusted to the care and direction of Pier Community Funeral Home.

Online Condolences
So sad to hear of your mothers passing, we were good friends back in the day, she use to sing to me when we were walking home, God love you all, LOVINGLY DONNA URQUHART
Dear Doreen, Wilson and family
Your mom has been such a big part of our growing up years. Always with a smile on her face and humming away a little tune of some sort… She was just a fixture anytime I went home for a visit she would be at the Evangeline restaurant her and dear Aunt Eileen. She will be missed. My heart n prayers n thoughts are with you all.
I will always remember her for her awesome baking and going over to play cards and just to chat. Was scared of uncle Neil's lol, but she would just say "Oh don't mind him"and a few other words too. She was there for us kids as we grew up to making us mittens or buying some school clothes etc.. we are coming home today but my sister's flight got delayed in Calgary so we will not be able to make it down.
Just wanted you to know how much I and my siblings loved 🥰 and respected your mom so very much.
Hugs to you all,
Love Kathy, Sharon, Roger, and all the family. Xox ❤️❤️