Sydney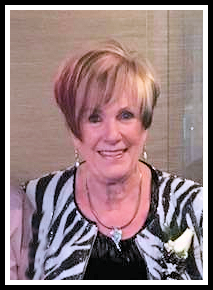 On Friday, July 21, 2023, this beautiful soul, Mary Keough, was called to heaven after a short illness.
Born in Sydney on September 5, 1937, Mary was the daughter of the late John and Anna Mae (Leslie) Wylde.
Mary was happily married to Joe, the love of her life for 66 years. They lived in the Pier in their early years and then Westmount and finally in Sydney River. Mary was a loving and devoted mother to her three sons.
Mary will be always remembered as the stylish lady with the purple streak on the side of her impeccably styled hair. Mary was a hard worker all her life, working until just three years ago. She worked for Dominion Stores as head cashier, Best For Less, Jacobson's Ladies Wear and lastly, Nygaard until it closed.
Being surrounded by family and spoiling them with food and treats was what Mary loved most. Every occasion was a reason to celebrate, and her home was always beautifully decorated to mark any event. Family, friends, and coworkers thought the world of her and her kind loving nature.
In their early years Mary and Joe were avid bowlers and enjoyed travelling to tournaments with their teammates. Later they became Snowbirds, spending winters in Florida. Most recently they have been content driving around Cape Breton and to Halifax.
Left to mourn Mary, are her husband, Joseph; sons, Brian (Liz), William 'Billy', and Tim; grandsons, Chris (Alex) Keough, Ryan (Chelsea) Keough and Adam Mahar; great-grandchildren, Gracie, Carter, Brantley, Palmer, Lenna, Emma and Ellie; brother, Tom (Brenda) Wylde; daughter-in-law, Emily Keough; brother-in-law, Dave Nearing; nieces and nephews, Pat, Ray, Jane and Vincent Kennedy, and Kelly Wylde.
Besides her parents, Mary was predeceased by her mother-in-law, Jenny Keough; in-laws, Marie and Ray Kennedy; niece, Theresa Wells and nephew, Casey Wylde.
The Family would like to thank Dr. Glen Worth, Shannon Worth and staff, the amazing staff of Unit 4C and Palliative Care Unit at the Cape Breton Regional Hospital.
As per Mary's request there will be no visitation and a memorial Mass will be held in Holy Redeemer Church at a later date when she is reunited with her husband, Joe.
Donations in memory of Mary may be made to a charity of one's choice.
Funeral arrangements are entrusted to the care and direction of Pier Community Funeral Home.

Online Condolences
Joe, Tim, Billie and Brain ,Tom and families I am so very sorry to hear of Mary's passing. A lot of great times were shared with Mary on our trips to Toronto and Montreal. WE shared many great times together .Memories are Gods gift to us and I will cherish those .Til we meet again sweet lady. Deepest sympathy .
From:  Starla & Barry Costello
Joe and family, so sorry to hear of Mary's passing. Our thoughts and prayers are with each and everyone of you.
From:  Jackie and Bruce Matthews.
To Mary's family my deepest sympathies! Just visiting from Ontario was very saddened to hear of her passing. One of my favorite sales lady…very lovely and kind
From:  Barbara Berger ( Mulvihill)
Sincerest condolences to Joe & family & Tom & family!
From:  Rita & Mike MacIsaac
My heart broke when I heard the news of Mary's passing. She was such a beautiful person inside and out. I'll always remember how much she spoiled us girls at Nygard with her treats. She was an absolute joy to work with and became a life long friend to me. Taylor and I will miss our visits on Halloween every year where Mary would have a special treat bag made up just for Taylor. My condolences to Mary's family for your loss. She was definitely one of a kind❤️
From:  April Serroul and Taylor Mozvik
Joe and family, my heart is broken to hear of Mary's passing! My thoughts and prayers are with all of you at this difficult time.
RIP Mary
Linda xo
From:  Linda Smith
Joe & Family, so shocked to hear about Mary's passing, she was a wonderful lady and was like family to Debbie and I. Deepest condolences from our family to yours, our thoughts are with you during this sad time.
From:  Gary & Debbie Chew
A "beautiful soul" indeed, my deepest sympathies to Joe, Brian, Chuck, Timmy and all. God bless.
From:  Paul
So sorry for your loss. Mary was a beautiful lady. She sure will be missed by all her family.
From:  Lisa Bonaparte
Joe and family, Please accept my most sincere condolences on Mary's passing. She was a wonderful lady! May she Rest In Peace.
From:  Susan (Malcolm McKay) George
Tom and Brenda- We are very sorry to hear of Mary's passing. Our thoughts and prayers are with you at this difficult time.
From:  Gary and Elaine Evely