Whitney Pier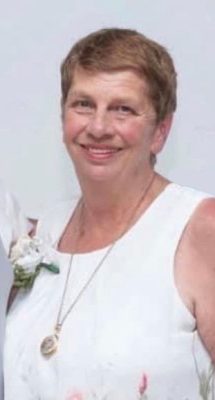 God has chosen another angel. Reunited at last with her son, Petey.
We, the family are heartbroken to announce the passing of Patricia Doreen (Neville) Gillis, age 77, at the Cape Breton Regional Hospital, Sydney, Thursday, July 6, 2023.
Born on October 10, 1945, Patsy was a daughter of the late Michael and Mary 'Babs' (MacLean) Neville.
Mom was a loyal and devoted wife of Peter C. Gillis of 58 years. Mom was a very independent woman who obtained her quick witt and one liners from her mother, 'Babs'. In Patsy's early years, she enjoyed to knit and crochet. She could be found doing the daily cryptoquote with her coffee and cigarette sitting by the window. Mom's quest to feed everyone if you're hungry or not was her thing. Cooking, baking and feeding everyone was definitely her passion in life. You never left hungry and she had the best tea biscuits in the Pier.
Patsy ran a doggy daycare but she hasn't owned a dog in years. She loved her grand dogs all like they're her own. She cooked them chicken and roast beef for supper. They were the best fed dogs around. Everyone including the dogs gained weight leaving Bison Drive. Mom and dad owned Pier Electric and Pier Confectionary Store in Whitney pier. Mom made the best fudge and sold it out of the store. People would come from all over to buy it.
The cabin in Margaree was a special place for mom and dad. Her favorite time to visit was in the fall when the leaves were changing color. She spent much of her time at the cabin picking apples and blueberries.  They held many parties and shared many memories over the years. Mom loved to see how many fish the kids caught. Family was absolutely everything to mom. She was a wonderful wife, mother and grandmother.
Patsy is survived by her loving husband of 58 years, Peter .C. Gillis; brothers, Melvin (Janet) and Lennie (Grace); sister, Marnie (Dan); daughters, Karen (Paul) and Brenda (Derrick); son, David (Shirley); grandchildren,  Derrick (Nicole), Jonathan (Kelsey), Keigan (Soraya), Ryan (Kayla), Kaitlyn (Connor), Mitchell and Rachel; great-grandchildren, Lauren, Logan, Ethan, Chloe, Lucas, Ryder, Ellie, Colby, Ben, Benson and Mya; sisters-in-law, Mary, Cathy (Richard), Lorraine (Ron) and Gerry; brothers-in-law, Duncan (Carmie), Stan (Joanne) and many extended family and friends.
Besides her parents, Mom is predeceased by her son, Petey; brothers, Neil 'Nibs' and Gerard 'Arky'; son-in-law, Kenny and brothers-in-law, Pat and Bernie.
The family would like to thank the staff in the stroke unit, 4C, at the Cape Breton Regional Hospital.
Memorial service to celebrate the life of Patsy Gillis will be held at Pier Community Funeral Home, 1092 Victoria Rd. (entrance on Church St.), Whitney Pier on Wednesday, July 12, 2023, at 2 p.m. with Fr. Paul Murphy officiating.
Donations in memory of Patsy may be made to the S.P.C.A. Cape Breton.
Funeral arrangements are entrusted to the care and direction of Pier Community Funeral Home.
Online condolences can be forwarded to the family at www.pierfuneralhome.com.
"If there ever comes a day where we can't be together, keep me in your heart. I'll stay there forever." 

Online Condolences
Peter and family, my sincere sympathy to you and your family.
from:  Carol Mackay
Our condolences to the family. Patsy was always so much fun growing up and of course in later years as well. She was a great fun person.
From:  Gen Fogarty/Kevin Primmer
My deepest condolences to Peter and his family. I grew up with Patsy , went to school from Primary to Grade 12. We met a few times over the past years. She was funny ,always keeping us laughing especially on the bus to school. She was a lovely lady and will be missed
From:  Myrna Brown
Peter, David & Family, So very sorry to learn of Patsy's passing. Our thoughts and prayers are with you at this sad and difficult time.                                                   From:  Brian & Maria Lamey, New Victoria
So very sorry to hear of your loss… My condolences to the entire family,
From:  J. Scott MacInnis
Dear Marnie, Dan, Peter and family:
We're very sorry to hear of Patsy's untimely passing. It must have been such a shock. Our thoughts and prayers are with you.
From:  Regina and Colleen Gillis
So sorry to hear , Peter and family
From:  Doug peters
We are saddened in hearing of Patsy's passing. Our prayers go to Peter and the Gillis family. We will always remember Patsy and her wit. Her one liners always were followed by a smile and a chuckle. RIP Patsy
From:  Michael Muise
My dear friend Karen and family, my sincerest condolences on the loss of your sweet Mum. You are in my thoughts and prayers at this most difficult time. Hold on to each other and help each other through this. God bless
From:  BettyAnne MacPhee
Sincere condolences on the loss of your mother. Our thoughts and prayers are with you all at this difficult time
From:  Rick and Sharon Tubrett
"I hope it brings you some consolation to know that Patsy's death has been felt by everyone who knew her. Her warmth and friendliness affected all of us. In our hearts, she will live on. Sincere condolences" With love: Len Sr. and Grace(Gillis) Neville, Len Jr. Susan(Musgrave) ,Nadine, Mark(Fleming) , Evan, Chloe, Shane and Luke.
From:  Leonard Neville
A donation has been made to the SPCA in memory of Patricia by Wilkie and Marlene Wilkinson
Going to miss you long time neighbour, and your fudge at Halloween ‼️ looking back and remembering all the Great times we had up on the hill ! Love and Prayers ‼️ Dorothy Murphy give Petie a hug from me 💔💔💔💔💔‼️
From:  Dorothy Murphy
So very sorry for your loss.. My thoughts and prayers are with you all during this very sad time.
From:  Nadine Hanna