Louisbourg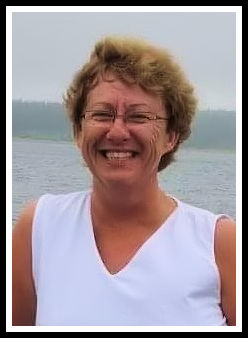 It is with great sadness that we announce the passing of our dear mother, Margaret 'Margie' aka 'Muggs' Colleen MacMillan on Wednesday, June 28, 2023, at the Shannex Orchard Court in Kentville, after a long and courageous battle with dementia. Mom was a loving wife, mother, grandmother, great grandmother, sister, aunt, and friend to many.
Margaret was born November 20, 1956, to the late Daniel and Sarah 'Sadie' (Ley) MacDonald and was raised in Little Lorraine with her many siblings.
Mom is survived by her loving husband, Daniel 'Danny' MacMillan; two loving daughters, JoAnn (Doug), and Dana (Madison); grandchildren, whom she called her "GOLD", Daniel 'the boy', Gracie 'Goose' (Blair), Owen 'Owie Bowie' and Lola 'Dolly'; two great grandchildren, Miah Belle, Ryder James, and two step-grandchildren, Lane and Brooke. Margie is also survived by her sisters, Rita, Mary, and Debbie (Lawrence); brothers, Lauchie (Irene), Jackie (Patsy), Bert (Clarisse), and Kenny (Laurie); sisters-in-law, Mary, Hellie, Thelma, Sandra, and Karen (Stanley); brother-in-law, Elliott (Kim); as well as many special nieces and nephews.
Besides her parents, Margie was predeceased by her brothers, Walter and Clifford; brothers-in-law, Fabian, Dennis, Paul and in-laws, Ernie and Annie MacMillan.
Mom enjoyed knitting, crocheting, gardening, camping, wood working and could master anything she put her hands to especially if you told her she couldn't do it. She enjoyed a good game of cards and winning whether that meant cheating or not. She enjoyed family vacations and her trips to see her girls. Her grandchildren were the light of her life and she put many miles on travelling to see them in whatever sport or event they had. She was a free spirit and the life of every party. When the light was on at the barn everyone knew they were welcome at Ma's.
In the last ten years, Mom faced her disease like she did everything in life, head on with humility, grace and a beautiful smile on her face. She enjoyed drives, music, ice cream, pepsi, chocolate milk, cheesies and lots of Mars bars. Her infectious giggle that we all knew never faded right until the end.
We would like to thank our family and many friends for all the love and compassion you have shown to us and Ma. We would especially like to thank the staff of Shannex Orchard Court for your kind, compassionate, loving care of our mother while she resided there for the last seven years. You were all family to her, and she loved you all.
Cremation has taken place. Memorial service to celebrate the life of Margie MacMillan will be at the Pier Community Funeral Home, 1092 Victoria Road, Whitney Pier at 2 p.m. on Sunday, July 2, 2023. Following the reception, interment will take place at Loch End Cemetery, Catalone.
Donations in memory of Margie may be made to Shannex Orchard Court, Kentville Recreation Department.
Funeral arrangements are entrusted to the care and direction of Pier Community Funeral Home.
'Those we love can never be more than a thought away, for as long as there's a memory, they live in our hearts to stay.'
Go rest easy Ma, we'll take it from here.

Online Condolences
Those we love don't go away. They walk beside us everyday. Unseen, unheard, but
always near, still loved, still missed and always dear.
Danny, my deepest sympathy to you and your family.
From:  Myrtle Cluett-Pepper
Dear Jo, Dana and family,
I am so sorry to hear of Margie's passing. She was a wonderful person with a great sense of humor, gone way too soon.
From:  Mabel Holland Troke
Danny, we are so sad to hear of your wife's passing at such an early age.
To you and your family our deepest sympathy and every blessing.
From:  Archiena and Cynthia MacLeod