Sydney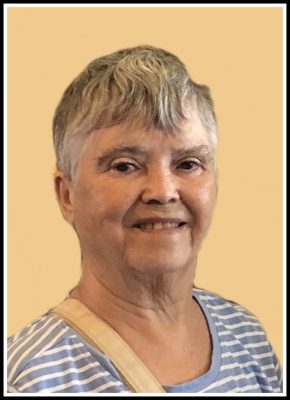 On May 17, 2023, in her home in Sydney, while holding the hand of her husband of almost 59 years, our beloved wife, mother, nanny, nanny two, sister, aunt, godmother and friend, Catherine Elizabeth 'Kay' Antle, age 80, passed away.
Born on August 25, 1942, in Sydney, Kay was the daughter of the late Donald and Annie (MacInnis) Smith.
Kay's love for children began, being the eldest in the family of six, and chose to go into teaching. She attended Normal College in Truro, Nova Scotia and began teaching at Five Island Lake just outside Halifax. She taught at other local schools, including Holy Redeemer, before joining her husband Raymond and travelling the world as a military wife.
After their children were born, Kay became a stay-at-home mother, however always looked for opportunities on numerous bases to connect with children and share her love of learning. She taught religion, was a Girl Guide leader, and took other children into the couple's home for childcare.
When at home you would often find Kay with her nose in a book. She was an avid reader and was quick to share any books she had with others.
Kay is survived by her loving husband, Raymond 'Junior' Antle; children, Brenda Drummond (Eric), Patti Schopp (Jeff), and Donnie Antle (Sarah); grandchildren, Alyssa Dawson (Fred), Becky Drummond (Bryan), John Drummond (Amber), Kelsey Drummond, Bradley Schopp, Jessica Schopp, Rhiannon Poirier (Brandon), Christopher Jinkinson (Stephanie); great-grandchildren, Owen and Henry Dawson, Amelia and Autumn Jinkinson; cherished sister and sister-in-law of Donnie Smith (Connie), Lou Jones (Tom), Martin Smith, Robbie Smith (Pat), and Ruby Antle; much loved aunt of Amanda MacLeod, Tracey Cameron, Tammy Jones, Alton Smith, Chelle Smith, Hector Smith, Glenna Smith, Sandy Anderson, John Antle, Wendy Bennett, Patti Bennett-Smith, Sheila Matheson, Valerie Creighton, Karen Coulter, Glen Jamieson, Brian Tell, Jane Moore, Lori Moore, Lynn Kent, Cindy Emsley, Michael Antle, and Jimmie Antle.
Besides her parents, Kay was predeceased by her brother, Jimmie Smith; sisters-in-law, Nancy Smith, Mary Bennett, Loretta Jamieson, and Anastasia (Stash) Tell; brothers-in-law, Ed Antle, Gord Antle, and Jim Antle; nephews, Jay Smith, Donald Antle, Robert Bennett, and Bobby Antle; nieces, Lorraine MacDonald, Donna Kowalchuk, and loved son-in-law, Paul Drummond.
In lieu of flowers, donations in memory of Kay, may be made to Holy Redeemer Building Fund, Heart and Stroke Foundation or a charity of one's choice.
Visitation for the late Kay Antle will be held at the Pier Community Funeral Home, Whitney Pier, 1092 Victoria Rd. (entrance on Church Street) from 2-4 and 7-9 p.m. on Wednesday, May 24, 2023. Funeral Mass will be celebrated in Holy Redeemer Church on Thursday, May 25, 2023, at 10 a.m. with Fr. Paul Murphy officiating. Reception will follow in the funeral home.
For those unable to attend the Mass, live streaming is available on our website.
Click here:  http://Face Book at Holy Redeemer
Funeral arrangements are entrusted to the care and direction of Pier Community Funeral Home.

Online Condolences
Our heartfelt condolences on your loss.
From:  Cathy Pace and sons Sean and Conor
To Ray and Family, I am very sorry to hear of Kay's passing.
She was a lovely, intelligent woman who will be missed.
I know you feel her loss keenly.
From:  Betty Morrison