Baddeck, (Formerly of Dartmouth and Western Head)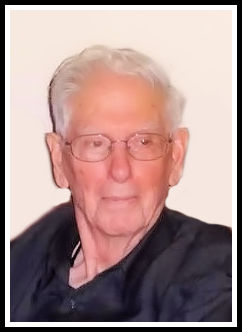 It is with broken hearts that we, the family, announce the passing of Murray Gardner Smith, age 95. Murray passed peacefully with his loving family by his side on Sunday, April 16, 2023, in Baddeck.
Murray is the son of the late Howard and Laura (Gardner) Smith and is the last surviving member of his immediate family.
Murray worked at Fairey Aviation Canada for a number of years before working at the Dockyard, retiring in 1993.
Murray is survived by his son, Allan (Barbara), Welland, ON; daughter, Susan (Mark) Pushie, Sydney; grandchildren, Jennifer (Matt), Josh (Alyssa) and Dylan; great-grandchildren, Sophia and Mason; as well as nieces and a nephew.
Besides his parents, Murray is predeceased by his loving wife of over 50 years, Joan (Balcom) Smith; sisters, Annie, Pauline and brother, Floyd.
Murray will be deeply missed by his family. His resilience and patience were second to none.
The family would like to thank the medical staff at the Victoria County Memorial Hospital, Baddeck, for their care and compassion that they showed to their father during his stay and to the McLeod House, where he lived comfortably and made friends during his final years.
There will be no visitation for the late Murray Smith. A private service will be held at a later date.
Donations in memory of Murray may be made to a charity of one's choice.
Funeral arrangements are entrusted to the care and direction of Pier Community Funeral Home.

Online Condolences
Susan and Allan and Family. I am so sorry to hear of the passing of your Father. He'll always be Mr.Smith to me. He was very kind man. Love to you all.
From:  George Jenkinson
We are so sorry for your loss. Your Dad was such a gentleman and glad to have known him.
From:  Anna & Melvin Cormier
Dear Susan, Allan & family, I am quite saddened to learn of your father's passing at a very advanced age. How wonderful that he seemingly adapted to life following your Mom's passing. He was always so even in his demeanor and so easy to talk with. Sadly after Our local Sobey's closed and that after moving from your home on Esson Road to Baker drive our times of encounter were few.
Our time of living over your heads was pleasant and always congenial.
There will be times of sadness as well as times of happy memories in the days ahead – your dad was a part of your lives for a long time and you were so blessed.
Please accept my deepest sympathy, sincerely,
Carolyn Chenhall & family
PS after leaving your home we had one more daughter and now have eight grandchildren. Sadly they no longer have a grandfather as Rick passed away February, 2022
From:  Carolyn Chenhall