Coxheath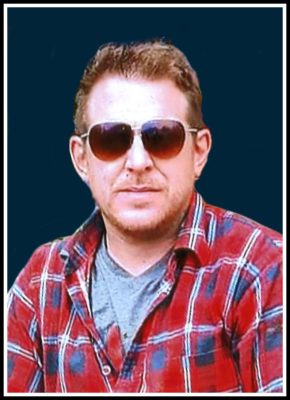 It is with profound sadness that we, the family, announce the passing of Cailin Dougall MacNeil in the arms of his loving mother on Saturday, April 1, 2023, at the Cape Breton Regional Hospital, Palliative Care Unit, Sydney.
Cailin was born on March 30, 1982, to Tina Marie and the late Curtis MacNeil.
Cailin attended MacLennan Jr. High, graduated from Riverview High School in 2000, and was a member of the Red Cup winning Riverview Redmen Hockey team which made for an epic graduation year. Cailin was a product of the County Minor Hockey Association, and like his father, was a loyal Habs fan. However, his favourite hockey years were those he spent playing with his buddies, where a couple of beers always added to the merriment of the game. He may have looked skinny but had some real weight to throw around as a defenceman. He may or may not have been taller than his brother.
Cailin graduated from Cape Breton University with a Bachelor of Arts degree. In his final year, he participated in a study exchange to Örebro, Sweden. This eventually led to a move to Portugal where he lived for three years and travelled extensively and met some of his lifelong friends. Cailin had a truly international entourage, and he proudly brought many of them home to visit the Cape Breton he loved so much. All were welcome at the MacNeil house, no matter how loud and in need of a shower. Upon returning from his time abroad, Cailin spent some time living and working in the North, where upon returning home to Cape Breton he was horrified to learn that cash was no longer accepted on flights. It was a long flight home!
Cailin was also a fearless tree planter. With some of his best friends he travelled the country, enduring frigid frost-covered mornings, angry bears, and vicious mosquitos. Despite the hardships, with his friends and a devil-may-care attitude, they conquered the Canadian Shield, the forests of BC, and our beloved Appalachian range here at home.
Cailin was an audiophile and building on his father's vinyl collection, he compiled an eclectic and impressive library. The MacDougall in Cailin always understood the importance of music, and that sometimes life needed to be set to a soundtrack in both joy and sadness. He may not have had the technical prowess of his cousins, but he could still be the life of the party if handed a guitar. Cailin was also a prolific painter and folk artist, and his work has been spotted all over the world, carried to all corners by his friends and fans. Often difficult and hard to penetrate, what was undeniable in all his work was a profound restlessness and longing.
Cailin was predeceased by his father, Curtis MacNeil; grandparents, Mary 'Books' and Johnny 'Flat' MacDougall, Russel and Maxime MacNeil, and by his uncle, John Allan MacDougall.
Left to mourn with loving memories are Cailin's mother, Tina (Jerome Campbell), Coxheath; brother, Ells (Lara Bajar), Ottawa; uncles and aunts, Redmond and Carol MacDougall, Coxheath, Jeanette MacDougall, South Bar, Brenda Heine, British Columbia, Ardith and Michael Fox, British Columbia, and Daria and Pete Durham, Leeches Creek. Cailin will be greatly missed by his cousins, John, Ian, Stephen, Jenny and Little Red. There's was a strong family bond forged in campfires, sing-a-longs, days on the Bras d'Or at St. Andrew's Channel at "the Bungalo". Cailin's absence will be deeply mourned, no less by his good buddy, Chairman Meow.
Cailin's family would like to express a heartfelt thanks to the Palliative Care doctors and nurse who provided comfort and care to Cailin.
As per Cailin's request there will be no visitation. Cremation has taken place. Memorial Mass will be celebrated at 11 a.m. on Wednesday, April 5, 2023, at our Lady of Fatima Parish with Fr. Everett MacDow and Deacon Michael McCarvill officiating. Following the Mass, there will be a reception at the Pier Community Funeral Home, Whitney Pier.
In lieu of flowers, donations in memory of Cailin, may be made to Talbot House, Hospice Palliative Care, Cape Breton, or a charity of one's choice.
Funeral arrangements are entrusted to the care and direction of Pier Community Funeral Home.

Online Condolences
Dear Tina, Ells and all of Caitlin's extended family:
We were so sad to hear this news. Caitlin was a wonderful " kid" in the Cantley neighbourhood. I remember assisting him to be one of our first exchange students to Sweden, he represented CBU so well. Our sincerest condolences.
From old neighbours Love and Hugs.
From:  Gail & Bob Muir
Tena and family ,so sorry to learn of Cailin's death .Still think of him as one of the many kids being born and growing up in Cantley Village .I wish you strength in this cruel journey .
From:  Bev and Dave Kennedy
Sorry for your loss, Cailin was a great guy
From:  Ken MacNeil
Condolences to Tina, Redmond and families on Cailin's passing. May he rest in peace.
From:  Paul & Colleen Mombourquette
I am deeply sorry Tina, Ells and Family,
There are no words of comfort to be spoken in mending your broken hearts, but in time all he has given, and his memories in time will bring comfort, until then May God give you comfort in hollow of his hand, in my prayers
From:  Tom Blanchard
Tina, Sandy and I were so upset to learn of Cailin's passing. We had no idea he was ill. Please look after yourself and I'll see you some time this summer. Take care.
From:  Cherie Gillis and Sandy Gillis
Tina very sorry to hear of Caitlin's passing. May you find comfort in your memories and get strength from the Lord. Our deepest sympathies
From:  Barbara and John Berger
Tina and Family,
So very sorry to hear about the passing of your son Cailin. Know that you are in our thoughts and prayers at this most difficult time.
From:  Dawn & Pat Donovan
We were so deeply saddened to learn of Cailin's passing. Betty, Greg and Kurt send our deepest condolences, thoughts and prayers to you, Tina, and your family.
From:  Betty and Greg Hill
So sorry to hear if Cailin's passing . Our thoughts are with you. The Elderkins from Wokfville.
From:  Peter Elderkin
Tina, Ells and family.
We were so very sorry to hear of Cailin's passing. Thinking of you all during this difficult time. Condolences to you all.
From:  Linda and Jack MacDonald
Jane and I would like to express our sincere condolences to you Tina, Jerome, and Elles, the MacDougall and MacNeil families. We share with you your profound sorrow of Caitlin's passing and with the strength of family and friends can overcome it.
From:  Jane and Vincent MacDonald
Tina and family,
So saddened to learn of Cailin's passing. I have such fond memories of him when he was at Riverview, such a kind, gentle young man. Please accept my sincere condolences.
From:  Carol Sparks
Dear Tina and family please know that we are so very, very sorry for your loss. God Bless you! May Cailin roam the many gardens in Heaven.
From:  Pauline & Dennis MacLellan
So sorry to hear of Cailin's passing. He was such a great boy. I remember so many times he came to our house with the boys. I loved to see them all. They were such great friends and he was the life of the party. They all loved to laugh at his jokes. Oh the good ole Cape Breton days. He will be missed by all who knew and loved him.
From:  Patricia and Vic Walker
Tina and family- Gary and I extend our heart felt condolences on the loss of your son. We will keep all of you in our thoughts and prayers.
From:  Gary and Elaine Evely
Dear Tina and family
Very sorry to hear about Cailin's passing. You're in our prayers.
From:  Bob and Bev Cowley
To Tina and family, I'm so sorry to hear about Cailin's passing. Please know that my thoughts and prayers are with you at this very difficult time.
From:  Sue (Irvine) Holmes
Tina and Family, so sorry to learn of Caitlin's passing. Seems like he had a very busy and eventful life although it was short. Please accept my deepest sympathy in your loss. You will have lots of lovely memories to carry you through this difficult time.
My prayers are with you.
From: Jean Marie MacNeill
Tina, my heart broke as I read this horrible news. I can't imagine how it must feel to lose your darling son and at such an early age. My deepest condolences to you, Jerome, Ells and the beautiful Mac Dougall family. Love, hugs and prayers for each of you. Priscilla Lotherington ( Celtic Colors,etc)
From: Priscilla Lotherington
Cailin was always a kind soul who was well liked by everyone. He's a part of my childhood memories and I'll hold his memory dear. My heart breaks for the family. Sending my love to you.
From:  Lianne Furey
Tina, Ells and family, we were so saddened to hear of Cailin's passing. He was such a kind person. Our boys share many memories with him. God Bless
From:  Danette and Kevin MacRae
The best of the best. So saddened to hear of Cailin's passing. Such a easy going caring individual, so glad I got to know him. Our hearts go out to Tina and family.
From:  Ron and Joanne Evely
Tina and family,
So very sorry to hear about your boy Cailin. They are always 'our boys', no matter the age. Sincere sympathy from a fellow Cantley villager whose son grew up here with Cailin. Praying warm memories will keep him close.
From:  Debbie(Black)Denny
I had the pleasure of tree planting with Cailin so many years ago in Northern Ontario and Alberta. He truly was one of a kind and have nothing but fond memories of him. I can still hear his laugh and am very sad to hear of his passing. He was a gem and we are all greater people for knowing him. May he rest in peace ❤️
From:  Olivia Jackson
My heart is breaking for you, Tina, at the loss of your son, Cailin. My condolences and prayers go out to you and your family.
From:  Joan Thorne