Whitney Pier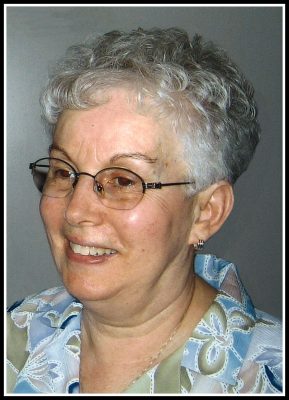 Promoted to Glory. We, the family of Yvonne Head regretfully announce her passing on Tuesday, April 18, 2023, at Harbourstone Enhanced Care, Sydney.
Born on September 30, 1935, in Whitney Pier, Yvonne was the daughter of the late Charles and Annie (Anderson) Poirier.
Yvonne is survived by her daughter, Linda (Dan); son, Kevin (Glenice); grandchildren, Lisa (Steve), Laurie (Matthew), Stephen, Mike, Andrea (Shaun), Denise (Doug) and Michael (Kayla); great-grandchildren, Joshua, Mackenzie, Eli, Owen, Rory and Rhys; siblings, Beverly (the late Dave) and Robert (Pansy); as well as many nieces and nephews.
Besides her parents, Yvonne was predeceased by her husband, Clyde; brother, Billie (Lil) and in-laws, Florence (Ches), Nancy (George), Mary (Edgar), Greta, Walter (Gladys), Bill (Tina), Rolf (Peggy), Earl (Louise), Carl and Melvin (Doris).
Yvonne was a faithful member of The Salvation Army, but more importantly, she was a faithful servant of Jesus Christ and has now been promoted to Glory.
Visitation and memorial service for the late Yvonne Head will be held at the Pier Community Funeral Home, Whitney Pier, 1092 Victoria Rd. (entrance on Church Street) on Sunday, April 23, 2023. A gathering of family and friends will take place from 1-2 p.m. with the celebration of Yvonne's life following at 2:30 p.m. in the All Faith Chapel with Majors Wayne and Cavell Loveless officiating.  Interment will take place in Eastmount Cemetery, Whitney Pier.
For those unable to attend, Live Streaming will be available on our website.
Click Here:  https://www.facebook.com/35925689617/live/
Donations in memory of Yvonne may be made to Parkinson Canada.
Funeral arrangements are entrusted to the care and direction of Pier Community Funeral Home.
Online condolences can be forwarded to the family at www.pierfuneralhome.com.
"My message to my family is this, Love the Lord and each other and meet me in Heaven"

Online Condolences
Kevin, Linda and family please accept our deepest sympathy for your loss.
Sincerely, Joe and Janet Peters
Our thoughts and prayers are with you. May she rest in peace.
From:  Fred and Elsie Furlong
Kevin, Linda and families so sorry of your mom's passing my thoughts and prayers are with all of u. Spending a lot of my younger years at your house brings back a lot of memories of your mother and how she was always so kind to me. We had many phone conversations in the past few years the last one just on Fri she always made me feel good especially after Brian passed will always be grateful to her. God Bless each of u and your family
From:  Debbie Edwards
To All the Family
Our sincere condolences on Yvonne's passing. Always a sweet and pleasant lady with a smile on her face. Our Family thought the world of her; a huge loss for us all!
From:  Gary & Paula Kennedy
Linda and Kevin and family I am sorry to hear about your dear moms passing. Lots of wonderful memories of your mom from church and Sunday school . She was a amazing example and teacher of a Godly women. I loved listening to her testimony and how she loves the Lord. May you find comfort in knowing she is in Heaven and someday will be together again.
My deepest condolences .
From:  Marsha (Pyke) Walker
Linda, Kevin, Bev and Robert and family send my sincere condolences. Your mother/sister was a Saint on earth and an inspiration to everyone who knew her. She will be remembered by everyone young and old that has .et her. May we all carry on the same unconditional love she showed us all, as well as her love and faith in God. Hugs❤️🙏🏻
From:  Juanita Collier