Sydney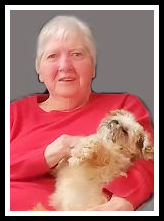 It is with deepest sadness that we, the family, announce the passing of Mary Gillis after a brief illness with cancer, on Friday, April 14, 2023, at the Cape Breton Regional Hospital, Sydney.
Born on January 24, 1944, in Sydney, Mary was the daughter of the late Ronald and Ella (Carew) Rowe.
Mary grew up in the Pier and soon started her career at the Adult Vocational Training Centre. Mary was a loyal and supportive friend. She loved playing cards with her club friends, playing bingo, and loved to have a good laugh. Mary liked to keep up to date on all that was going on. She was known to ask, "what's your father's name" and chances were she knew them. What Mary loved most was to go for drives around our beautiful island with friends and her fur companion, Lilli.
Mary is survived by her two sons, Craig and Scott (Annette); grandchildren, her pride and joy, Ben, Sam and Jenna; brothers, Bobby (Wilma), Harold (Bettina), Brian (Kay), and Barry (Joan); sisters-in-law, Mae and June; as well as many nieces and nephews.
Besides her parents, Mary was predeceased by her husband, Jimmy 'Champ' Gillis, and siblings, Maxine, Phyllis, Allan and Ron.
Memorial service to celebrate the life of Mary Gillis will be held at Pier Community Funeral Home, 1092 Victoria Rd. (entrance on Church St.), Whitney Pier on Thursday, April 20, 2023, at 11 a.m. with Fr. James Oliver officiating. Interment will take place in Forest Haven Memorial Gardens.
Donations in memory of Mary, may be made to the Hospice Palliative Care Society of Cape Breton County.
Funeral arrangements are entrusted to the care and direction of Pier Community Funeral Home.

Online Condolences
To The Family of The Late Sister Gillis.
So sorry to hear of your loss of Sister.
She was a good friend and a good neighbor.
Treasure your memories and God Bless.
Sincerely
From:  Greta Nearing.
I have such fond memories of growing up next door to the Rowe family.We had a great connection then and though some of us lost touch,the memories remain.It has been a very challenging time for the Rowe family and I keep you all in my prayers for strength.The world has lost a great gal when we lost sister.
From:  Brenda Tomie
Craig, Scott and Families,
Sending condolences to the entire Gillis/Rowe Families. Sister was a sweet loving woman, whom I had the pleasure of growing up with in the "Pier". I shared many breakfast's with her and Jimmy when I was shotgunning on his truck at Pier Services. May you rest in peace "sister" and I hope the famiies find peace and love during this most grievious period!
Respectfully,
Josie Hollohan
From:  WILLIAM JOE HOLLOHAN