Sydney
It is with heartfelt sorrow that our family announces the sudden passing of our beloved Tyler Hugh William MacEachern, a loving son, partner, brother, father, uncle, cousin and friend. Tyler passed on Saturday, March 18, 2023, in Sydney.
Born December 14, 1989, Tyler graduated from Riverview High School in 2008 with wide eyes and big dreams for the future.
Upon completing high school, Tyler lived, worked and adventured his way throughout Canada and the world, always returning to his home in Cape Breton, where he would eventually plant roots and start a family.
Tyler's work ethic and love of people shined at his time with employer, Protocase, but Tyler's true passion was in family, music, adventure and conversation.
If you know Tyler, you know music was central to his soul. Tyler loved to introduce music he enjoyed to the lives of the people he loved, and later in life, Tyler turned his passion into writing music with the goal and ambition of making and sharing his vision with us all.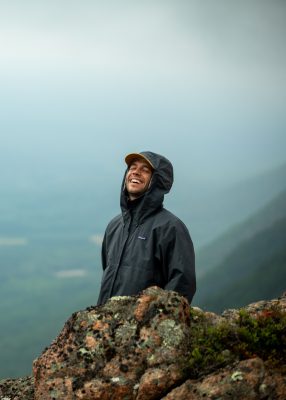 Tyler called Sydney home, and his heart was and will always remain in Cape Breton, but he also made the world his playground. Travelling, hiking and immersing himself throughout Canada, the US, Scotland, Spain and Australia, Tyler truly created himself.
Tyler found his true purpose with the arrival of his beautiful daughter, Myrah. We are saddened that Tyler will not be able to continue to share and teach his loves, interests and dreams with her. Tyler sought to encourage Myrah to partake in his passions and always kept her by his side on his adventures.
Tyler will be fondly remembered by all and in his own words, "I love every single one of you I've passed" – Tyler MacEachern
Tyler is survived by his daughter, Myrah Grace; loving partner, Nicholle Morrison; parents, George and Velma (Mills); sister, Nicole MacEachern (Darryl Schneider); nieces and nephews, Keaton, Adrienne and Reid; in-laws, Michael Morrison Sr. (Marion) and Michael Morrison Jr.; as well as aunts, uncles, cousins and many close friends he considered family.
Tyler was predeceased by his paternal grandparents, Hugh MacEachern (Catherine MacKenzie) and maternal grandparents, Hilda MacArthur and Bert Mills.
While flowers are an appreciated gesture, the family is asking that you use your generosity to make a long-term impact on the lives of others. Please consider donating to mental health programs or childhood development support for families with young children. CBRHF can assist donors to ensure their funds will make a difference in our community.
Visitation and memorial service to celebrate the life of Tyler MacEachern will be held at the Joan Harriss Cruise Pavilion, 74 Esplanade, Sydney on Saturday, March 25, 2023. A gathering of family and friends will take place from 10 a.m. to 1:30 p.m. with the memorial service to follow at 4 p.m. with Michael Morrison officiating.
For those unable to attend, Live Streaming will be available on our website as shown below.
Click Here:  https://www.facebook.com/35925689617/live/
For a copy of the Order of Service Click Here:  MacEachern, Tyler – Order of Service –
Funeral arrangements are entrusted to the care and direction of Pier Community Funeral Home.

Online Condolences
Hearing of Tyler's passing has left me heartbroken for his family and friends. Sincere condolences to all. May he rest in peace.
From:  Marion J. Macneil
George, Velma & Family
So sorry to hear of Tyler's passing, Tyler was a great friendly neighbour, who always came over and had Tea and a chat, couldn't meet a nicer person. Our Thoughts and Prayers are with you all at this sad time
From:  Gerard & Brenda McGrath
Deepest Sympathy to the MacEachern Family on your sudden loss of you son, brother & friend. I hope you find support within each other during this tragic time.
May Tyler rest in peace.
Sincerely,
From:  Shirley & Carl NacRae
Velma I am sending my heartfelt condolences to you and your family at this most difficult time .All my love and support to you all, may Tyler's beautiful soul RIP ❤️
From:  Maureen and Pat Sutherland
Dear George, Velma ,Nicole and family
You are in our thoughts and prayers. We didn't know Tyler as we had moved by the time he arrived but as I read about him he sounds like he was a nice young man, dad and partner. His love of music came from you George I'm sure. You will find strength in each other and your many friends.
Due to the unpredictable weather this weekend Bob and I will not chance a snowy drive but we will be thinking of you. Love cousin Bev
From:  Beverly Cowley (MacKenzie)
Condolences to you and your Family, George.
Sorry for your loss.
From:  Malcolm Campbell
George, Velma, & Nicole,
I was devastated and heartbroken to hear about Tyler's passing. I had the great pleasure of teaching Tyler and he was always friendly, respectful, and giving. His huge smile could brighten a room and his generous heart made those around him feel special. I can't even imagine what you are going through, but please know that you are all in my thoughts and prayers. Take care!
From:  Janice Hanna
I only met this young man once.. as he passed by my house last summer walking with the stroller with his new daughter. I was struck by his shear joy and pride on wanting to stop and cheerfully introduce the " newest member of the neighborhood" .. his daughter, Myrah to myself and my friend as we sat on our deck.
As I heard of his passing, although only meeting him once.. my heart is broken for his family. He was obviously a bright light here on this cold, sometimes very hard Earth.. and I know he will shine that light down here from Heaven.
Please accept our condolences.. from your neighbor- ❤️
Please take some comfort in knowing you now have an Angel you know personally by name.
From:  Barb & Robert Clarke and family
George, Velma and Family,
I was saddened to hear of Tyler's passing. My thoughts and prayers are with you at this difficult time.
From:  Chuck Drohan
Devastating news Cuz. Our deepest condolences to you, Velma and family.
From:  Dan MacEachen and family
Dear Nichole, daughter Myrah, Vlema and George, Michael Morrison & Family, words cannot express the sadness the loss of Tyler has occasioned.
And while we never had the pleasure or privilege to meet him, we know that Nichole's choice was one of love and commitment.
Please accept our sincerest condolences on such a significant loss to all concerned.
Accordingly, we know that God has already sent His grace and Holy Spirit, that you may feel comforted and surrounded on His love and mercy.
From:  Rocky & Deborah Coward
George, I can't begin to express how great your loss is. Our deepest condolences to you and your family with a parent's worst fear.
From:  Lloyd Sheppard
Sincere sympathy to family and his friends .
From:  Carol mackay
So heartbroken when I heard of Tyler's passing
Words can't express the sympathy I send to each of you. My love for him was like for a grandson.❤❤
From:  Judy Drover
George and Velma
Our hearts go out to you and your family during this difficult time.May you find comfort in your memories of Tyler and may his adventurous spirit live on through his daughter. RIP Tyler.
From:  Clarence and Johanne Currie
To the Morrison and MacEachern families our heartfelt condolences on the passing of Tyler. We were very saddened by the news of his passing and may he R.I.P. Our thoughts and prayers go out to you all at this time
From:  The Borden Family. Mary, Deborah, Margaret, Chester and our families and our Mother Laura Borden
Dear Nicholle, Myrah and Family, my deepest condolences on Tyler's sudden passing. Know that you are in my thoughts and prayers during this difficult time. May the precious memories of Tyler that you hold in your heart be a source of comfort to you during this painful time. Mama Jo
From:  Josephine Muxlow
Nicholle, the Morrison Family and the MacEachern family our sincere condolences go out to all of you. May God give you strength and courage during this very difficult time and may wonderful memories of your loved one keep a smile on your face. May he rest in peace.
From:  Betty, Kevin and the Coward Family
So very, very sorry for your loss. Know that we are thinking of you all and praying for you all at this time. Much love, Ray, Rosalind and Joel
From:  Rosalind MacDonald
To Tyler's family and friends,
I'm so sorry to hear of Tyler's passing. He was friends with my son Kyle(Noseworthy) for over 20 years and while I hadn't seen Tyler lately, he was always such a nice boy with a beautiful smile. He will be in everyone's hearts forever.
From:  Sue Holmes
My sincere condolences to all of Tyler's family on his passing. I'll always remember Tyler as a fun loving kid playing hockey with the New Waterford Jets. We had lots of fun back then and Tyler was a big part of it all.
From:  Brian Mac Sween
Our hearts are so saddened to hear of Tyler's untimely passing. Please accept our sincere condolences at this difficult time. May God strengthen you and your family and help you hold and remember your cherished times together.
From:  Calvin and Pat Lee
Our deepest condolences are sent to Tyler's family and friends . You are all in our Thoughts and prayers !!
From:  Weldon and Catherine Pastuck
George, Velma and family
Our deepest condolences to each of you. You are in our thoughts and prayers at this most difficult time
From:  Roddie & Mary Keeping
So saddened to hear of Tylers passing. Our hearts and prayers are with you all at this difficult time.
From:  David and Karen Burke
George, Velma and Family, so sorry to hear about Tyler, we are heartbroken for you and your family hugs and prayers at this difficult time.
From:  Cheryl and Dean Cann and Family
To George and Family
Please accept my deepest sympathy on the passing of your son. May he RIP.🙏
From:  Wayne McKay
R.I.P. Tyler we always enjoyed our days traveling on the JETBOMB …you will be missed my friend.
From:  Darren "Cheech" Bresowar
Please accept our heartfelt condolences on Tyler's passing, he was a wonderful young man who dropped by our home, offering any thing he could do for us. Our hearts are broken for the family take care and remember all the wonderful memories you have of this young man.
From:  Roger and Sandra Garabb
George,Velma & family: I am very sorry to learn of your son's passing. I know it is very difficult to go through an unimaginable time as this. I pray for God to surround your family with love and compassion in the days and weeks ahead. I pray that your beautiful memories will last a lifetime🙏
From:  Karen Head
My sincere condolences to Myrah Grace, Nicholle,George,Velma and Nicole. May God give you the strenght to get through this very difficult time. You will always have an angel watching over you . God's blessings to all . RIP Tyler . ❤❤❤❤❤
From:  Lucy Currie
We are so very sorry to hear of Tyler's passing and cannot even imagine the depths of your pain. Our hearts are broken for you all.
From:  Graham and Darlene Heading
My sincere condolences George and Velma on the loss of your beloved son, Tyler. We are so unprepared to say goodbye to a cherished child. He has left you with many treasured memories which will remain with you always and I pray will eventually bring you some peace and eventually a smile. Tyler will always be part of your life as you continue to carry him in your heart.
From:  Carol Miller