Westmount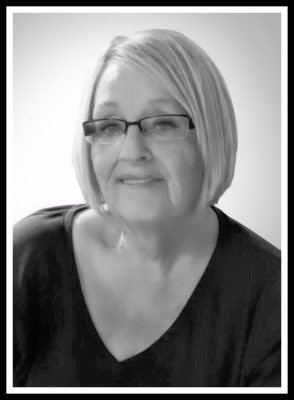 It is with profound sadness and sorrow that we, the family, announce the passing of our beloved wife, mother, nana, sister, auntie, neighbour, and friend, Shirley (Stewart) Gaede on Friday, March 3, 2023, in the An Cala Palliative Care Unit of the Cape Breton Regional Hospital, Sydney, at the age of 73.
Born May 19, 1949, and raised in Whitney Pier, Shirley was the daughter of the late Elroy Stewart, Amherst, and Iris (Reid) Stewart, North Sydney.
Shirley is survived by her loving husband, David Gaede; children, Ted, Westmount, Stewart (Sylvie), Ontario, Amber, Westmount, and Samantha (Neil Gascoyne), Westmount; grandchildren, Ryan (Emily), Jacob, Owen, Aiden, Lucas, David, Daniel, Caelin, Nathaniel, Maelle, and Theodore; siblings, Heather, Barry (Margie), Elroy (Mary), Donnie (Paula) and Lee (Susan); as well as her nieces and nephews, all of whom she held dearly in her heart. Shirley's grandchildren were her pride and joy, and she enjoyed a unique and special bond with each and every one of them.
Besides her parents, Shirley was predeceased by her niece, Roxanna.
Shirley celebrated 52 years of marriage with her husband David, a tag team who raised four children and prided themselves on making their home welcoming to all. They were well known for their backyard "Gaede Bashes" with no shortage of good food, drink, and entertainment with family, friends and neighbours.
Shirley thrived on other people's comfort and joy. She was a loving caregiver, providing daycare and after-school care for many families on Braemar Drive. Her special knack for listening was to be admired, and her signature snacks of bikini squares, spider cookies and pork pies (and Shirley was the maker of the BEST pie crust) gave the children she cared for, and adults alike, the comfort to open up, slow down and just be. She will be missed by so many life-long friends who were always welcomed around her kitchen table.
A special thank you to Dr. Ryan Kelly and Dr. Saneea Abboud for their care and compassion, as well as the remarkable nurses and staff at 4C and the An Cala Unit who took care of Shirley in her time of need.
A Celebration of Life for the late Shirley Gaede will be announced at a later date.
In lieu of flowers, donations in Shirley's memory may be made to the Cape Breton Regional Hospital Foundation or our Autism NS Cape Breton Region Chapter in honour of her special grandson 'Nate the Great' with whom she shared a beautiful bond.
Funeral arrangements are entrusted to the care and direction of Pier Community Funeral Home.
No winter without a spring
And beyond the dark horizon
Our hearts will once more sing ….
For those who leave us for a while
Have only gone away
Out of a restless, care worn world
Into a brighter day
Helen Steiner Rice

Online Condolences
My sincere condolences to you all. Shirley was a beautiful soul and it was my absolute pleasure to be able to care for her in her time of need. Such a beautiful smile every morning. Her suffering is ow over, may she finally be at peace and your family as well. Hugs to you all.
From:  Anita McVicar
My deepest condolences to your family during this difficult time.
From:  Barb Nichol
Samantha and all, I am saddened to hear of Shirley's passing. She was a wonderful person! God bless.
From:  Paul
David & Family:
Shocked and dismade at shirley's passing. I always remember her as a caring and funny person. I am sure that you will miss her and may she rest in the love of Our Lord. My deepest condolence to you and your family.
From:  David Marsh
David
Sorry to hear of your wife's passing. Condolences to the family
From:  RAYMOND LEFORT
To Amber and the entire Gaede family, please accept my sincerest sympathies at your tremendous loss. I know your hearts are broken at the loss of your Mom.
From:  Janice Pottie