Sydney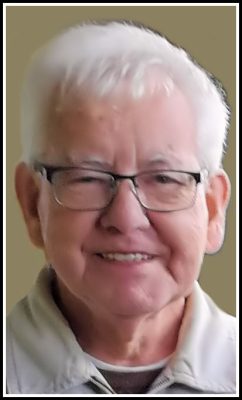 It is with heartfelt sadness that we, the family, announce the passing of Alphonse Gerard Chiasson on Saturday, March 11, 2023, with immediate family by his side.
Born on November 29, 1947, in Sydney, Phonse was the son of the late Moise and Mary (Fraser) Chiasson.
Phonse will be remembered as a respected schoolteacher. In retirement he volunteered with his wife in Action Week and found his passion with the Cape Breton Chordsmen.
Left to mourn his passing are his wife of 48 years, Eileen (MacDougall) Chiasson; son, Stephen (Dr. Lydia) and grandchildren, Kelly, and Angus; daughter, Lesley (Cory) Treichel; daughter, Annette White, and grandchildren, Olympia, Alexandria, and David Dunn Jr. Phonse is also survived by a brother, Dr. Rolland (Gayle) Chiasson.
Besides his parents, Phonse was predeceased by his sister, Bernadette Sturgess.
Visitation for the late Phonse Chiasson will be held at the Pier Community Funeral Home, Whitney Pier, 1092 Victoria Rd. (entrance on Church Street) on Tuesday, March 14, 2023, from 2-4 and 7-9 pm. A celebration of Phonse's life will be held in the funeral home All Faith Chapel on Wednesday, March 15, 2023, at 11 a.m. with Rev. Sheldon Chant officiating.
For those unable to attend, Live Streaming will be available on our website.
Click Here: https://www.facebook.com/35925689617/live/
Please share a joke or your memories of Dad in the book at the funeral home or on the website.
In lieu of flowers, donations may be made to the Phonse Chiasson Choral Music Bursary in his honor to be awarded to a student in a music program in university. Cheques can be made out to the Cape Breton Chordsmen. Donations can also be emailed to donate@cbchordsmen.ca
Funeral arrangements are entrusted to the care and direction of Pier Community Funeral Home.

Online Condolences
I am saddened to read of your loss. Sending sincere condolences and heartfelt sympathy to all the Chiasson family at this very sad time
From:  Sarah Woodrow
While not a funny memory, it is an endearing and enduring one….in that it has stayed with me for almost 50 years.
I remember Eileen sharing this story soon after she met Phonse. She was living in Halifax at the time and met Phonse at his workplace – the VG Hospital – where he worked, at the time, as a Lab Technician. As their initial conversation was wrapping up, Phonse handed her a completed a requisition form that included her name, and he had filled in the Date section with 2 words….they read "any time", and the rest, as they say, is history. She treasured that form, as she treasures the 50 years that have followed.
So incredibly sorry, Eileen, and family for your loss which I know is a great one.
Love, Trish
From:  Patricia Comeau
A fine man…Very sorry to hear of his passing. Our condolences to Eileen and their family. May he Rest In Peace 🙏
From:  Theresa and Reggie MacNeil
Phonse was one of a kind. We both considered him a wonderful work colleague and a dear friend. He had a passion for his students and teaching, involving them in fun activities such as morning intercom announcements from a little studio. Always a smile and a joke from Phonse to brighten up any day. And he and Eileen had pretty special Christmas parties. Ah, the memories. He will be missed!
From:  Bill and Dorothy Tennant
So sad to ĥear we've lost Phonse. We always think there's time to visit and tell stories, laugh and remember but life moves fast. He was a joy. A kind man, smart and full of love, especially for his family. I am so sorry for your grief. I'm so happy you had him for a husband, father, grandfather and brother.
From:  Mary E. MacIntyre
Dear Eileen,and Children, Brother Rolland and wife Gayle. We would like to extend our deepest sympathy to you for your loss. It was quite a shock to us to hear of your loss. Phonse was a very dedicated teacher and he arranged for many years to have his students tour Sydney Steel Plant to learn about its operation. He also had a very green thumb when it came to planting flowers. To my surprise he was also a very good singer and a member of the Barber Shop group.
From:  Donald and Ida Coleman
I'm sharing a great 'dad' joke that combines both mining and music – nearly a perfect CB tribute.
What tone does a piano falling down a mineshaft make?
A flat minor!
The Ross Street Spencers are sad today. Our household knows too well the feelings of loss that come with the death of a parent/grandparent. The experience of grief cannot be rushed, it's hard, but we live in it now and forever. I really liked the message today of 'passing through, not simply passing on' – now it is our responsibility to keep his memory and laughter strong. Through us Phonse will…
From:  Geoff Spencer
Phonse was a part of my teaching career for many years. He always had a joke and a smile to begin the day. Phonse had a gently-firm approach that endeared him to his students. It is a pleasure to have known him. I am sorry for your loss.
From:  Marilyn Boutilier
So sorry to read of phonse's passing. We spoke only a short 6 weeks ago. My prayers and thoughts will be with you and yours
From:  Judi Nagy
I am so sorry to hear of Phonse passing. God bless
From: Shirley Scott
With deepest condolences to the family from Jody and Marina Gillis & family ( Portage , Cape Breton)
From:  Jody & Marina Gillis
Dear Annette, Olympia, Alexandria, David, Eileen and family. Sending my sincere condolences to you all. My thoughts and prayers are with you and sending you strength and love
From:  Laura Livingston
We wish to express our sincere condolences to Eileen & family. I worked with Phonse for many years at Sheriff Jr High School and shared many a laugh with him. May he rest in peace! One thing for sure, he's regaling the Angels with his repertoire of jokes and great sense of humour in Heaven!!
From:  Pauline MacLellan
In speaking with my sister today I was told of Phonse's passing. I always remember him and his music and as a young man eating chips and drinking double cola. he was a nice man and a great neighbor on Union Street. May fair winds and following skies guide you home.
From:  David Archibald
My deepest condolences to you and your family Eileen.
From:  Allura Lawseth
So sorry about the loss of Phonse. He was a valued family relative and friend. He will be missed!
Love to you all.
From:  Lynda/Michael Birks
Dear Eileen, Stephen, Leslie, and Annette. It was just today we learned that Phone has passed. Our sincere condolences. Phonse was a great guy. We shall remember him as a kind man who loved his family, friends, and of course music. We shall be ever grateful to the kindness that both he and Eileen extended to us and our children. Sending hugs and prayers.
From:  Lorne and Mary AuCoin and family
I dont remember all of my teachers from the early 80s, but I will always remember Mr Chiasson. His calm teaching manner and devotion to his profession left a mark on me and my classmates. In addition to the education, he also left me with two unforgettable riddles: 1. What's the difference between a duck? (One of his legs is both the same) 2. How long is a Chinaman. (So long 's his brother). I can honestly say I have never heard these outside of his classroom. Rest in peace and my condolences to his family.
From:  Khristian Kowalski