Sydney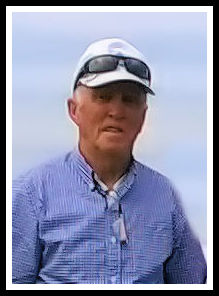 We, the family of John 'Jack' Pearson, regret to announce his passing on Saturday, February 4, 2023, in Hospice Cape Breton, Sydney.
Born on October 28, 1938, in Sydney, Jack was the son of the late Christine (MacIsaac) and John Pearson.
From a young age growing up in Whitney Pier, our dad played many sports. He was a member of Ward 6 Indians baseball team that captured the first Canadian Little League Championship in 1951. He played soccer for the Broadway Ramblers, coached and played hockey and was active in the creation of the Whitney Pier Community Rink. Jack enjoyed many decades at the Schooner Curling club and the many friends he met there. Later in life, Jack took up golf and until this past summer, enjoyed his Tuesday tee offs at Alderdale with his good friends.
Dad started his working career on the Lake Boats at an early age. He then transitioned to trans-Atlantic cable laying ships. In 1972, Jack joined the United Association of Plumbers and Pipefitters where he worked until his retirement. Jack held many positions within the union and was a proud 50+ year member of the U.A. In 1991 Jack was elected alderman for Ward 6 Whitney Pier. He proudly served his constituents until 1995.
Besides his parents, Jack was predeceased by his wife, Helen; son, John; brothers, Terrance, Sheldon, and sister, Marjorie.
Jack is survived by his daughter, Carolyn (Russ), Stellarton; son, David (Jennifer), Irish Cove; grandchildren, Kenzie (Emma) and Davis, Sydney; brothers, Angie (Paulette), Sydney, Shaun (Kathy), Hamilton, ON, and sister-in-law, Janice, Sydney.
There will be no visitation for the late Jack Pearson. Memorial Mass will be celebrated on Thursday, February 9, 2023, at 10 a.m. in Holy Redeemer Church, Whitney Pier with Fr. Paul Murphy officiating. Interment will take place in New Calvary Cemetery, Whitney Pier.
Family flowers only. Donations in memory of Jack may be made to Whitney Pier Youth Club, Whitney Pier Historical Society or Hospice Palliative Care Society of Cape Breton County.
Funeral arrangements are entrusted to the care and direction of Pier Community Funeral Home.

Online Condolences
Hello Carolyn, so sorry to learn of this great loss. The miles have separated us but I still hold fond memories of you. Thoughts and prayers are with you and your family. peace and blessings to you. forever,
From:  Winnie Odo
Sympathy to the Pearson family in their loss. Jackie will be remembered by many, his smile , the love of sports, family and he could light up a room and all of Whitney pier.
From:  Carol Mac Kay
Growing up a MaC Cormack on Dominion St Jackie was always so good to us friendly funny and so helpful
Condolences to his family from 114 Dominion St
From:  Wendell Mac Cormack
My sincere condolences on Jackie's passing.
From:  Linda (Larick) James
So sorry for your loss
From:  Marlene Gallivan
Our deepest condolences for your loss our thoughts and prayers are with you
From:  Vesta & Mackey Campbell
a great guy and helped me a lot in my soccer with the Brodway Ramblers. thanks Jack
From:  Ray Mac Cormack
Deep condolences on your loss.
From:  Barry Young
Our deepest condolences to Jackie's family.
I grew up on Broadway with the Pearson family and have very fond memories of Jackie. Always one to speak his mind and you always knew what side of the fence he stood on. It takes a neighbourhood to raise a child and Jack was one of the pillars we young people leaned on for guidance and advise. Thanks Jackie, and rest in peace it's well deserved.
From:  Joe and Barb Collins
Heartfelt condolences to the Pearson family. Jackie gave so much to the community, especially his involvement with soccer over the years. Rest in Peace Jackie.
From:  Ken MacLean
Dave & Jen. Please accept my deepest condolescences on the,passing of Jack. I know how supportive you have been through his illness. Know you are in my thoughts and prayers
From:  Sharon D Sobol
To the family we offer our sincerest condolences on your great loss.Jack was our neighbour on the Mira …summer bungalow just a good fella kind in every way ….memories everlasting Brian & Annette Tetford
From:  Brian Tetford
Very sorry to hear about Jackie. He was a very nice guy. They had a bungalow in Mira many years ago. Jackie and Helen were great to me as well as all the kids in the neighbourhood. I spent a lot of time up there hanging out. My condolences to Carolyn, David and their family. Take care folks. Thinking of you.
From:  Chad Tetford
Deepest sympathies to David, Carolyn, Angie and families on Jackie's passing. Big things come in small packages. My dad and Jack allowed me into their friendship many years ago and I'm a better man for it. He's had a major affect in my life and I'll miss him dearly. Know that when anyone speaks Jacks name that a smile comes to their face – a compliment to a life well lived.
From:  Ronnie Carew
You were a sport hero in many ways Jackie and we are appreciative of all you have contributed to your community. We are proud to have you as a member of the Cape Breton Sport Hall of Fame. You will be missed.
From:  Carol Miller