Sydney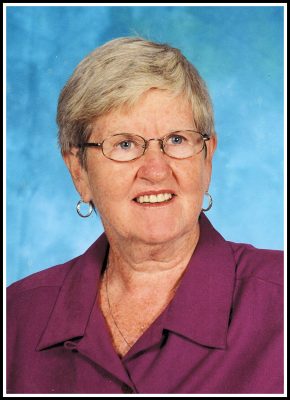 It is with heartfelt sadness that we, the family, announce the passing of Carol Yvonne 'Bonnie' (Drohan) MacDonald on Tuesday, February 28, 2023, at the Cape Breton Regional Hospital, Sydney, with her loving husband by her side.
Born in Whitney Pier, Bonnie was the daughter of the late Peter and Mary (Connors) Drohan.
After graduating, Bonnie spent 35 years teaching at various schools in the Pier, which she enjoyed to the fullest.
Bonnie was a lover of the country and spent 19 years living in Big Pond Centre with Gordie. She spent many days enjoying the country air and swimming in the Bras d'Or Lakes.
Left to mourn her passing are her husband of 48 years, Gordie MacDonald; his daughter, Kelley Chiasson; granddaughters, Shanna MacDonald, and Shae-Lynn Chiasson (Braden); great-granddaughter, Lexi Gibson; as well as her numerous nieces and nephews, whom she loved dearly.
Besides her parents, Bonnie was predeceased by her brothers, Mickey, John, Charlie, Tommy, and Raymond; sisters, Irene, Mona, Lorsie, Betty, Annette, and by two brothers and a sister in infancy.
Visitation and memorial service to celebrate the life of Bonnie MacDonald will be held at Pier Community Funeral Home, 1092 Victoria Rd. (entrance on Church St.), Whitney Pier on Saturday, March 4, 2023. A gathering of family and friends will take place from 11 a.m. to 12 noon with the memorial service to follow at 12 noon in the All Faith Chapel with Fr. Paul Murphy officiating. Interment will take place at a later date in St. Mary's Cemetery, Big Pond.
For those unable to attend, Live Streaming will be available on our website.
Click Here:  https://www.facebook.com/35925689617/live/
Donations in memory of Bonnie may be made to the Hospice Palliative Care Society of Cape Breton or the Whitney Pier Boys and Girls Club.
Funeral arrangements are entrusted to the care and direction of Pier Community Funeral Home.

Online Condolences
Gordie and family, very sorry to read of Bonnie passing. She was a dear, sweet woman. Always had a smile when we met. Our prayers are with you both.
From:  Joan and George Murphy
Dear Gordie:
So sorry to hear of Bonnie's passing. She was such a lovely lady. Thoughts and prayers going your way and all your memories help get you through this difficult time.
From:  Marilyn & Mark Pasternak
Gordie and Family:
Please accept our sincere condolences on the passing of Bonnie. Our thoughts and prayers are with you during this most difficult time. May She Rest in Peace
From:  Jerry and Theresa Miller
Gordie .Sincere condolence.Our thoughts and prayers are with you at this most difficult time.
From:  Sandy and Agnes Scott
Gordie and family: So, sorry to hear of Bonnie's passing. May we extend our deepest sympathy and may your fond memories of her help you through this difficult time.
From:  Wally and Marg McLeod, St. Thomas, ON.
Gordie and family .so sorry to hear about Bonnie's passing.Love and prayers. She was a great friend of mine!.due to illness I can't attend funeral but thoughts and love going your way.😇🙏🏼
From:  Dawn and Aubrey Lynk
To the Drohan families, and the MacDonald families, We are sorry for the loss of your loved one Bonnie. She always sounded like such a lovely lady, when spoken of. Our thoughts are with you now.
From:  Joanne and Ron Evely
Georgie and family…We were so extremely sorry to read of Bonnie's passing. She was a wonderful, kind, and generous lady. You both were so very kind and to our late mother, Rita Mc Guire both in Sydney, Middle Cape and Florida. Bonnie was always cheerful and laughing, which I can still hear. Our thoughts and prayers are with you and the extended family. Maureen Mc Guire Baillie and Franceen Mc Guire Romney
From:  Maureen Mc Guire Baillie