Sydney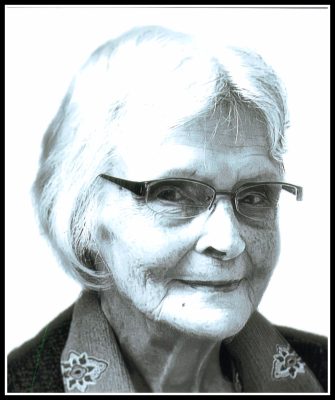 It is with broken hearts that we, the family of Veronica Yurczyszyn, announce the peaceful passing of our beautiful mother on Friday, January 20, 2023, just shy of her 99th birthday, at the Cape Breton Regional Hospital, Sydney.
Born on February 9,1924 in Shenacadie, Cape Breton, Veronica was the daughter of the late Allan and Mary E. (MacSween) MacNeil.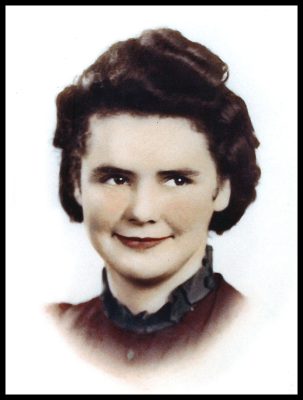 Our mother was a quiet and simple lady who was dedicated to her family. She was always there for us from the time we woke up in the morning, went to school and upon our return home. Veronica was a devout Catholic whose faith was very strong. She ensured all participated in the family rosary every evening. With our mother's guidance and support all her eleven children were able to graduate from high school; thus we were all well equipped to pursue our chosen careers and to succeed in our lives. We, her children, owe her a debt of gratitude for all her efforts in this regard.
Veronica is survived by her eleven children, Mike (Maryena), Fred (Linda), Irene (George Maclean), David (Pat), Theresa (Bob Ryan), Gerry (Glenda), Diane (Mac Parkens), Kevin, Timmy, Valerie and Joan; twelve grandchildren; four great grandchildren; sisters, Kay (late Ron MacDonald), Rita (Fred Shostak) and many nieces and nephews.
In addition to her parents, Veronica was predeceased by her husband, Mike; sisters, Sadie (Mike) MacNeil, Agnes (Roy) Payne, Annie (Neil) Gillis, Liz (Wally) Zalys, and Martha (Mike) Rodall; brothers, Joe, Steve, and John Alex; as well as infant siblings, Rita, and Wallace. She was also predeceased by her grandson, Kevin Hillman.
The family would like to extend our sincere thanks to Dr. Myatt and Janice for the care and attention given to our mother over the many years. We would also like to thank the staff of 3B and Palliative Care Department at the CB Regional Hospital for their care and compassion.
Visitation for the late Veronica Yurczyszyn will be held at the Pier Community Funeral Home, Whitney Pier, 1092 Victoria Rd. (entrance on Church Street) on Wednesday, January 25, 2023, from 4-7 p.m. Funeral Mass will be celebrated in Holy Redeemer Church on Thursday, January 26, 2023, at 10 a.m. with Fr. Paul Murphy officiating. Interment will take place Resurrection Cemetery, Sydney Forks.
For those unable to attend, Live Streaming will be available on our website.
Click Here: https://www.facebook.com/holyredeemerwhitneypier/videos/
Donations in memory of Veronica may be made to Holy Redeemer Building Fund.
Funeral arrangements are entrusted to the care and direction of Pier Community Funeral Home.

Online Condolences
Our condolences on your mother's passing. She will not only be missed by her devoted family but for sure by the Pier community as well.
Wishing you all the best in this sad time.
From:  Gen Fogarty/Kevin Primmer
so very sorry to hear of the passing of your mother prayers go out to all the families at this time
From:  Roy Campbell
Audrey and I offer our sincere condolences regarding the passing of your beloved Mother .
From:  Ray Stapleton
Mike and family,
Sorry to hear of the passing of your Mom.
My deepest condolences.
From:  Jane Mac Donald
My deepest condolences to the family in the loss of your loved one.
I did not know this lady but I had known her Son Mike as he was one of my teachers at Whitney School
I always liked Mike as he was A great teacher and one who was fair to one and all of his students and if he took after his Mom she was A fantastic person.
From:  Edward Murdock MacPherson
Sorry for your loss of your dear mom Jerry and all family.
From:  kevin and darlene musycsyn
Theresa and Family:
Deepest sympathy of the death of your dear Mother. Her obituary was lovely. She lived a full life and was loved dearly by you her family and friends. Your memories of her will certainly keep her spirit alive!
I will pray for peace on her life in eternity. May our loving God continue to bless you all with Courage, Strength and Peace in this your time of sorrow and loss. You will certainly miss her physical presence. But be assure she is in the arms of God whom she Loved and prayed to daily. along with our Blessed Mother Mary.
It has been years since I have seen you Theresa. I am back living in Sydney after spending 21 years on P.E.I. as a Sister of St. Martha.
Be assured I will be with you in spirit at your Mom's Funeral
Blessings and Prayers,
From:  Audrey M. Brocklehurst
Sending prayers and thoughts of love to the Yurczyszyn family.
From:  Mackenzie Lowe
Our sincere condolences to Irene & George and all the family on your Mom's passing. May the legacy of her life live on in your wonderful memories of her. 🙏❤️
From:  Louise & Tony Tierney
I am sending my deepest sympathy to all regarding your dearest family member. Through the years, I have wonderful memories of visiting your home. No doubt your Mother's soul is in heaven. God Bless you all!
From:  Patricia Tobin
I'm saddened to hear that Aunt Veronica passed… We send our heartfelt condolences out to our cousins for their loss. I was just reminiscing this past Christmas, when I received my card in the mail, thinking about how Aunt Veronica was the sweetest lady I have ever met, and then I had to look up her birthday to confirm how great the genetics are on the female side of the family. 99! WoW! My dad always had lots of stories to tell about his siblings, but strangely, Veronica never did anything bad that I can recall him saying. I think she must have been a saint with that many brothers and sisters. Sending our love and prayers to you from us all here. Stephanie and Bernadette (Steve's daughters)
From:  Stephanie MacNeil-Lapoussis
Varonica's presence brought calmness in her quiet way. Her warm smile was infectious whenever my family visited. She lived a long life and raised her family with adoration. I am thinking of you all at this time.
Lorna MacNeil
Wolfville
From:  Lorna MacNeil
My condolences to the Yurczyszyn family. God bless!
From:  Paul
Dear Michael Irene and family,I.am sorry for your loss. The funeral mass was beautiful and I am sure she is at peace with God and your father. Sincerely Valerie MacDonald.
From:  Valerie MacDonald
'm very sorry to hear about your mother's passing.
I remember waiting in the hall for Freddie. A few times she would pop her head out from the kitchen where she and the girls would be cleaning up after supper and say hi.
She was a very peaceful lady.
From:  Thomas Merner