Whitney Pier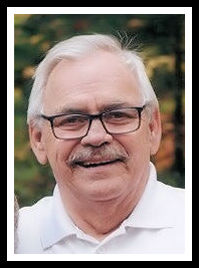 It is with great love and profound sadness that we, the family of Arno David Johnson, mourn his passing on Thursday, December 1, 2022, at the Cape Breton Regional Hospital – Hospice, Sydney, surrounded by loving family.
Born on October 8, 1957, in Sydney, Arno was the son of the late David and Stella (Roston) Johnson.
Left to mourn his loss, is his loving wife of 43 years, Peggy (Costigan) Johnson; sons, David (Pamela), Ryan (Amanda) and Matthew (Johnna); Papa will be greatly missed by his loving grandchildren, Jacob, Peyton, Victoria, Ryan, Keenan, Beckham, Mackenzie, Layla, Ben, Stella, Oliver, Saoirse, Baby Johnson and great-grandson, Morgan. He is also survived by sisters, Effie (Carmen), Myrtle (Mike), Patricia (Terry), Agnes (the late Raymond), Francis (Kenny), Martina (Bill), Delores (Don) and Donelda (Keith); brother, John Phillip (Lora); as well as numerous nieces, nephews, cousins and friends.
Besides his parents, Arno was predeceased by his brother, Louis (Sharon), as well as grandchildren, Karlee and Lucas.
Arno was full of life and was always up for a good laugh or joke. He was known for his humor and wit. He loved his grandchildren more than anything in this world. He loved spending the summer by his pool watching them play.
The family would like to especially thank the Palliative Care and Hospice units at the Cape Breton Regional Hospital, especially Dr. Ann Francis D'Intino and nurse, Leah Burns for their kindness, compassion and excellent care throughout Arno's final days. Special thanks to his niece, Tonya Costigan-Covey for all her help and support while he was in the hospital.
Visitation for the late Arno Johnson will be held at the Pier Community Funeral Home, Whitney Pier, 1092 Victoria Rd. (entrance on Church Street) from 6-9 p.m. on Monday, December 5, 2022. Funeral Mass will be celebrated on Tuesday, December 6, 2022, at 10 a.m. in Holy Redeemer Church, Whitney Pier with Fr. Paul Murphy officiating. Following the Mass, a reception will be held at Pier Community Funeral Home. Interment will take place in Resurrection Cemetery, Sydney Forks.
Donations in memory of Arno may be made to Hospice Palliative Care Society of Cape Breton County.
Funeral arrangements are entrusted to the care and direction of Pier Community Funeral Home.

Online Condolences
I'm so sorry for your loss. Although no words can really help to ease the loss you bear. Please know that you and your family are in my thoughts and prayers during this difficult time.
From:  Dolly Roston
Sorry for your loss.
From: Phyllis Erickson
My deepest sympathy to Arno's family and to hist sisters and brother, veryy sorry.
From: Michael LeBlanc
Peggy and family
So sorry for your loss
Arno was a wonderful man
We will miss him
From: Carol Hiscock