Sydney River/Christmas Island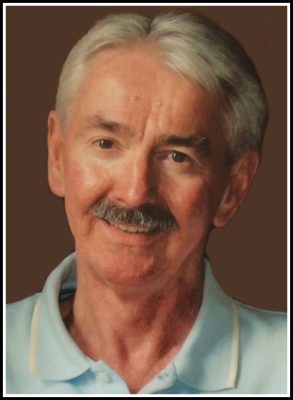 It is with great sadness that we, the family, announce the passing of our brother, John Roderick MacKenzie, on Tuesday, November 29, 2022. Surrounded by family, he passed peacefully at the Cape Breton Regional Hospital Palliative Care Unit, Sydney.
Born in Christmas Island, November 19, 1949, John was the son of the late Neil and Sarah Catherine (MacNeil) MacKenzie. He was a lifelong member of St. Barra Parish, Christmas Island. A quiet person, who valued his privacy, John demonstrated great strength and courage throughout his illness.
John's life has always been guided by his strong Catholic faith. He found great comfort in his daily Rosary and TV Mass and was very appreciative of the prayers and support he received. He was fluent in Gaelic, enjoyed sharing stories, and many people were fond of his dry sense of humor.
In his younger years, John spent time hunting with his Uncle Hector and neighbor, Donnie. In recent years, he liked spending time working in his garage. A true dog lover, he never met a dog he didn't like! He looked forward to his many jaunts with his canine friend, Max.
John had a very strong work ethic and rarely missed a day of work during his 53 years of employment. He started his career as a fuel truck driver and was employed for 13 years with Shell Canada, 14 years with W.A. MacLeod & Sons, and over 20 years with Humpty Dumpty/Old Dutch Foods.
After his retirement, John greatly enjoyed driving a school bus with the local school board. He shared many entertaining stories of his daily interactions with the children. For over thirty years, John worked as an Auxiliary Constable with RCMP detachments in Sydney Mines, North Sydney, Cape Breton, Membertou and with the Cape Breton Traffic Service in North Sydney. He felt great pride and gained immense satisfaction from time spent in this role. John treasured the lifelong friendships he made as a member of the Auxiliary RCMP.
John is survived by his siblings, Neil (Diane), Sydney, Theresa MacKinnon, Sydney, Anne (Kevin) McCormick, Sydney, Sandra (Tony) DePompa, Scarborough, Sharon (Doug) Wansbrough, Belwood, Andrea, Etobicoke, Keith (Marie), Westmount, Kevin (Anne), Big Beach, and David (Terry), Christmas Island. John is also survived by many nieces, nephews and long-time friend, Myrna.
Besides his parents, John was predeceased by his brother-in-law, James Andre MacKinnon.
Visitation for the late John MacKenzie will be held from 12 noon until 2 p.m. on Wednesday, December 7, 2022, in St. Columba Church, Iona. Funeral Mass will be celebrated at 2 p.m. with Rev. Victor and Rev. Ray Huntley officiating. Interment in St. Barra Cemetery, Christmas Island, with reception to follow in the Christmas Island Fire Hall. The family requests masks be worn.
Memorial donations in memory of John can be made to the St. Barra Cemetery Fund, Mass for Shut-Ins or Local Food Bank.
Funeral arrangements are entrusted to the care and direction of Pier Community Funeral Home.

Online Condolences
Our condolences to John's family and many friends. I knew John when he worked with Shell, he was a good friend and worker. May he rest in peace.
From:  John Shannon
Rest in peace john…one of the most pleasant person I've known and funny too.. and was great to talk to over the air as his dispatcher for many years
From:  Alex Benoit
Sincere condolences to John's family. He volunteered many hours with me on Sydney Highway Patrol while I was stationed there. He was a wonderful, quiet man but I truly enjoyed his company. My he RIP.
From:  Clayton Vokey
Anne , Keven & Family
So sorry to hear of John passing My thoughts & Prayers are with you. May God Bless You All
From:  Ada JANE Hagen
Kevin, David & family
I was saddened to learn of your brother's passing. Please accept my deepest condolences.
From:  Debi Freeborne
Neil, Diane and Family, I am sending my condolences, prayers and hugs to comfort you at this time of John Roderick's passing.
From:  Pat Jacobs
My deepest sympathy to you. John was a great person, and a wonderful friend. I will always remember him. God bless.
From:  Paul Carrigan
My Condolences to the family; John was liked by everyone, RIP.
From:  Roddie Mac Neil
I'm very sorry to hear of John's passing. He was a great man to work with, quiet, reliable and a gentleman. I did not know he was fluent in Gaelic, but it would be like John not to boast about anything. My sincere condolences.
From:  David MacLeod
Dave & MacKenzie family & friends: So sorry to read of John's passing. Our condolences to everyone.
From:  Tim & Jean Lynch
It's with sadness to hear the passing of my 49 er cousin John R . A few yrs. ago John R and other 49 er cousins came together to celebrate our 70 th birthday
It was a grand celebration to all be there..🙏
Rest with the angels John R… you were a beautiful person… love Lexie( Gillis) and husband John Martin.. Miramichi N. B.
From:  lexie ( Gillis) Martin
So sad to hear about Johns passing. He was always such a nice
quiet friendly man. Condolences to all his family. May he rest in peace
From:  Mary Lewis