Sydney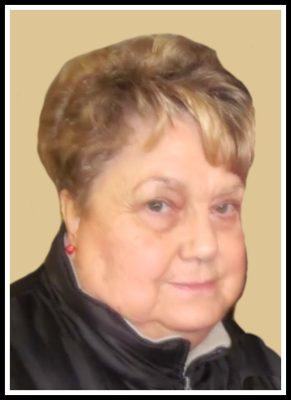 It is with great sadness that we, the family of Myrna Patrica Krszwda announce the passing of our beautiful mother, age 85, in the Cape Breton Regional Hospital, Sydney on Sunday, November 27, 2022, with her family by her side.
Born in Sydney, Myrna was the daughter of the late Joseph and Mary (Dalton) Campbell.
Myrna was a vivacious, loving woman, who had a passion for life, her family, her church, and some good music. She was always known for a hot meal, Cape Breton cup of tea and good conversation to anyone who wanted to have a chat. Myrna touched the lives of all that had the pleasure of knowing her.
Myrna is survived by her children, Wally Krszwda (Emily), Diana MacDonald (Graham), Kenneth Krszwda (Lorna), Karen MacAulay (Robert), and Vernon Krszwda (Cheryl); grandchildren, Jorden Krszwda , Alyssa MacDonald, Vanessa MacDonald, Brandon Krszwda, Keagan Krszwda, Megan MacAulay, Gregory MacAulay, Jenna Krszwda, Morgan Krszwda and Ayden Krszwda Mackinnon; great-grandchildren, Rhilee, Tridyn, Jacob, Channing, Elijah, Sawyer, and Aiden, who were her pride and joy; sisters, Shirley O'Calloghan and Diana Bartlett; as well as many nieces and nephews, whom she thought the world of.
Myrna was predeceased by her husband, Vernon Krszwda; son-in-law, Mark MacDonald; brothers, Mick, Frank, Joseph and sisters, Dorothy, Cora, Kathleen, Helen, Colleen, and Mamie.
The family would like to extend a special thanks to the staff of 4B and ICU of the Cape Breton Regional Hospital. Special thanks to her amazing nurses, Candace, John, Amy and Rose for providing Mryna with such love, and care during her final days, Dr Stephen MacDougall for his many years of care, Dr Lisa MacInnis, Dr. Kylene MacKillop, Dr. Szabo and Dr. Matthew Ernst. As well as long-time friends, Louise Warren, Mary Jane MacMullan, and Douglas Lloy.
Visitation and memorial service to celebrate the life of Myrna Krszwda will be held at Pier Community Funeral Home, 1092 Victoria Rd. (entrance on Church St.), Whitney Pier on Wednesday, December 28, 2022. A gathering of family and friends will take place from noon to 1 p.m. with the memorial service to follow at 1 p.m. in the All Faith Chapel with Fr. Paul Murphy officiating. Interment will take place in Resurrection Cemetery, Sydney Forks.
Donations in memory of Myrna may be made to a charity of one's choice.
Funeral arrangements are entrusted to the care and direction of Pier Community Funeral Home.

Online Condolences
Sorry for the passing of Myrna she was a lovely lady
From:  Crystal March
We are very sorry to learn of Myrna's passing. She and Vernon were lifelong friends. Rest in peace, Myrna.
From:  Joan C Macintosh
My condolences, Karen and family, on your Mother's passing. We enjoyed Myrna as a client at Maria's Beauty for many years and I know she liked her visits to the shop. May you rest in peace Myrna.
From:  Pat Jacobs