Howie Centre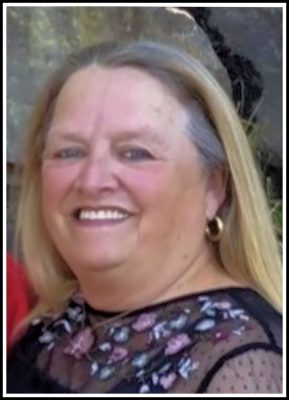 It is with great sadness that we, the family, announce the unexpected passing of our mom, Zelia Andrea (Nardocchio) MacInnis on Sunday, October 16, 2022, at the age of 64.
Born on June 24, 1958, in Sydney, Andrea was the daughter of the late Dominic and Zelia (Sampson) Nardocchio.
In her earlier years Mom worked at the Department of Motor Vehicles, until she left her job to be a stay-at-home mom. She never hesitated to tell people she was a "Domestic Engineer". Mom was a very caring person and never hesitated to lend a helping hand and would do anything for anybody. She always looked forward to visits with her grandchildren who were the lights of her life. She loved nothing more than getting together with her family over a nice meal and being with her children and grandchildren.
Besides her children, Andrea cherished and loved the special relationship she had with her sister, Marie, who was always there for her no matter what. Mom also had a special friendship with Darlene MacInnis with whom she visited daily until Darlene's passing in July 2022. She also enjoyed her time spent with her friends, Pat Stapleton and Valerie MacDonald. Mom also had a close relationship and enjoyed her phone calls with Aunt Elvira from Halifax.
Andrea is survived by her daughter, Michelle (Roy) Mugford, Sydney and son, Michael (Nadia) MacInnis, St. Peter's. She will be forever cherished by her five grandchildren who she loved immensely, Nathan and Sarah Mugford, Gracey Smith and Emily and Josey MacInnis. Andrea is also survived by sisters, Marian (Blair) Neal, Marie (Steve) Lewis, Theresa Nardocchio, Lisa (Greg) Nardocchio, Concetta (David) Burns and brother, Carlo (Shelly) Nardocchio. She will be sadly missed by many nieces and nephews who called her "Aunt Aunner".
Besides her parents Andrea was predeceased by a brother, Joseph in infancy.
As per Mom's request, there will be no visitation or funeral service. Cremation has taken place and Mom will be laid to rest with her mom and dad at Resurrection Cemetery, Sydney Forks.
Donations in memory of Andrea may be made to a charity of one's choice.
Funeral arrangements are entrusted to the care and direction of Pier Community Funeral Home.

Online Condolences
Dear Nardocchio Family & MacInnis Family,
Please accept my sincere sympathy on the passing of your Mom, Sister, Grandmother and friend. May you find peace with your memories.
Thinking of you,
From:  Linda Lee Sampson, Edmonton
Michelle, Michael, and Nardocchio families, please accept my heartfelt condolences on Andrea;s passing. Let the special memories comfort you all, in on the difficult days ahead, may she RIP.
From:  Anne Sullivan
Michael & Michelle and Family
Very sorry to hear about your Mother's passing. Our prayers and thoughts are with you at this difficult time.
From:  Blair & Norma McDonald
Michelle and Michael, .our sincere sympathy on the passing of your mom. We had some fun times in the earlier years with the gang. Our thoughts are with you.
From:  Ross and Edna Mac Cormack
Conchetta and family, so sorry to hear of the loss of your sister. Our thoughts and prayers are with you all.
From:  Jackie Matthews
To all of the Nardocchio family I am so sorry to read of Andrea's passing. I haven't seen her in years but still remember her pleasant personality that she always had. My thoughts and prayers are with you at this difficult time.
From:  Carron Coleman
To Marian and Marie and Families:
I was sorry to read about your Sister's death. She was so young. If she was anything like you Marian and Marie, I am sure she was a blessing to those who knew and Loved her. I will pray for Peace on her life in Eternity. May our Loving God Bless you with Courage, Strength and Peace in this your time of sorrow and loss.
My deepest sympathy
From:  Audrey M. Brocklehurst
Michelle I am so sorry to hear of your Moms passing. She was so young. Keep your memories of her in your heart until you meet again. Thinking of you at this difficult time. God Bless you and your family. Hugs.
From:  Marguerite and Barry Verbeski
It is with great sadness that today March 1 2023 I was informed with the notice that Andrea had passed. We enjoyed many great parties and great fun in our young years. Andrea was always a joy to be in her presence. My sympathy to the family.
From:  Marilyn Andrews Peters