Sydney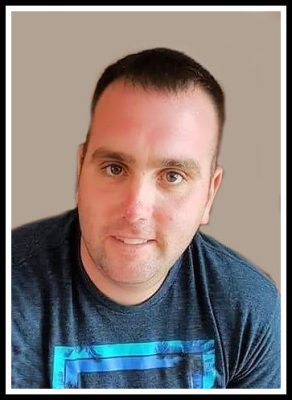 It is with great sadness that we, the family, announce the sudden passing of Darrell Scott Walters on Friday, September 9, 2022, at the Cape Breton Regional Hospital, Sydney.
Born on September 8, 1987, in Sydney, Darrell was the son of Anna and Darrell Walters.
Darrell was certainly his father's son. He enjoyed the outdoors, fishing, riding motorbikes, ATVs, and trips to his dad's cabin. These ATV trips continued well into his adult life. Darrell and many of his buddies headed out to the Mooses Lodge to share many laughs and beer around the campfire. Darrell could always be found driving around in his truck, but you could always hear his music before you could see him coming.
Darrell was a hard, reliable worker at any job he held whether it was on the west coast or here in Cape Breton. But he found his true calling at Kameron Coal, Donkin Mine. Darrell made many friends at the mine and thought the world of his "Coal Mining Brothers". Donkin Mine was a complete blessing, one that he waited for, for a very long time. He loved everything about being a Coal Miner, he was proud, and we were extremely proud of him.
Darrell's life revolved around his family. He adored his mom and was a true mama's boy and he didn't try to hide it. He always looked up to his father with much respect… He idolized him. Darrell was the centre of every family gathering "We all know how Baby Dee loved his food" ensuring everyone laughed with his quick wit, infectious personality and great sense of humour. His nieces and nephews will miss their UNCLE SKUNKLE.
The light of Darrell's life was his son, Mason. Whether they were cruising in his truck, getting ice cream, beach hopping in the summertime, trips to the arcade, laying on the floor building trains, or snuggling in bed watching videos. They were always together. They had a father/son bond like no other. They were each other's person. Masey will never forget his super cool dad!
Besides his parents, Darrell is survived by his son, Mason; sisters, Tasha (Todd), and Annette; grandmother, Veronica Walters; nephews, Cameron, Brett, Bryson, Keegan and niece, Paige; as well as former partner, Ashley McNeil. He had numerous aunts, uncles, cousins and many close friends and he also shared a special bond with his cousin, Kayla Walters. She will miss his late-night snap chats.
We would like to thank the McNeil family for welcoming Darrell and Mason into their lives. We knew how fond you were of them and all the special memories you shared while he was dating Ashley.
Darrell was predeceased by grandparents, Delores and Melvin Burton, John 'Jackie' Walters; aunt and uncle, Jacqueline and Paul MacChesney; cousins, Travis Hayes, Jason and Andrew Burton.
Recently, just three short weeks ago, he lost his brother-in-law, Stephen Joseph at the age of 40. Such a tremendous loss for our family in such a short time. Life will never be the same without both of these amazing men.
The family would like to thank Kameron Coal, Donkin Mine Crew, EHS, and the Emergency Staff at CBRH. We are eternally thankful for everything you did for Darrell. We know you all tried to do everything you could to save him, and we are forever grateful for your dedication.
Visitation and memorial service to celebrate the life of Darrell Walters will be held at Pier Community Funeral Home, 1092 Victoria Rd. (entrance on Church St.), Whitney Pier on Sunday, September 18, 2022. A gathering of family and friends will take place from 1 to 2 p.m. with the memorial service to follow at 2 p.m. in the All Faith Chapel with Rev. Sheldon Chant officiating. Private interment will take place at a later date.
For those unable to attend, Live Streaming will be available on our website.
Donations in memory of Darrell may be made to the Autism Society of Cape Breton.
Funeral arrangements are entrusted to the care and direction of Pier Community Funeral Home.

Online Condolences
Anna, Darrell, Tasha, Annette and family:
We are extremely sorry for the loss of your baby boy and brother. We pray you all get stronger every day to deal with such a tremendous loss.
All our love, Wendy & Dave Martell
Thoughts and prayers go out to the family.
From:  Jim and Lisa Jones
So very sorry for your great loss. Sending thoughts & prayers to all of his family & friends, Biggest ((( hugs))).Fly high and rest easy…you will be sorely missed by many
From:  Val Kennedy
Our sincere condolences to Darrell's family. Although we never had an opportunity to meet him, we had the opportunity lately, to meet his dad who knew my father. Thank you for generous advice.
Thoughts and Prayers
From:  John & Maureen Moulins
My Sincere Condolences To The Walters Family ,My Thoughts & Prayers are With You all. Darrell worked Opposite Shift to Me I Know what a Proud Coal Miner he was & how being able to go home each day or night to his son meant so much to him . May he RIP.
From:  John Penson & Family/ Carla Penson, Brendan MacKinnon & Breanna Penson
Anna and Darrell, I was so shocked to hear about your son on his sudden passing. My heart and prayers go out to you in this sadden time. Jamie called and told me. Again, my thoughts and prayers for your family and for his family God Bless
From:  Greg la rusic
My deepest condolences to you Darrell and your family on the loss of your Son. Although I have not had the privilege of meeting Darrell Scott he sounded like a wonderful Son, brother and Father to his Son. You are all in my thoughts and I pray that the memories of your close knit family will help get you through this terrible loss. RIP Darrell Scott.
From:  Judy Mac Arthur
We are so very sorry to read of Darrell's passing. I know this is a tremendous loss for your family. Thinking of you all at this time.
From:  Shauna & Tim Walters
Sorry for your loss I enjoyed Darrell's company when he took class 1 training
From:  Chas Sampson
Please accept our sincere sympathy in the loss of your son. Our thoughts and prayers are with you and your family during this difficult time.
From:  Brian and Sandra Lewis
Sincere condolences to Darrell, Anna and family. Thoughts and prayers are with you all during this difficult time.
From:  John & Lee Dicks