Louisbourg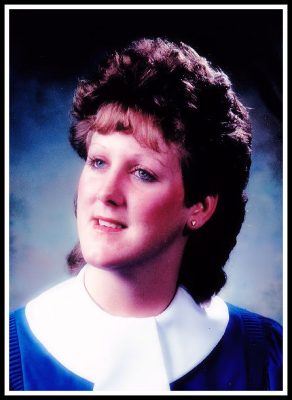 It is with heavy hearts that we, the family, announce the sudden passing of a kind and loving daughter, sister and aunt, Cindy Hanham on Sunday, September 11, 2022, at the Cape Breton Regional Hospital, Sydney.
Born in Louisbourg on March 10, 1965, Cindy was the daughter of Mabel (Bagnell) Hanham and the late Daniel Hanham.
A graduate of Cape Breton Business College, Cindy began her working career at Value Village in Sydney. Later she transferred to Value Village in Bayer's Lake, finishing her working career with Rona in Halifax. Cindy enjoyed her working career and made many friends along the way.
Besides her mother, Cindy is survived by brothers, Victor (Valerie) and Ross; aunts, Jean Bagnell, and Serella Bagnell; uncles, Florian (Marlene) Bryan, Charlottetown, and Bill (Wendy) Bryan, Horne's Road; good friend, Jim MacFarlane and by the true love of her life, her cat, Chloe, who was with her through all the highs and lows of her life.
Besides her father, Cindy was predeceased by uncles, Weldon Bagnell Sr., and Joseph (Dody) Bagnell; aunts, Chris Rendall, Florence Bagnell, Jessie Wilson and Whilemine Rose, and grandparents, Joseph and Margaret Bagnell, and Sadie and William Hanham.
There will be no visitation. A graveside service for the late Cindy Hanham will be held in Willow Grove Cemetery, Louisbourg on Thursday, September 15, 2022, at 2 p.m. with Rev. Emily Duggan officiating. Family and friends are welcome.
Donations in Cindy's memory may be made to the Willow Grove Cemetery Fund, the SPCA or to a charity of one's choice.
Funeral arrangements are entrusted to the care and direction of Pier Community Funeral Home.

Online Condolences
I am so sorry to hear of Cindy's passing, my sympathy is to you, Mabel, Ross and Victor and to all extended family members. God bless you at this time and you are in our prayers, may she rest in peace.
From:  Carol MacVicar
Sorry to hear the sudden passing of Cindy our condolences to Mable Victor and Ross may she RIP
From:  Diane & Clark
Deepest condolences to Victor and all of Cindy,s family.
From:  Brian MacIntyre