Sydney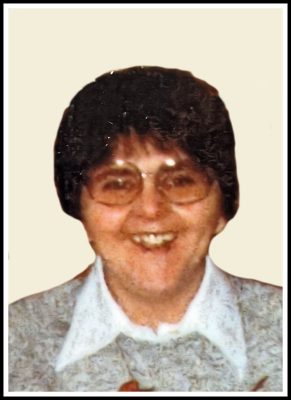 The family of Nancy Gill, regret to announce her passing on Tuesday, September 13, 2022, in the Northside General Hospital, North Sydney.
Born on April 13, 1946, in Sydney, Nancy was a daughter of the late Thomas Patrick and Mary Geraldine (Carew) Gill.
Nancy loved the simple things in life, crossword puzzles, reading, spending time with her many friends at 491 Cottage Road and above all else, spending time with her family.
Nancy is survived by her brothers, Jim (Monica), London, Bob (Mona), Westmount, Brian (Mary), Point Edward, and Gerald (Kim), Calgary; sisters, Carol Reppa and Anne Marie (Lorne); several nieces and nephews, including Susan Gill and Trish Gill, who managed her care around the end.
Besides her parents, Nancy was predeceased by her sister, Winnifred and brother, Thomas (Agnes).
The family would like to thank the staff at the Northside General Hospital, and her homecare and VON workers. We would also like to thank Susan and Patricia Gill. Words could never express our undying gratitude and thanks for all you did for Nancy in her time of need.
There will be no visitation for the late Nancy Gill. A committal service will be held on Wednesday, September 21, 2022, at 2 p.m. at the Pier Community Funeral Home, All Faith Chapel, Whitney Pier.
Donations in memory of Nancy may be made to a charity of one's choice.
Funeral arrangements are entrusted to the care and direction of Pier Community Funeral Home.

Online Condolences
To all of The Gill Family I'm so sorry for your lose. I still remember the good times we had as children playing on Argosy St. She was always happy then and when I would meet her later on in life. Condolences
to all.
From:  Carolyn Donovan Harriet
I'm so sorry to hear of Gerry's passing. My Condolences to the family. I knew her when we went to trade School back in 1981. She was a wonderful kind person. We enjoyed playing our guitars together. She will be missed by many, I lost track of her over the years, but never forgot her.
From:  Linda G
My sincere condolences Bobby and Mona Gill and your extended Family. May you take comfort in the memories that you have shared throughout the years ..God Bless you all during this difficult time. ❤️🙏🏻
From:  Sandra L Maxwell
Deepest sympathy to all family💕 & friends.
From:  Doddy & Bobby Keel
Carol, so sorry to read of your sisters passing.
My thoughts and prayers are with you and your family
From:  Judi Nagy
My sincere and heartfelt condolences to Anne Marie and family on Nancy's passing. Growing up, Nancy was always kind and friendly to me, and as a kid you never forget those things. She was a beautiful soul. God bless you all in this most difficult time.
From:  BettyAnne MacPhee
Heartfelt condolences to Nancy's family she was a beautiful person inside and out ,truly one of a kind . Gonna miss her smiling face 😢
From:  Shelly fraser
Condolences to Brian and family on the passing of your sister.
From:  Tom and Patricia Murphy