Ottawa/Whitney Pier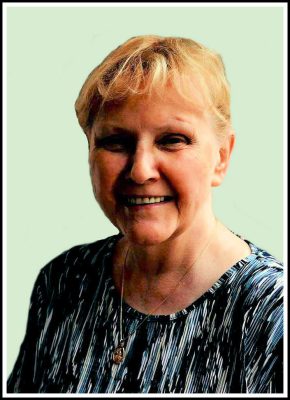 Julianne Marie Davidson (Wojick) passed away peacefully at the Elisabeth Bruyere Residence in Ottawa, on September 12, 2022, after a three-year struggle with dementia.
Born on April 5, 1943, Julie was the youngest daughter of the late Joseph and Mary (Tynski) Wojick.
Affectionally known by her friends and family as 'Bootsie', Julie was a proud resident of Whitney Pier and a devout member of St. Mary's Polish Church. She was an accomplished pianist, violinist, and excelled as a seamstress.
Following Julie's first marriage and birth of her children, much of her later adult life was spent in Ottawa, where she met and was happily married to Robert Hardy. They travelled often to Europe, especially to her beloved Poland, but always making an annual return trip to her 'home', Cape Breton.
In Ottawa, Julie worked for many years at the National Research Council and was a volunteer with the police community centre and an active member of St. Hyacinth Polish Church serving on the Finance Council. She was also very active with the Royal Commonwealth Society Ottawa including hosting students from across Canada.
Julie is survived by her husband of 32 years, Robert Hardy; sons, Allen, and Chris (Kathy); daughters, Suzanne (Randy), Laurie (Rich) and Michelle (Rob); brother, Terry Wojick; 9 grandchildren, and 6 great-grandchildren.
Besides her parents, Julianne was predeceased by her sister, Mania; brothers, Wally, Edward, and Joseph in infancy and first husband, Richard Davidson.
There will be no visitation for the late Julianne Davidson. Memorial Mass will be celebrated in St. Mary's Polish Church in Sydney on Saturday, October 15, 2022, at 11 a.m. with Fr. Richard Philiposki officiating. A private family interment will take place at a later date.
Donations in Julie's memory can be made to St. Mary's Polish Church or a charity of one's choice.
Funeral arrangements are entrusted to the care and direction of Pier Community Funeral Home.

Online Condolences
My heartfelt condolences to Bootsie's family and friends. Bootsie and I were great friends all through school at Holy Redeemer Convent, we kept in touch for some time after we both married and moved away, and unfortunately lost touch with all our moves. God Bless everyone at this very sorrowful time.
From:  Audrey (Wludyka) MacLeod