Sydney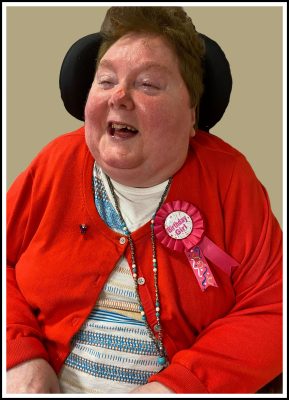 It is with great sadness that we, the family of Katherine Diane MacKinnon, announce her death on Friday, August 19, 2022, at the Cape Breton Regional Hospital. Diane passed away peacefully with her loving twin sister, Dolores, and her cousin, Marilyn Crane, at her side.
Born in Sydney, Diane was the daughter of the late John and Elsie (Bennett) MacKinnon, Sydney. Diane was a lifetime resident of Sydney and spent most of her life in the "North end" where she attended Sacred Heart Church.
Diane was admired by everyone she met for her warm smile and infectious laugh. She enjoyed the company of friends and family. Diane knew everyone's name and whether they had a pet! Diane never forgot a friendly face and would enjoy watching from her special place at the Northside Community Guest Home. She was curious and wanted to know everything that was going on.
Diane was an avid fan of the Nova Scotia International Tattoo and owned many of the performances on DVD. She loved music and she and Dolores spent many happy hours listening to the "oldies". The music of the Beatles was very special to Diane. She owned their t-shirts and most of their albums.
Diane loved to be well dressed and loved jewelry. As well, she had a great love of all animals. She spent many happy days with her cat, Tiger and later, Mojo.
Diane's favourite time of year was Christmas. She always had a small Christmas tree in her room and enjoyed a visit from Santa Claus every year. She would invite friends to join her for gifts and treats.
Diane is survived by her twin sister, Dolores, Sydney, who spent a great part of her life ensuring that Diane was happy and well cared for. Dolores visited her often and always honored birthdays and holidays with gifts and celebrations for Diane, who loved a good party! She loved the days when George Quirk visited the home and sang for the residents. Diane is also survived by her niece, Elizabeth and six grandnieces and nephews, Elora, Maegan, Valerie, Gregory Kai, Derek, and Alexandra. As well, Diane had a special family in New Glasgow, Sharon (Gilles) and their children, who she called her special nieces and nephews, Nathalie (Don), Danielle (Scott) and Mathieu (Kate). Sharon was a friend of Diane and Dolores for over 50 years. They spoke on the phone most Sunday afternoons. She delighted in stories of Sharon and Gilles' children, grandchildren, and the antics of their cats, especially Rory.
Besides her parents, Diane was predeceased by her brother, Gregory; sister-in-law, Margaret Ann and their infant son, John Cyril; as well as her sister, Barbara.
Diane's funeral will be a celebration of a well lived and joyous life. Diane loved the colour red and would wear it whenever she could. In her memory, her family asks that you wear something red or pink to her funeral. (A broach, a flower, a t-shirt). She would have loved a gathering where her friends and family each wore a bit of red!
Diane was very well cared for by the staff of the Teresa Terrace Unit at the Northside Community Guest Home. She had many friends in the unit and spent many happy days watching the staff go about their duties. They always had time to stop and talk to her and always made sure she was comfortable and happy. Special thanks to the staff of 3B and Palliative Care Unit at the CB Regional Hospital for their kind and professional care of Diane. As well, the family appreciated the professional and compassionate care of Diane's family doctor, Dr. A. Wawer.
Visitation and memorial service to celebrate the life of Diane MacKinnon will be held at Pier Community Funeral Home, 1092 Victoria Rd. (entrance on Church St.), Whitney Pier on Saturday, September 17, 2022. A gathering of family and friends will take place from 11 a.m. to 12 noon with the memorial service to follow at 12 noon in the All Faith Chapel with Fr. Paul Murphy officiating. Interment will take place in Resurrection Cemetery, Sydney Forks where her parents and sister, Barbara, rest.
Diane loved animals, especially dogs and cats. Donations in her name may be made to the SPCA, the An Cala Palliative Care Unit at the Cape Breton Regional Hospital or the Canadian Cancer Society.
Funeral arrangements are entrusted to the care and direction of Pier Community Funeral Home.
And when the night is cloudy
There is still a light that shines on me
Shine on 'til tomorrow
Let it be
I wake up to the sound of music
Mother Mary comes to me
Speaking words of wisdom
Let it be
(The Beatles: Let It Be)

Online Condolences
So sorry to hear of Dianne's passing. She always wanted to know "How is Trxiie?" my cat when I would visit her. Her smiling face will be missed.
From:  Wanda Fedora
Our deepest sympathy to the family of katherine mackinnon. May she rest in peace
From:  Sandra [Hiscock] Morrison and Janette Hiscock.
Delores I am deeply saddened to read of Diane's passing. Diane was the sweetest soul. She always had a big smile for me and her face would light up when she would see me walking in. May God give you the strength at this most difficult time Delores & Family. Fly high with the angels Diane. RIP beautiful lady.
From:  Dee Clarkson
Delores I am so sorry to hear of the death of Diane. She was such a gentle and pleasant person to be with. I remember her love of the Beatles and the pictures I gave her many years ago. I visited her several times at her residence in the North Sydney Facility and I believe she remembered me. I visited you on Walker Street last year but there were new people living there and they did not know of your whereabouts. Hope all is well with you and may God bless you and Diane. She is at peace now with Mon, Dad, Barbara and Greg.
From:  Donald Coleman
Delores, I was so sorry to hear about the loss of your sister. My prayers are with you.
From:  Trishe (Miller) Willis
Dearest Diane,
We will miss you. I loved our chats and your smile. God welcomes you now to His Heavenly Home. Rest In Peace ,friend.
From:  Sharon & Gilles Gauthier