Victoria Mines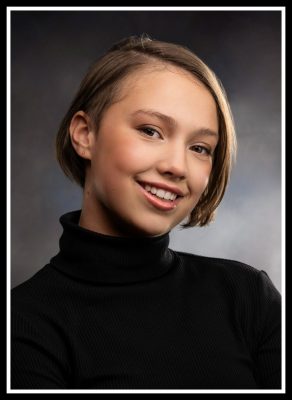 With deepest sorrow and shattered hearts, we, the family announce the passing of 12 year old Molly Elizabeth Wadden on Thursday, July 7, 2022, at home surrounded by love. She was born on January 27, 2010 and was the profoundly loved daughter of Jeff Wadden and Nadine Keller-Wadden.
Molly and her older sister, Larissa, enjoyed a great many things together. Those 'things' evolved into new interests as they grew older. When Larissa found herself in trouble with her parents, Molly was always there to defend her, even though our frustration would spread onto Molly. As our 13 year old dog, Buddy, aged, we witnessed an amazing amount of care and empathy from our 2 year old Molly. When she found out she was going to be a big sister, 4 year old Molly immediately offered to share her room and toys. After Chase was born, Molly took her role of big sister seriously – always keeping watch over her little brother and entertaining and playing with him. Molly continued this role even to her last days, letting us know when Chase was up to something he shouldn't be and chastising us for not properly reprimanding him. In 2020, we added another four-legged friend to our family. Roxy has been the perfect addition at the perfect time. Molly cherished her dog responsibilities, taking on the role of teeth brushing, grooming, and training. She left us clear instructions for the next skill to teach Roxy. Her loyal friend stayed by her side, snuggling and hogging the bed every chance she could.
Molly was a physically active person with a larger than life personality and a heart to match. Swimming, gymnastics, soccer, dance, baseball, tae kwon do, volleyball, music, and piano were all activities Molly enjoyed and at which she excelled. She had the 'IT' factor. She seemed to be distracted while learning or practicing, but when the lights came up/the whistle was blown/the pitch was thrown, she shined like a diamond! Molly loved her friends and, oh the fantastic friends she has had. Some have come and gone over the years, but they all continued to hold a special place in Molly's (and our) heart. Molly wouldn't admit it, but she loved school. She was blessed to have fantastic teachers and staff at Acadia Playtime, Harbourside Elementary, and Whitney Pier Memorial who enjoyed her humour and boldness and taught her so much, both in and out of the classroom. Molly leaves behind an incredible legacy. One that teaches us to be kind and considerate, to love, laugh, and live to the best of your ability and to share what good fortune and talents you have. Imagine a very active 9 year old, who was not afraid to try anything and who would meet any challenge head on with incredible success, being told she has Ewing Sarcoma. Then imagine that child, who has completed months of treatments and many surgeries and who has an incredibly resilient will to live, being told her treatments were no longer working. What would come next? Well, Molly chose to push through her pain and spend her remaining time doing the things she loved to do – be with friends and family, play volleyball, sing, and pay forward all the good things she had in her life. 'Molly's Mission' was born at the lowest point in Molly's life. Instead of turning inward and feeling sorry about her circumstance, she wanted to make a difference and decided to focus on giving hope and help to others.
Aside from her parents, siblings, and dog, Molly is survived by her grandparents, Lydia Keller (Nonna) and Florence and Dennis Wadden (Nanny and Grampy); Uncle Kevin and Aunt Heather (Keller); Aunt Denise Lavin; cousins, Brooke, Brady, Noah, and Ivey; as well as other beloved Great Aunts, Great Uncles, the best extended family and friends.
Molly was predeceased by her grandfather, Kevin Keller Sr. (Papa) and her dog, Buddy.
We've had the good fortune of experiencing excellent healthcare, both at home and in Halifax. Molly had a way with people – with her honestly, humour, intelligence, and wit, she endeared herself to many. Molly left us countless gifts including many new friends. Beyond the excellent medical care, we continue to feel their friendship, love, and support. Molly has been in the care of many incredible doctors, surgeons, nurses, clerks, technicians, technologists, physiotherapists, orthotists, therapists, and other medical staff. We couldn't possibly include all of their names, but please know our gratitude and love is unending. There are a few people who were more regularly involved in Molly's care. At the IWK, Dr. Karl Logan, Jennifer Muirhead, Amanda Grace, Michelle Makintosh, Kyleigh Woods, Jane Marchildon, Tricia Lane, and the IWK orthopaedic team. Dr. Bruce Crooks, Dr. Bilal Marwa, Dr. Meghan Pike, Meredith Tasiopoulos, Sarah Ross, Amy Bryden, Nadara McIntyre, Chantal Beaver, Laurie Weir, and the IWK oncology team. Dr. Stacie Colwell, Julie Mitchell, and the IWK Paediatric Acute Care Team. At the QEII, Dr. Michael Biddulf and Dr. Rob Rutledge. Our local healthcare team, Dr. Danuta Kajetanowicz, Dr. Katie Kellock, Dr. George Burns, Melissa MacDonald, Tara Baker, Carissa Nicolson, Chantal McMullin, Tracy Warren, the CBRH Pediatric team and the CBRH Paediatric Acute Care Team. Maria Shaheen and Breagh Potter. VON nurses Helen, Anne, Jolene, Michelle, Mikayla, and all the staff who helped us care for Molly at home. An extra special thank you to Dr. Katie Kellock and Melissa MacDonald, especially during these last few months. Also, thank you John Ratchford for the beautiful photos of Molly.
Gathering and Memorial Mass to celebrate the life of Molly Wadden will be held at Holy Redeemer Parish, Victoria Road in Whitney Pier on Wednesday, July 13, 2022. A gathering of family and friends will take place from 10:30 to 11 a.m. with the Mass to follow at 11 a.m. with Fr. Paul Murphy officiating. Following the Mass, a reception in Molly's honour will be held at the Pier Community Funeral Home. Private family interment will take place in St. Alphonsus Cemetery, Victoria Mines at a later date.
Masks are encouraged to be worn in church and for those unable to attend, Live Streaming will be available on Holy Redeemer Parish Facebook page.
Click Here:  http://Face Book at Holy Redeemer
In lieu of flowers, donations in Molly's memory can be made to Caleb's Courage. For information on ways to donate, call the Cape Breton Regional Hospital Foundation office at 902-567-7752 or www.calebscourage.com. Envelopes will be available at the Pier Community Funeral Home.
Funeral arrangements are entrusted to the care and direction of Pier Community Funeral Home.

Online Condolences
We're so very sorry to hear of Molly's passing. She was so inspiring to others. Had the pleasure to have met her/family at Tae Kwon Do. She was a brave girl.
From:  Lori, Jason, London Mackay
Dear Nadine, Jeff, Larissa, and Chase…to say that I am saddened by your loss is unstated. Molly was one of the sweetest patients to ever walk through her family doctor's doors. She will be forever remembered by those she met. God bless you! 💔
From:  Brenda Lockman
I'm so very sorry to learn of Molly's passing, my deepest condolences. Chase remember god never takes away the ones you love, he melts them into your heart and there they will remain forever.
From:  Allana Robar
I'm so very sorry to learn of Molly's passing, my deepest condolences. Chase remember god never takes away the ones you love, he melts them into your heart and there they will remain forever.
From:  Allana Robar
My deepest sympathy to all the family at this time of loss.
From:  Helen O'Shea
My most deepest, and heartfelt condolence to your family at this time.
From:  Suzanne Young
Heartbroken to read of the passing of your beautiful girl. Sincerest Condolences for your loss. May God give you strength to go forward. Prayers and Love
From:  Linda & John Catoul
I had the great pleasure of teaching Molly Art this fall at WPM. I only knew her very briefly, but she always made herself known in the best ways. She was a treasure to her friends and classmates, she was missed at school while sick, and her passing will be deeply mourned. I was on maternity leave and watched as Molly's Mission pulled the Mustangs together for great causes. She brought so much life to a school she was at so briefly. From my small new family to the Waddens I want to share in the sorrow of your loss and the celebration of Molly's amazingly well lived life. She will be remembered and missed.
From:  Lindsay Ross
Molly Wadden
Condolence Message
Nadine and Jeff
I am deeply saddened to hear the news of Molly's passing. From what I hear she fought hard fight right to the end. Please accept our sincere condolences. May it bring you peace in knowing that she is now at peace and free from suffering
From:  Roseann MacIntosh
Words cannot express the sorrow I feel for Nadine and Jeff and Lorissa and Chase, please accept my deepest sympathy for your loss.. may Molly now rest in peace.. God bless you and your family in your time of sorrow.
From:  Donna Keller
Our condolences to the family. Marilyn (Keller) Terry Vango. And Debbie Keller) McDonald.
From:  Debbie McDonald
I am so deeply sorry for the loss of Molly. I had only met her a handful of times but she was always sweet and bright. Deepest condolences and sympathy from myself and my family.
From:  Addison Blackburn
I am so sorry for your loss. I admire Molly's strength in thinking of others as she fought her own health battle. Know that my thoughts are with those touched by Molly's strength and kindness, especially her family who will feel both the joy of having known and loved Molly and the deep loss of her. My sincerest of condolences to you all.
From:  Denise Steeves
My heart is heavy with the loss of your loving daughter. She sounds like a special person with love from
everyone who knew her. Huggs to all.
From:  Linda Byrne
Nadine and Family, I am so sorry to hear of Molly's passing, thinking of you and your family during these difficult days.
From:  Dale Young
Nadine, Jeff and family. I am at a loss for words. My heart breaks for you. Thinking and praying for you all.
From:  Gregory Carrigan
Deepest condolences on the loss of this beautiful young Lady. After reading her obituary, I could see how very special she was. Even though her life was not long, she has certainly left a lasting legacy. Blessings and prayers for all your family at this difficult time.
From:  Julia Townsend
Lydia and family: So sorry to hear about Molly's passing. So glad we had a chance to meet and catch up just recently. Prayers and thought are with you and your beautiful family.
From:  Peggy (Fraser) and Murray MacCuish
Our Deepest Sympathy the Wadden Family and Nonna Lydia! She certainly was quite a Girl during her time with us! Precious Memories!
Love and Hugs, Charlie and Marie (Tortola) Conway Halifax
Our condolences to all of Holly's family. Our thoughts and prayers are with you during this difficult time.
From:  Maureen and Walter Butts
Condolences to Molly's family and friends.
From:  Maureen & Walter Butts
Dear Nadine, Jeff, Larissa, and Chase,
No words are sufficient in describing how sad these moment are and how much love and thoughts we all would like to express. My deepest condolences go to your remarkable family.
Sweet Molly had left a huge inspiring impact on me as well as many people, and will be remembered indefinitely. Being part of Molly's care is a true gift I am grateful for; so is the privilege of working with you all as an incredibly supportive and loving family.
As deep our feelings of sorrow are at this moment, it is impossible for us to begin to imagine what you are going through. Please know that you are in our constant thoughts and most sincere prayers.
Love,
Bilal
So sorry to hear about the loss of Molly. Our thoughts and prayers are with you all. Thinking of you during one of the most difficult times in your lives. Kelly, Ken, and Jordan, 👼MacLeod
From:  KELLY MACLEOD
Jeff Nadine Larissa Chase and Roxy
We would like to offer our deepest Condolences to you for the passing of your sweet Molly .Watching Molly performing with her Dad brought us such joy and happy tears of joy , so much talent . She was amazing .
Our thoughts and prayers are with you today at your Celebration of Life for Molly .
From:  Derrick Heather Jessome
To Molly's family,
We are deeply sorry for your great loss. Although we do not know your family, this child sounded like a wonderful young lady . Our hearts go out to you . God Bless
From:  John and Dawn Pushie
To Jeff and family,
My sympathies to you and your family on the passing of your beautiful daughter. She left an impact on this world and she left us too soon. Cherish your wonderful memories to hold her dear to your hearts.
From:  Alison Stultz
I am a friend of Molly's grandparents Florence & Denise Wadden. Sincere Sympathy being sent to his parents, sister & brother and her grandparents and all who loved her. May all the memories you all hold dear in your heart help through this very difficult time. God Bless you all!
RIP Molly Wadden
From:  Alice (Marley) Theriault