Sydney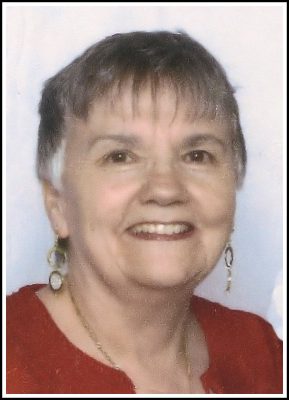 It is with heavy hearts and sadness that we, the family of Mary MacLean, announce her sudden passing on Wednesday, July 27, 2022, at the Cape Breton Regional Hospital, Sydney. Mary has entered into her everlasting life with the lover of her soul, Jesus.
Born on December 9, 1946, in Glace Bay, Mary was the daughter of the late Louis and Matilda Detcheverry.
Mary leaves behind her loving husband of 59 years, Eddie; two sons, Paul (Sandra) and Wil (Laura);  grandchildren, whom she thought the world of, Amy, Samantha, Leigh, Wraelyn, Tara, Brittany and Victoria; great-grandchildren, Mason, Tanner, Easton, Oliver and Fallon; sisters, Del MacNeil, Annette White and Cecile Devison-Dutkoski, ON, Ida (Eddie) Donovan, Lucy (Shannon ) MacPherson, and Philomena (Jackie ) MacInnis; brothers, Clifford (Anna) Detcheverry, Glace Bay, and Francis (Heather) Detcheverry, NB, along with many nieces, nephews, friends and many international students, who she has befriended and affectionately called her their 'Canadian Grandmother'.
Besides her parents, Mary was predeceased by brothers, Peter, Marcel, Wilfred and Louie Detcheverry; infant granddaughter, Deborah Lynn MacLean; niece, Nancy MacInnis and nephew, Kyte Detcheverry.
Mary was employed by the Sydney Day Care Centre for twenty years before retiring. She later worked as a private childcare worker for several more years. Mary then went on to teach several seniors exercise classes both at the YMCA and privately to this present day.
Mary had an amazing gift of helping, loving and ministering to people while sharing God's love. She was a kind caring lady, who loved and was loved by all who knew her. Her loving others, all came from Mary knowing how much God loved her.
Mary was such a wonderful wife, mother, grandmother, great grandmother, sister, aunt and friend. We say so long, this is not good bye, until we meet again.
Visitation for the late Mary MacLean will be held at the Pier Community Funeral Home, Whitney Pier, 1092 Victoria Rd. (entrance on Church Street) on Monday, August 1, 2022, from 12 noon to 2 p.m. and 5-7 p.m.  A celebration of Mary's life will be held in Hineni Church (former St. Anthony Daniel Church), 105 Alexandra Street, Sydney on Tuesday, August 2, 2022, at 2 p.m. with Pastors Bill Legge and Kevin Mattatall officiating. Interment will take place in Forest Haven Memorial Gardens, Sydney. Following the service, all are invited for a reception in the lower level of the church.
In lieu of flowers, donations in memory of Mary may be made to the Hineni Building Fund by e-transfer:  hereiamgive@gmail.com
Many thanks from the family go to the doctors and nursing staff in the ER for their efforts and compassion given to Mary during her time of need.
Funeral arrangements are entrusted to the care and direction of Pier Community Funeral Home.
1 Cor 13:12  For now we see only a reflection as in a mirror; then we shall see face to face . Now I know in part; then I shall know fully, even as I am fully known.

Online Condolences
Eddie & Family
So sorry to hear of Mary sudden . She was a great Lady. Will keep Her & The Family in My Prayers. May God Bless You All
From:  Ada Hagen
The world has definitely lost an Angel. My dear Auntie may you rest in eternal peace.
From:  Angel Henderson ( nee Catherine White)
My thoughts and prayers are with Eddie and all the Family for the loss of my dear Sister Mary. She will be sadly missed by all who had the pleasure of knowing her. Rest In Peace dear Sister.
From:  Annette White ( nee Detcheverry)
We are going to miss Mary so much. She was always helping people.Mary always put others needs ahead of herself. She has touched many peoples lives. We are sorry to see her go but know she is happy in the presence of the lord.
From:  Sue and Wally Monk
Eddie and family – sending deepest condolences for your loss. Mary had a profoundly positive impact on my brother and I while caring for us as young children. She was a fantastic role model and was very special to our family. I remember her as being such a bright light. Keeping you in my thoughts.
From:  Lauren Johnston
So sorry to hear of Mary's passing. A wonderful Lady always a smile and a hug. Helping others was Mary's Passion. Ed and Mary Have a Large Family My Condolences to all. And to her Family @ CBCFC.Mary and Eddie were so devoted to their family there and to Jesus. A Li'l Miss Dynamite always in the Go with a smile and a Purposes rest in Peace Mary.
From:  Arlene Usher
Very sorry for your loss . Was such a caring and giving person
From:  Donna Boyer(Mac Innis)
I feel privledged to have known Mary by going to her exercise classes for a number of years most recently at the church. Rest in Peace Mary.
From:  Joan Gessner.
Eddie & Family
So sorry to hear of Mary sudden passing She was a beautiful Lady .Will keep Her & the Family in My Prayers. May God Bless you all.
From:  Ada JANE Hagen
Eddie , Paul , Wilfred and Family,
So saddened to learn of Mary's passing . She was such a blessing to our family .The influence she had on Steven and Lauren in their young informative years is immeasurable. So fortunate to have had her in our lives .
Praying the love of family and friends give you comfort in the days and weeks ahead .
From:  Pam Stevens Johnston
Eddy and family , sending sincere condolences to you all . May her memories live in your heart always, God Bless
From:  Debby (Hearn) Cavicchi
Deepest condolences to Eddie and family on Mary's passing- Mary will be missed by so many
From:  Judy Hussey
So very sorry to hear of Mary's passing. Prayers to the family
From:  Alan &Sandra Mac Lean