Howie Center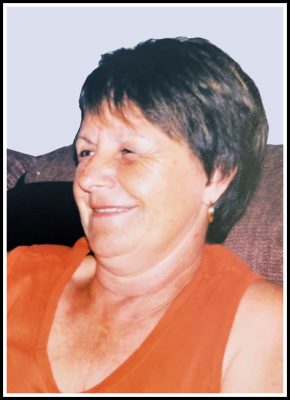 It is with heavy hearts and great sadness that we, the family, announce the passing of Darlene Kathleen Susan MacInnis (Walsh) on Wednesday, July 27, 2022, in Sydney.
Darlene was originally from Sydney Forks and was the daughter of the late Thomas and Rose Walsh (Peters).
Her calling in life was to take care of everyone she loved. Married at an early age to her beloved husband of 51 years, Darlene gracefully transformed from a teenager to a loving, caring, responsible human being. She was, what we referred to as, "the domestic queen". John was very blessed as her husband. As a mother to Kevin and Colleen, Darlene was ferociously protective, nurturing and loving. Sacrificing for whatever they needed came easy to Darlene.
In the early years, Darlene followed John to other parts of Canada for his work. Eventually they resided in Big Pond for many years. There she played an active and supportive role as a community member. She adopted the love of the Cape Breton Music and hosted many ceilidhs in what we respectfully named "the apartment". In 1997, they moved to Howie Center where they resided for the remainder of their life together. Wherever Darlene lived, her door was always open to family, friends and neighbors. The ambiance she created was magically warm and inviting, filled with the delicious smell of freshly baked goods and suppers. The teapot was on continually and her skills as an exceptional home cook served us all very well. She laughed a lot, told stories with descriptive detail, always loved a joke, and lived her life with vigor and passion. Feeding everyone with her delicious food made her happy.
As a grandmother to her adoring grandchildren, Darlene shone the brightest. She earned their love, friendship and respect as did they in return.
Darlene was predeceased by her husband, John William 'Willie' in November of 2020 and besides her parents, she was also predeceased by her parents-in-law, Dan Joe and Christie MacInnis (MacIsaac); brother, Tommy; sister, Barbara Williams, and brother-in-law, Philip MacInnis.
Left to mourn and grieve are her son, Kevin; daughter, Colleen (Craig Mills); sister, Faye (Ron Dauphinee); brother, Glen (Debbie Buckles); sisters-in-law, Marie (Malcie MacPhee), Patricia (Kenny Hutchins), Jean (Simon Murray), Bernadette (Johnny MacNeil), and Trese (Jim MacNeil); brothers-in-law, Sheldon (Marlene), Jamie, Father George, and Donald (Chantelle); grandchildren, Riley and Madison MacInnis and Aidan and Rory Mills, who will miss her dearly. Also left to mourn is Lisa Thibodeau (MacNeil), for whom she loved like a daughter. Darlene will also be missed very much by her walking partner, Rose Hutchings.
We find comfort in knowing Darlene was ready to pass over into the arms of her loved ones gone before her, especially John William. Her faith allowed her to surrender to her illness with strength and peacefulness. She passed away at the Palliative Care Unit in the Cape Breton Regional Hospital with family members by her side. The family want to thank the kindness and empathy shown by the Palliative Care Team, especially Dr. Burns, Heather Skinner and her special VON nurses. In addition, we would like to extend our greatest appreciation of care and support to Arlene Billard (NP, Oncology and Cancer Unit). We wish to express our very sincere thanks to her guardian angels: Geraldine MacPhee, Arlene MacDonald and Marie MacPhee.
As per Darlene's wishes, there will be no visitation or service. She will be laid to rest in the Big Pond Cemetery at a later date.
In lieu of flowers, donations can be made to the Big Pond Community Firehall.
Funeral arrangements are entrusted to the care and direction of Pier Community Funeral Home.
"To be loved is to live in someone's heart forever."

Online Condolences
To all the family members of Darlene Mac Innis, please accept our condolences for your loved one. We are sorry to hear of her passing. Our prayers are with you all Kevin and Colleen and family
From:  Joan Murphy
We are so deeply saddened by Darlene's passing. She always had that witty smile and tales to tell. We all so enjoyed having her attend our Chick a Dee group from younger years We had many stories to tell and she always filled in parts we couldn't remember. May you RIP my sweet gal. Fly high with all our special Angels.
From:  Barry & Starla Costello
Colleen, Kevin, and families , please accept my heartfelt condolences on your Mom's passing. May the memories you have, and shared help you through the bad days ahead, she was a lovely lady, may she RIP.
From:  Anne Sullivan
Dear Family, Please except my sincere condolences at this very difficult time. Darlene and I were old school friends and although I moved to Halifax years ago, saw her for get together s with the old chick a dee gals from time to time. There were always a lot of stories and laughs .
From:  Shirley Williams
Colleen – my deepest condolences on the loss of your mom. I know she'll be dearly missed. Thinking of you and your family.
From:  Tara MacNeil
I'm very sorry for your loss, Please except my sincere condolences. Sending hugs.
From:  Mabel MacEachern
Deeply saddened to hear about Darlene's passing. She was a light that shone brightly, in the eyes of her family, and all those who knew her. Life will never be the same without her quick wit, and love for life. Her kindness and gentle way will not be forgotten, for she touched many!❤ To her siblings, Faye and Glen, love and hugs to you both, as well as her two children, and grandchildren. I will miss you!❤
From:  Susan Pushie
So sorry to learn of Darlene's passing. We got to know Darlene over the years, hearing many stories about her left and especially about her grandchildren. She was a strong woman who faced her struggles with a positive nature. We will miss Darlene.
From:  Donna and Jack Dalrymple
Condolences to all the family .Darlene was a beautiful, kind , lady .She will be missed by all who knew her .
From:  Jean Marie White
Deepest sympathies to Darlene's family
The thing I most remember about Darlene is that she was always laughing…an amazing trait to have!
We used to hang around together at the chick a dee as teenagers. There were many great times had by all who were there.
I have visited with Darlene in recent years and I have found her to be the same positive friendly person that she always was…she will be missed.
Ralph and Diane Frost (Mac Donald)
From:  Diane Frost