Sydney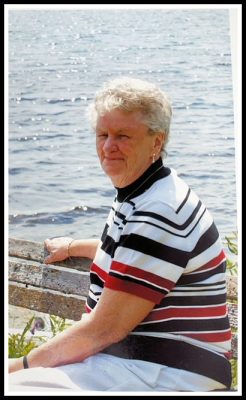 With deepest sorrow, we the family, announce the passing of Catherine 'Cathy' M. Dolan on Monday, June 27, 2022, at the Cape Breton Regional Hospital, Sydney.
Born on March 31, 1937, in Sydney, Cathy was the daughter of the late Dan L. and Elizabeth 'Bessie' MacNeil.
Cathy was a loving mother, grandmother, great-grandmother, and friend. She was a strong and courageous woman who fought illness until the very end.
Cathy is survived by her daughters, Linda (Peter) Rutherford, Donna (Lorne) MacNeil, and Sharon (Bruce) Rutherford; son, Sandy (Melanie) Dolan; eight grandchildren, Amy, Traci, Jennifer, Mark, Emily, Breagh, Brayden and Luke; four great-grandchildren, and sister-in-law, Sally MacNeil.
Besides her parents, Cathy is predeceased by brothers, Michael, Alex (Lucy) and sisters, Elizabeth 'Sis' (Toby) Halloran and Isabel (Matty) Flood. Catherine was predeceased by both of her husbands that she dearly adored, Charles Brocklehurst and second husband, Eric Dolan.
There will be no visitation for the late Catherine Dolan. Memorial service to celebrate Cathy's life will be held at Pier Community Funeral Home, 1092 Victoria Rd. (entrance on Church St.), Whitney Pier on Saturday, July 2, 2022, at 9 a.m. with Fr. Paul Murphy officiating. Interment will take place in Resurrection Cemetery, Sydney Forks.
For those unable to attend, Live Streaming will be available on our website.
Click Here: https://www.facebook.com/35925689617/live/
Donations in memory of Cathy may be made to a charity of one's choice.
Funeral arrangements are entrusted to the care and direction of Pier Community Funeral Home.
"With so many people who were kind and helpful to mom over the last number of years, our family cannot thank you enough."

Online Condolences
Sandy and Dolan families. Sincere condolences. Your mother was a wonderful and friendly person always with a smile . Our thoughts and prayers are with you at this most difficult time.
From:  Sandy and Agnes Scott
To Cathy's lovely family so sad to hear the news. Cathy was a lovely lady, just so many find memories of her as I was growing up on Cabot St. The times spent on the ice rink in her backyard and the hot summer days at the Mira bungalow. She will surely be missed by everyone
From:  John Dalton
Sending heartfelt condolences to Sandy, Sharon, Linda and Donna on the passing of their dear Mother. Cathy's friendship, kindness, generosity and welcoming presence will always be fondly remembered. May you find comfort in gathering together and sharing precious memories at this time. Love and prayers to all, Dodie, Karen & Pam
From:  Karen Coombs
Dear Dolan family we are so sorry to hear about your mom. Kathy was a beautiful person. The Cameron family was very lucky to know her.
From:  Paula (Cameron) Stewart
My deepest sympathy to Donna, Linda, Sharon and Sandy and their families on the passing of your mom. She was a sweet and kind and always had a smile when she met you. She will be greatly missed by all that knew her. I'm sure you all have wonderful memories to get you through the hard times especially at the bungalow. God Bless! xxoo
From:  Mae Gould
To Cathy's family: Our sincerest condolences to you all. What a lovely lady, and what a wonderful wife she made for Eric. My Dad worked with Eric at Swift Canadian for years. My parents Keith and Catherine Ervin thought the world of your Mom and and Eric.
We do hope the memories shared at this sad time will see you through. My sister Linda and I spent many Friday afternoons in the Swift office on Townsend St. Being treated like royalty by the staff. We got to know your Mom after they moved to Keltic Drive where your Mom would always be a host of the Christmas parties. Such fun and good memories.
Our love to you all.
From:  Gail and Bob Muir
Linda and Brennan Sheppard
Linda and Donna and Families:
My deepest sympathy on the death of your dear Mom. I did not know Cathy that well but when I saw her and Eric after Sunday Mass, she would always greet me with a lovely smile and a warm hello. She was beautiful on the inside as well as on the outside. My late Mom and Dad thought the world of Cathy as she was married to their nephew and my first cousin, Charles. The last time I saw you Linda and Donna was when you were little girls. Gosh time flies. I also had the pleasure of meeting Eric. He was a wonderful gentleman. He and Cathy were well respected in the business community. I will pray for Peace on Cathy's life in eternity along with Eric's. Keep sharing your memories. By doing so you will keep her spirit alive!
May our Loving God continue to bless you all with Courage, Strength and Peace in this your time of sorrow and loss.
Blessings and Prayers,
Audrey ( M. Brocklehurst)