Louisdale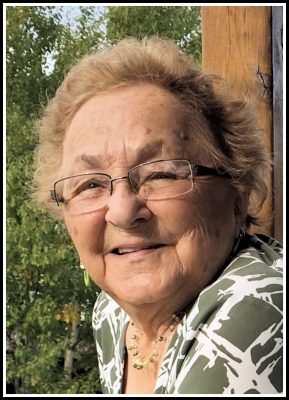 It is with great sadness that we announce the peaceful passing of Edna Justille Boudreau on Sunday, May 29, 2022 at the age of 93 at the Richmond Villa in St. Peter's. Mom / Nanny was surrounded by her loving family in the days leading to her passing.
She was married to the love of her life, Eddie for 59 years. Together they are survived by their children; Donna (Carlo) Mancini, River Bourgeois; Pam (Jim) Pyke, Port Hawkesbury; Terry (Darlene) Boudreau, Louisdale; Marcel (Margaret) Boudreau, Antigonish; Lionel (Jessica) Boudreau, Petit de Grat; Laureen (Lance) Anderson, River Bourgeois; stepson Herman (Carmelita) Marchand, Riverview; and stepsister Julia (Leon) Cordeau, Louisdale.
Edna was a devoted grandmother to her 14 grandchildren and 21 great-grandchildren and will be sadly missed by many nieces and nephews. She was the last surviving member of the late Thomas and Sabine Rose (Samson) Marchand family, predeceased by brothers Alphonse, Eugene, Raymond and Bernard; Sisters, Rose, Evelyn, Viola and Anita.
Edna was a very faithful member of the St. Louis Parish choir and CWL.
Cremation has taken place. Visitation will be held on Friday, June 3, 2022 from 6-9 p.m. in the Glen Sampson Memorial Room in Louisdale. Funeral mass will be held at 11 a.m. on Saturday, June 4, 2022 at St. Louis Parish Church, Louisdale, with burial to follow. A reception will follow at the Lion's Den, Louisdale.
Memorial donations may be made to Mental Health Foundation of Nova Scotia.
Funeral arrangements are entrusted to the care and direction of Evy Landry and Pier Community Funeral Home.

Online Condolences
So sorry for your loss.
From:  Elaine Fougere
To: The Boudreau Family
Our heartfelt condolences go out to you and your family in this time of sorrow. Your mom will be truly missed and always remembered. May our lord comfort you and your loved ones.
With loving thoughts and prayers
From:  Anita, Diane & Steven Drummond
Dear Boudreau family. It is with a heavy heart we offer our sincere condolences at the passing of your dear Mother. it is never easy to loose a loved one, but just know she is watching over you all and bringing the family together to be there for each other . As we know family is everything and when the link is broken it takes prayer and love to help each other in this difficult time sending warm hugs and love to you all
From:  Norbert and Betty Gagnon
Donna (and Carlos), we are so sorry to hear of your Mom's passing. May she be at peace. Hugs to you and your family!
From:  Gina Sampson
Terry, Darlene & family – So very sorry to hear of your Mom's passing. Our thoughts and prayers are with all of you at this difficult time. May the love of family and friends bring you peace and healing in the days ahead.
From:  Bill & Cheryl Allen
Sorry to hear of your Mom's passing, thoughts and prayers.
From:  Kathleen Boudreau (St. Peter's)