Grand Mira South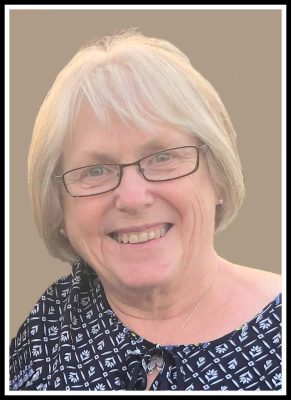 It is with broken hearts that we, the family, announce the sudden passing of our beloved wife, daughter, mother, grandmother and sister, Margaret Ann Baldwin in a car accident on May 2, 2022, in Grand Mira South, Nova Scotia.
Born on January 23, 1955, in Truro, NS, Margaret Ann was the daughter of Doris (Frizzell) LeBlanc and the late Roger Leblanc of Truro.
Besides her mother, Margaret Ann is survived by her loving husband of 48 years, Bobby Baldwin; children, Tammy (Chris) Oldford, Ontario, Robby (Melissa) Baldwin, Ontario, and Roger (Tina) Baldwin, Marion Bridge; grandchildren, Victoria and Ryan Oldford, Evan and Julia Baldwin, and Maggie and Ben Baldwin; sisters, Sheila (Andy) Campbell, Jane (Doug) Landsberg, Cathy (Rod) Himour, and Dawn (Owen) Scott.
Margaret Ann worked at various jobs throughout her life, most notably the Ashby Co-op for almost 20 years, Canada Post, and recently as a school bus aide. She gave of herself over the years by volunteering for a number of different organizations that her children were a part of, such as a Beaver leader (Rusty), Holy Redeemer Youth Group, the annual Cape Breton Dairymen's children's Christmas party, and the Pier Loaves and Fishes.
Margaret Ann could often be found at Tim Hortons and Value Village with Bobby at any time of day. She and Bobby enjoyed travelling with various family and friends to such places as Hawaii, Spain, Italy, France, Cuba, Dominican Republic and various other places throughout Canada and the United States. She was an avid gift shopper, book reader, Sydney Crosby fan, and scrabble player with her sisters. Margaret Ann loved her girls' weekends in Tatamagouche with her mother and sisters where they would often dress up in themes. Over the past few years, she took up quilting where she would spend her Monday nights with the girls making blankets for the whole family. Her greatest joy in life was spending time with her 6 grandchildren. She and Bobby could always be found around town with Maggie and Ben and travelling to Ottawa to spend time with Victoria, Ryan, Evan, and Julia. She loved to have the grandkids over for Friday night sleepovers, getting the whole family together for fight (games) night, and her celebrations after a victory in the game of Trouble were legendary. She also loved the times when all the grandchildren were together in Mira during the summer.
There will be no visitation for the late Margaret Ann Baldwin. Memorial Mass will be celebrated at St. Margaret Parish in Grand Mira South on July 14, 2022, at 11:00 am. A celebration of life will follow at the Grand Mira Community Hall.
In lieu of flowers, donations in memory of Margaret Ann may be made to the Autism Society of Nova Scotia, the Children's Wish Foundation, or any charity of your choice.
Margaret Ann will be greatly missed and always loved by her many friends and family.
Funeral arrangements are entrusted to the care and direction of Pier Community Funeral Home.

Online Condolences
Very saddened to hear this tragic news. Bob, if ever there existed "soul mates", it was you two. Your family's loss is profound. My prayers & thoughts are with you.
From:  Geri Wall
Dear Bobby and Family,
Please accept our sincerer condolences on the tragic loss of Margaret. We are deeply sorry for your loss.
From:  Wanda and Ed Fedora
Bobbie and family….I am so sorry for your loss. Thankful for your many years together and all your precious memories. Sending prayers.
From:  Judy Dixon
Bobby and family. It is hard to find the words to express how sorry we are for your loss. Hardly a day goes by that she doesn't come to mind. Your life together seemed to be full of love and happiness. Hold on to the wonderful memories. God bless all of you.
From:  Peggy and Roddie Gillis
To Bobby and the entire Family,
Sincerely sorry for your loss, may God have mercy on Margaret's soul and she RIP eternally with our Heavenly Father, in the name of our Lord Jesus Christ, Amen.
From:  Dan & Nancy Smith
Dearest Tammy, Chris and Family., It was with deep saddest that I read of your Mother's passing today. May all your loving memories bring you comfort in the difficult days ahead and may God's peace be felt in your heart. -Sincerely, Donna MacKenzie ( Mark's Mom)
From:  Donna MacKenzie
We are so very sorry to hear this sad news, keep all the good memories close to help you through this terrible time. sending prayers.
From:  Karl and Judy Marshall
Bobby and family, we are so sorry to learn of Margaret Ann's passing. Margaret Ann always had a smile and a friendly greeting for everyone who crossed her path. She always spoke proudly of her family. Our condolences to all of you at this sad time. You are in our thoughts and prayers.
From:  Wanda and Jack Collins
Bobby, l am shocked and sadden
You have my deepest condolences
I will remember Margie's SMILE
From:  Rita Macleod
Bobby…so very sad to read of your dear wife's sudden passing…. My sincere condolences to all of you..
From:  Colleen (Boutilier) Shepherd