Balls Creek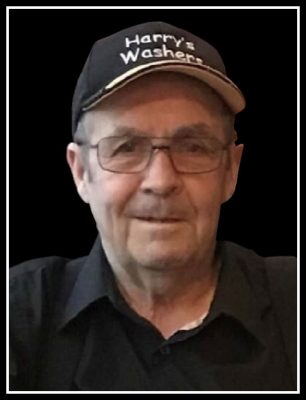 It is with broken hearts that we, the family are saddened to announce the passing of Harry MacInnis, age 76, on Friday, April 1, 2022, at the Hospice Cape Breton, Sydney, surrounded by his loving family.
Born on March 12, 1946, in Sydney, Harry was the son of the late Roy and Helen (Burns) MacInnis.
Harry worked for LeVatte's Construction for many years and then Local 92 Union in Fort McMurray where he retired. Later in Life he found his passion in Harry's Washers, where he was well known by everyone.
Harry loved spending time with his family and friends, whether it was enjoying a game of Tarbish down at the Point Edward Community Hall on Wednesday afternoon or a game of cards in the garage at home. Everyone was his buddy, but his true passion was spending time with his family and with the light of his life, his grand girls.
Harry is survived by his wife of 55 years, Kathy (MacLeod); sons, Jerry (Shelly) and Sheldon (Carrie); sisters, Irene Clarke, and Margaret Findlay; brother, Alex MacInnis; grand girls, Hailee, Kylie, Katie, and Rebecca; sisters-in-law, Judy and Diane; brothers-in-law, Earl and Neil; as well as many nieces and nephews.
Besides his parents, Harry is predeceased by his sisters, Minnie, Grace, and Marie; brothers-in-law, Al, Willie, Cecil, Roddie, Earl F, Donnie, Kenzie, Gerald, Keith and sister-in-law, Marjorie.
Visitation and memorial service to celebrate the life of Harry MacInnis will be held at Pier Community Funeral Home, 1092 Victoria Rd. (entrance on Church St.), Whitney Pier on Wednesday, April 6, 2022. A gathering of family and friends will take place from 11 a.m. to 1 p.m. with the memorial service to follow at 1 p.m. in the All Faith Chapel with Rev. Sheldon Chant officiating. Private family interment will take place in Forest Haven Memorial Gardens, Sydney, at a later date.
A special thank you to his partner and friend Sandy MacNeil and to Dr. D'Intino, Dr. Saliba and all the staff at the Hospice Cape Breton and the VON for your care and compassion when caring for Harry.
Donations in memory of Harry may be made to Hospice Palliative Care Society of Cape Breton County or VON.
Funeral arrangements are entrusted to the care and direction of Pier Community Funeral Home.

Online Condolences
So sorry to hear of Harry's passing. He fought a long hard battle, may he rest in peace. My sincere condolences to you Cathy and the boys and the family.
From:  Debby O'Handley
Dear Catherine, Jerry, Sheldon, families and extended family. We are so very sorry for your loss and are holding you in our hearts, our thoughts and prayers. Over the past 20 or so years we grew to know Harry as a dear friend. His humor and whit kept friends entertained at many card games and he was always ready to help out in his own special ways. Many patrons at the East Bay games, like Harry, became much like family in their caring for each other and keeping in touch. Myself and Ivan give thanks for knowing and loving Harry, who has remained important to us throughout his lengthy journey of illness. Catherine you've been Harry's rock and daily angel of mercy. God bless you and your wonderful sons and families as you journey forward following Harry's passing. Love, hugs and prayers for you all, Viola and Ivan.
From:  Viola and Ivan Doncaster
So sorry to hear of Harry's passing. I have many happy memories of growing up in Frenchvale. Myself along with my brothers and sisters used to hang out with Harry, Renie and the Musgrave boys.
From:  Beverly Musgrave Aker
I am so sad to hear of Harry's passing. My sympathy to his family. Light and love
From:  Johnena kennedy
Sad to hear of Harrys Passing. Our condolences to all the family. We knew Harry for over 60 years and have nothing but praise for him. A real gentlemen. I myself worked many years out west with him and my wife and I worked with him at the Joy Supermarket back in the early sixties. We had many a laughs. What a guy. Will miss you old BUDDY.
From:  Jack & Molly PIckup
Katherine, Jerry, Sheldon and family, sorry to hear about the passing of Harry! Thoughts and prayers for you all!
From:  Sandra MacLeod
Katherine, Jerry, Sheldon and family.
Sorry about your loss, thinking about you all at this time.
From:  Trevor MacLeod
My sincere condolences to you Katherine and family. That was the nicest service I was ever at , if there is such a thing. I have the little orange or red tractor that was in the slide pictures that I got from Harry . I believe one of the granddaughters was on it . Wish I had met that man many years ago. He told me my uncle was his teacher in trade school. I will never sell that machine, take care.
From:  Allan LeForte
So sorry to hear of Harry's passing. Our sincere condolences to Cathy, Jerry, Sheldon and his grand girls. XO
From:  Terry and Kim Morris
Please accept my condolences on the death of Harry, whose presence will be greatly missed. Harry influenced many as a reformer and story teller. His good nature extended to his card-playing friends and his washer clients as well. To his widow and family, and to Renie and Alex, I offer my sincere sympathy. Rest in Eternal Peace, Harry.
From:  Sharon MacDonald