Sydney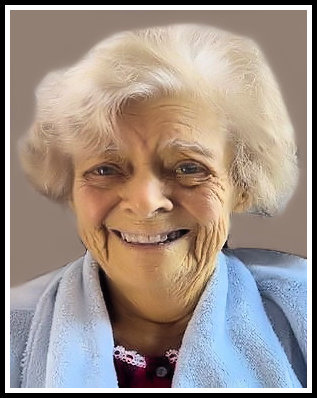 It is with sadness that we are sharing the news of mum's passing on Saturday, March 26, 2022, age 79 years, at the Cape Breton Regional Hospital, Sydney. Over the past two and a half years, she demonstrated that courage, determination, faith, and a sense of humour can help in even the most difficult of circumstances.
Born on December 3, 1942, in Sydney, Connie was the second of 11 children born to the late Edward and Marion (Mary) Collins.
Growing up in Whitney Pier, Connie was proud to be a "pier girl". Mum left the pier when she met Terry, an Englishman, who sailed into Sydney harbour and into her heart. Mum and dad married in 1963 and they spent the early years of their marriage in England where together they added four daughters to their family. They ultimately returned to Canada and made their home in Coxheath.
Mum enjoyed a full life, raising her family and spoiling her grandchildren. She loved nothing more than being a wife, mother, grandmother, sister and aunt. Meeting new people while helping and supporting others brought much joy into her life. Mum was young at heart and could always make you laugh. Connie was always up for an adventure and enjoyed travelling throughout Europe and had a special place in her heart for her second home, Spain.
Connie loved watching live theatre production and reveled in the performing arts. Her legacy is her grandchildren and she encouraged and supported them in all that they did. Furthering her children and grandchildren's education was of utmost importance to her and she could often be heard boasting about their accomplishments. Dad passed away in 2010. Despite the enormous loss mum experienced, in recent years, she continued to make new friends while connecting with old. She was loved and supported by the "willow girls", her friends at the pool and in yoga class at the YMCA and her weekly hairdressing ladies.
Mum leaves behind her four daughters, Debra (Gary) Samek, Edmonton, Angela (Glenn) Gouthro, Sydney, Marion, Sydney, and Kate (Richard) Hines, Calgary; nine grandchildren, Gavin, Fiona, Nicola (Riley), Brendan (Hannah), Sarah, Marc, Lauren, Cole and Ben; brothers, Chuck, Allan, Joe, Patrick 'Kippy' and sister, Arlene and their families.
Besides her parents, Connie was predeceased by her siblings, Lorne, Edward, Marion, Lennie, and Ann.
We would like to extend a special thank you to Dr. Dana Farina, Dr. Saliba, Rhonda MacNeil, Dr. Gala-Lopez, the VON nurses and the nursing staff in the ER and palliative care units at the Cape Breton Regional for their compassionate care and helping us navigate this difficult journey.
As a family, we have been touched by the kindness of people we met along her journey along with calls and messages of support.
In lieu of flowers, donations in memory of Connie may be made to the MS Society or charity of your choice.
There will be no visitation for the late Connie Pittman. A Memorial Mass will be celebrated on Saturday, April 2, 2022, at 10 a.m. in Holy Redeemer Church, Whitney Pier with Fr. Paul Murphy officiating. Interment will be in Resurrection Cemetery, Sydney Forks.
Covid protocols will be practiced at the service and for those unable to attend, Live Streaming will be available on our website.
Click Here:  http://Face Book at Holy Redeemer
Funeral arrangements are entrusted to the care and direction of Pier Community Funeral Home.

Online Condolences
so sorry for your loss…Connie had such an infectious laugh and smile. She had a way of making a person feel great if they were having a bad day.. May all your fond memories help you, the family, through this difficult time.. Another ANGEL from Broadway..
From:  Kevin Primmer/Gen Fogarty
So sorry for your mum's passing I remember your family well RIP Connie may you fly high with all the angels Image removed by sender. 😇
From:  Crystal March
Debra, Angela, Kate, Marion & Family
I'm sorry for the tremendous loss you're experiencing. Every time I saw Connie in recent years, usually at the theatre, I would speak with her.
My sincere condolences on the passing of your Mom, Grandmother, Sister. May the memories you cherish get you through this difficult time.
From:  Susan Burke
My deepest sympathy to the Pitman family on the passing of Connie. God bless.
From:  Paul Douglas Carrigan
Thinking of you all at this very difficult time. Mrs. Pittman was a wonderful person and I loved spending time at the Pittman house while growing up. I am glad that I had the pleasure of knowing her. Sending hugs and love to the entire family.
From:  Christine Boutilier
Connie was such a caring person to family and friends. She will be missed by so many. Wishing the family the best in this sad time.
From:  Gen Fogarty/Kevin Primmer
So sorry to hear of Connie's passing. She was such a sweet lady! Scott, Beth, allyson and stephen macneil
From:  Beth MacNeil
I was so saddened to learn of Connie's passing. I spoke with her several months ago and
I promised I would visit soon; a promise, I'm sorry to say, I did not keep. Connie meant so much to me as did Terry. I'm thinking of them both today as I will for many days to come. She's with her eternal love now. Please know I'll remember so fondly as a kind, witty & intelligent lady. She was always gracious and warm loving. Be proud of all she meant to so many!! Please accept my heart felt condolences.
From:  Bernadette MacNeil
My deepest condolences to all of you.
From:  Shirley (Crane) Gardiner
I am saddened to learn the passing of this beautiful lady you call mom. I've known Mrs. Pittman for the last 17 years working at Sobeys Sydney River when she would come shop weekly. She was always pleasant & spoke highly of her girls, grand children & her trips to Spain. I will miss her dearly. My Heartfelt Condolences, Thoughts & Prayers to you all.
From:  Dorothy (Yorke) McKenzie
So sorry to hear of the loss of our wonderfully friendly and funny neighbour…always enjoyed our chats on the road …
From:  Scott Phillips and Meg Sargent ( Briarwood Dr)
On behalf of the MacArthur Family, Coxheath, we send our deepest condolences to Connie's family.
From:  James and Micki MacArthur and Family