Port Morien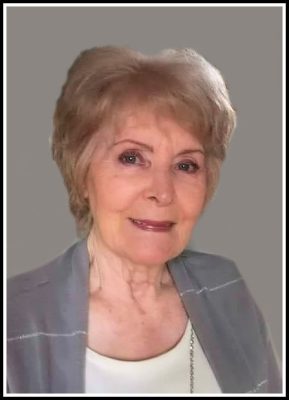 It is with deepest sorrow we announce the passing of our beautiful mother, Ruby Catherine (Lutz) Paruch, on Sunday, March 27, 2022, at the Cape Breton Regional Hospital, Pallative Care, Sydney. Mom was 89.
Ruby is survived by her sons, Joe (Cindy), Alton, Illinois, David (Sheryl), Port Morien, Butch Morrison (Morag), Sydney Forks; daughter, Cathy Macleod (Troy), Leduc, AB; grandchildren, Mickey, Brian (Randee), Tyla Bourbon, Candice Morrison (Fred), Shannon Morrison (Scott), Julia Baechle (Jake), and Josie; great-grandchildren, Harper, Harlyn, Maxon, William, Annie, Nikita, Dominic, Gabriel, Logan, Isabella and Nikole.
Born October 17, 1932, in Clarion, Pennsylvania to the late James and Alice (Carson) Lutz. Mom was the last surviving member of her immediate family. She was predeceased by her husband, Teddy; daughters, Sandy, Debbie and Diane; siblings, Arthur, Harry, Marie, Clara, Lacetta, Helen and Betty and two sisters in infancy.
Ruby has been reunited in Heaven with Teddy, her husband of 62 years, and her family.
Cremation has taken place. As per our mother's wishes, there will be no visitation. A graveside service will take place at a later date for interment of Mom and Dad at their final resting place, next to their daughters, at Resurrection Cemetery, Sydney Forks.
Click Here:  https://www.facebook.com/Live-Stream-Funeral-Page-Cape-Breton-102548274792611/
If so desired, a donation to your local food bank, in memory of our mother, would be appreciated.
Mom was an incredible woman, a dedicated and loyal wife, an amazing mother and grandmother. She was the heart and soul of our family. She lived a long, full, adventurous life. In her words, "I could write a book!"
Tucked amongst her personal things, we found a note from Mom to her family, with the following poem attached. It was just like her to find a way to comfort us after she was gone. We love you, Mom.
TO THOSE I LOVE AND THOSE WHO LOVED ME
When I am gone, release me, let me go…
I have so many things to see and do,
You mustn't tie yourself to me with tears.
Be happy that we have had these precious years.
I gave you my love, you can only guess
How much you gave me in happiness.
I thank you for the love you each have shown,
But now its time I travelled on alone.
So grieve awhile for me, if grieve you must,
Then let your grief be comforted by trust.
It's only for a while that we must part,
So bless the memories within your heart.
I won't be far away, for life goes on;
So if you need me, call and I will come.
Though you can't see or touch me, I'll be near;
If you listen with your heart, you will hear,
All my love around you soft and clear.
And then, when you must come this way alone,
I'll greet you with a smile and say
'Welcome Home'
Funeral arrangements are entrusted to the care and direction of Pier Community Funeral Home.

Online Condolences
Dear Cathy and families, we send our condolences on the loss of your beautiful Mother. Such a lovely tribute. Hugs Image removed by sender. 🤗Image removed by sender. ❤
From:  Susanne Morrison
I'd like to send my deepest condolences. My mom considered Ruby to be one of her best friends. They worked together for many years at what was the Holiday Inn located in Sydney. I enjoyed hearing the often humorous stories of their experiences working there together.They continued to be very close friends long after retiring from the Holiday Inn. Ruby was a caring and loving person who will be greatly missed by my mother and by anyone who had the privilege of knowing her.
From:  John Mckay
We are so sorry to hear about the passing of Ruby. My mom, Yvonne McKay, worked with Ruby at the Holiday Inn and became dear friends. My mom called her "one of my best friends". My mom has so many wonderful memories and shared so many laughs, fun times and get togethers at each other's places… always lots of great food!
We will miss her and thank her for the joy she spread and we will remember her beautiful spirit.
Thinking of all of the family.
Darlene and Yvonne McKay
From:  Darlene McKay