Sydney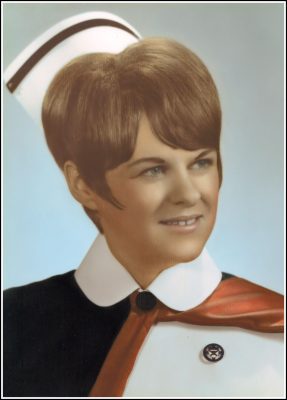 With her family unprepared for a world without her, Eleanor McVicar died on Sunday, March 27, 2022, after a brief but fierce battle with cancer.
The two people who called her Mom – Ian (Anita) and Todd (Jane) – know with certainty that they grew up with the best mother to ever grace the earth. Her five grandsons, Kyle (Courtney), Colin (Siobhan), Sean, Cameron, and Breton, called her Nannie, as did the five great-grandchildren, two of them gave her – Carly, Payton, Georgia, Carson and…of course…Little Eleanor. (The joy she felt at having a granddaughter named after her was unmatched.) They knew a grandmother who was loving, mischievous, and ready-to-spoil. Everyone else who was blessed to know her called her Midge, and they knew a woman with a quick wit and an irreverent sense of humour.
Like so many women of her generation, Midge was underestimated. A woman so tiny in stature it earned her the nickname Midge, she was born the daughter of a New Waterford coal miner – a life defined by challenges and difficulties that can only be understood by other coal-mining families. Before the age of twenty, she had assumed the role that was the presumed destiny for so many women of her time, that of wife and mother. Midge, however, was more than that…so much more. There ran within her a core of steel few would have suspected…a core of steel that was tempered by a capacity for compassion rarely seen anymore.
Following the birth of her sons, she returned to her studies and balanced her commitment to family with a strong desire to prove herself. She knew herself well enough to know that her biggest asset was her heart, and her greatest skill was her capacity for caring. Becoming a nurse while mothering her young sons required a level of dedication and sacrifice few can command. Strong women come from strong women and Midge's mother, wanting more for Midge than she had herself, stepped in to care for Midge's babies while she studied. By day she attended school and by night she cared for her family often studying into the wee hours for success she craved. Her hard work paid off and she graduated with the top prize for bedside manner. Following her studies, Midge supported her family working as a nurse at St. Rita's Hospital and then at the Cape Breton Regional Hospital until a severe injury forced her into retirement. On 4C at the Regional, Midge was known as the woman to call when an IV insertion was hard to get.
Following her retirement, Midge settled into the life she had worked so hard to build. For many years, she spent a month in Florida just to forget that winter was not her favourite season. She also wanted her boys to know the wonders of Disney Land. Dougie, Midge, Ian, and Todd created many wonderful memories there. Midge also loved a good road trip. She and Dougie logged thousands of miles in the antique Buick. After Dougie's passing, she made both Todd and Ian maintain the tradition, with a new tradition of stopping at the Bayside for poutine. But, only after a somewhat failed, but gleeful, attempt to pilot the Buick herself. For Midge, there was nothing like eating out…she loved a meal she didn't have to cook. She also spent much of her retirement trying to convince her husband to watch scary movies with her…a guilty pleasure that always needed a watching buddy to minimize the fright factor.
In many ways, Midge was a bundle of contradictions, she was a homebody who loved adventures. Her mother was her partner in crime for many years. Weekends and summers spent at the family cottage were filled with love, laughter, and swear-words. Midge once said, "if the walls of that cottage could talk, I would have to burn it down". She was a kind and gentle woman who, when provoked, could swear like a sailor. Cathy Matlock – her other partner in crime – can attest to that. Midge was small but mighty; tough but gentle; and confident but self conscious. In some ways, it was these contradictions that made her so amazing to know…so amazing to spend time with.
Midge also excelled at creating. She created memories that will see her family though their unspeakable loss. Ask Ian about "having tea with the Queen" – a nightly ritual of more than 10 years in which he and his mother would wrap up each day with a cup of tea, a good conversation, and more than a few laughs. Or chat with Colin about his weekly (sometimes daily) lunch and laughs with his grandmother. Midge's hands were never still, and she was a regular at the Wednesday night knitting class at Moraffs where she made stockings and socks for the people she loved. And…if you were lucky enough to be within her orbit, she constructed more good times than what should be legal.
No stranger to loss, Midge was pre-deceased by her husband, Doug McVicar; parents, Anthony and Mary Matlock; brothers, Tony, Francis and sister, Sheila. Left to find their way in a world without her are her sons – Ian, accomplished business owner and Todd, who serves his country in the Canadian Navy. She is also survived by her brother, John; five grandchildren; five great-grandchildren; her remaining partner in crime, Cathy Matlock; many nieces and nephews; and her darling fur-baby Lily.
Midge liked swear words that rhymed, sugary treats, and a good western. She loved her boys and the grandchildren and great-grandchildren they gave her. And, she was utterly devoted to her dog, Lily. She leaves a large space no amount of time will fill. She rests now, held forever in the hearts of the people who loved her. At a time we need it the most, she leaves us with the extraordinary beauty of her simple human heart.
There will be no visitation. Memorial service to celebrate the life of Midge McVicar will be held at Pier Community Funeral Home, 1092 Victoria Rd. (entrance on Church St.), Whitney Pier on Thursday, March 31, 2022, at 11 a.m. with Rev. Sheldon Chant officiating. Interment will take place in St. Michael's Cemetery, Scotchtown.
Donations in memory of Midge may be made to the Hospice Palliative Care Society of Cape Breton.
Funeral arrangements are entrusted to the care and direction of Pier Community Funeral Home.

Online Condolences
So sorry to hear of the passing of Midge. We of course knew her best during our Kinsmen/Kinettes days. So many good memories. Please accept our sincere condolences.
From:  Bill & Millie Roberts