Sydney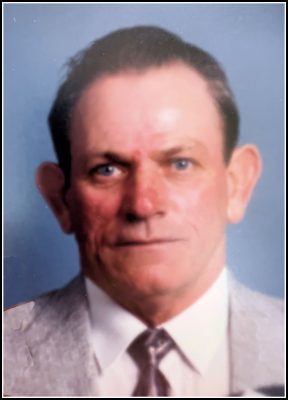 Billy MacKinnon, age 86, passed away peacefully, surrounded by his family and close friends on Saturday, March 19, 2022, at the Cape Breton Regional Hospital, Sydney.
Born on October 26, 1935, in New Victoria, Billy was the son of the late Joseph and Lily (Cunliffe) MacKinnon.
After moving to Sydney, Billy worked at Levatte Construction for over 40 years as a heavy equipment operator.
Billy is survived by the love of his life, his wife, Eileen (Whiffen) MacKinnon; brothers, Jack and Peter (Terry); sisters, Annie Mae and Melinda; special grandniece, Amanda MacLeod; special grandnephew, Trevor MacKinnon; as well as his large extended family and many friends.
Besides his parents, Billy was predeceased by brothers, Danny, Philip, Michael and little Philip; sisters, Mary, Sabina, Margaret and Evelyn.
Visitation and memorial service to celebrate the life of Billy MacKinnon will be held at Pier Community Funeral Home, 1092 Victoria Rd. (entrance on Church St.), Whitney Pier on Wednesday, March 23, 2022. A gathering of family and friends will take place from 1 to 2 p.m. with the memorial service to follow at 2 p.m. in the All Faith Chapel with Rev. Sheldon Chant officiating. Interment will take place in Resurrection Cemetery, Sydney Forks at a later date.
Donations in memory of Billy may be made to a charity of one's choice.
Funeral arrangements are entrusted to the care and direction of Pier Community Funeral Home.

Online Condolences
My very deepest Sympathy to the MacKinnon Family for the loss of a wonderful, kind and gentle person in Billy.
From:  Johnena hall
We are so sorry to learn of Billy's passing. We first met Billy at Glenview Campground and he became an instant friend. He was always there to lend a helping hand and was first to ask you to join him on a fishing trip to the causeway. May he rest in peace and God bless his family.
From:  Sandy and Cathy Gillard
So sorry to hear of Billy's passing, sending heartfelt condolences to Eileen and family.
Billy and Eileen were good friends and neighbours with my parents Howie and Dorothy Hoban.
From:  Gail Hoar ( Hoban)
Peter and family sorry to hear of your brother passing
From:  Gerald and Karen Pino
So sorry to hear of Billy's passing. My wife and I met Billy and Ileane on our first trip to the campground. They were such kind and friendly people. Will miss Billy and all his jokes and stories. Our deepest condolences and prayers are with your family at this time of sorrow.
From:  Greg and Colleen Sampson
So sorry to hear the news about Uncle Billy I moved 2 Ontario 32 years ago and lost contact with the family but no luck finding contacts haven't been home since then I remember he loved going to Ontario to see the Toronto Maple Leafs play their hockey game when I lived with Uncle Billy I lived with my grandmother Lillian and Uncle Billy and my aunt Annie Mae and Melinda and little Phillip my girlfriend on Facebook message me tonight about this sadly news I am so sorry to hear this I was surely McKinnon I was surely McKinnon/ Williams now I am married I go by Shirley Christie rest in peace Uncle Bill Eileen I will leave my phone number with the funeral home so we can connect I miss the family so much and I had no phone numbers to get in contact with anybody so I hope everything goes well and I hope you keep well and my thoughts are with you love Shirley
From:  Shirley McKinnon/ Christy
I'm so sorry to learn of Billy's passing today. He was a really nice man who warmly welcomed us to the neighbourhood 20 + years ago. He also brought us some fish he caught. Kindness is never forgotten. God Bless .
From:  Judy Hynes