Ross Ferry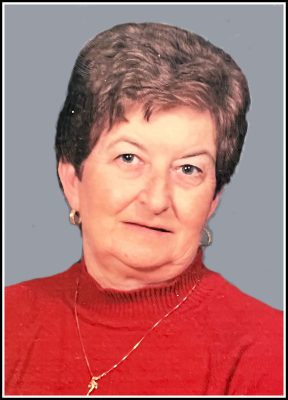 It is with great sorrow we, the family, regret to announce the passing of our dear mother, Marguerite Amelia (MacKenzie) MacAskill of Ross Ferry on Wednesday, March 30, 2022 at Northside General Hospital, North Sydney, after a brief illness.
Born on December 17, 1943, Marguerite was the daughter of the late Hector and Arabel (MacFarlane) MacKenzie.
Marguerite was predeceased by her husband, George and a twin brother at birth.
Marguerite is survived by daughter, Jennifer (Sheldon) Daisley and son, Alan (Glenda) MacAskill.
Marguerite was a registered nurse and spent most of her career at the City of Sydney Hospital. She retired from the Cape Breton Regional Hospital Intensive Care Unit in 2004. Marguerite was an elder at Drummond United Church and was involved in community activities over the years. She was an avid reader and enjoyed handcrafts such as knitting, crocheting, and rug hooking. She loved Sunday drives, dinners with family and friends and to travel. She enjoyed conversation and being among people and always welcomed everyone into our home.
Memorial service for the late Marguerite MacAskill will be held on Saturday, April 9, 2022, at Knox Presbyterian Church, 10130 Kempt Head Road, Ross Ferry at 2 p.m. A reception will follow the service in the church basement. It is requested that those attending please wear a mask. Interment will be in Drummond Memorial Cemetery at a later date.
Memorial donations in memory of Marguerite may be made to Drummond Memorial Cemetery Fund, Children's Wish Foundation or charity one's choice.
Funeral arrangements are entrusted to the care and direction of Pier Community Funeral Home.

Online Condolences
So sorry for your loss. I worked with your mom in the 1970's on Fourth Floor at the City. I graduated from the City in 1972 then moved to Halifax in 1979. A lot of good times and special bonds.
From:  Gloria MacDonald, Cape North
My sincere condolences to Jennifer, Sheldon, Alan and Glenda and all the family.
Marguerite and I were class mates at Baddeck Rural High in grade 9 and later became a sister in law through marriage. My thoughts and prayers go out to the family during this difficult time.
From:  Roderick MacDonald
So sorry to hear about the loss of your Mom. Thoughts and prayers to you and your family.
From:  Michelle (Phillips) MacLean
Condolences on the passing of your Mom, We worked together in ICU at the city hospital, a great nurse,& lots of fun. I have some of her doilies she crocheted, so would think of her often. Janice ( Isenor) Macinnis.
From:  Janice Macinnis
So sorry for your loss..worked with your Mom in ICU at both the City Hospital & CBRH…a few lobster suppers at your home with our crew …
From:  Kay Mac Donald
Thoughts and prayers to Marguerite's Family. RIP Marguerite. She was a great nurse and an awesome person to work with. Lots of great memories working side by side at the City Hospital and lots of laughs to lighten our busy shifts. Gone but not forgotten!
From:  Janet DeYoung
Worked with Marguerite for many years back at the City Hospital , my condolences to her family . Lovely lady and wonderful nurse .
From:  Linda MacLeod
Our sincere thoughts are with You today. Your Mom was a special Nurse and Friend.
From:  Sue & Tom Mac Rae