Sydney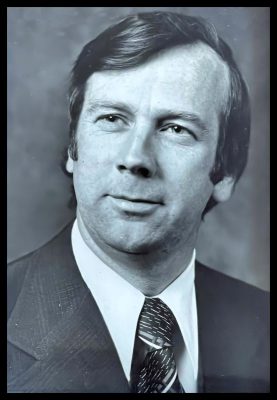 They say that an obituary is a letter to the loved ones left behind. And for Howard Kenny, he had no shortage of those who loved him. On Thursday, March 10, 2022, Howard passed away surrounded by family, warm in his bed and held by his loving wife. He was and will always be immeasurably treasured.
In his final days, his home was a revolving door of visitors – friends and family coming together to make just one more memory to hold on to. And even after a week filled with laughter and tears, Irish songs, and comforting stories, we have all found ourselves praying for just 'one more.'
But despite what we may wish, we take comfort in knowing we have a lifetime of memories to cherish, and that heaven became a little brighter today. Affectionately called Howie by those who loved him, we will remember him for his witty and sharp humour, his gentle nature and endearing stubbornness. How he took care of his family with warm words and ample encouragement. His family knew that they could always count on him to be found on the sidelines, in the stands, or wherever they needed him to be in their times of need.
Born in Halifax to Katherine (MacDonald) Kenny, he later moved to North Sydney where he began to build his life in a way that speaks to who he was as an individual. From his time coaching little league and minor hockey to being a salesman with Canada Packers and Hub Meat Packers – he was a hardworking man who encouraged his children to live with the same values and passion he demonstrated every day of his long and full life.
Through his guidance and support, Howard was an integral part of establishing a locally owned and operated family business – Kenny's Pizza – which was a great source of pride for him.
As a long-standing member of the Seaview Golf Course, a life-long fan of the Toronto Maple Leafs and the St. Louis Cardinals, Howard was an avid sports enthusiast. If there was a statistic to be known, he knew it.
Above all, Howard was a strong, kind, loving and supportive father, husband, brother, grandfather, and friend. We will all miss him more than words can say.
Howard will be forever cherished in the hearts of: his devoted wife, Catherine (Sis) MacGillivary; daughter, Lorraine (Brian) Harris; sons, John (Elaine), Donald, and Michael (Shelly); grandchildren, Shantel (Nathan), Caitlin (Mariko), Josh (Robyn), Jenna (Kendall), Janelle (Ryan), Jordan (Meaghan), Aaron, and Megan (Johnny); sisters, Maureen (Jim) Doyle, and Dorothy (Albert) Sumarah; sisters-in-law, Mona MacDonald, Colleen (John) Dezagiacomo, and Elaine (Roddie, deceased) MacGillivary; brother-in-law, Elio Ianetti and daughters-in-law, Karen and Shannon.
Besides his mother, Howard was predeceased by his brothers, Donald, Lawrence and sisters, Lorraine and Mary.
Memorial Mass will be celebrated at St. Theresa's Catholic Church, 381 Whitney Avenue, Sydney, at 11a.m. on Monday, March 14, 2022, with Father Dennis Lamey officiating.  Interment will take place in Resurrection Cemetery, Sydney Forks, at later date.
We are grateful to Dr. Siva Thanamayooran, Dr. Glen Worth, and the VON and Palliative Care Nurses and Doctors. A heartfelt thank you to Howard's granddaughter, Jenna McNeil, who provided compassionate care to ensure his final days were both comfortable and peaceful.
Memorial donations in memory of Howard may be made to the Canadian Cancer Society or the VON.
In true Howie fashion, today it's fitting that we end by saying, "Okay, say goodbye."
Funeral arrangements are entrusted to the care and direction of Pier Community Funeral Home.

Online Condolences
To Catherine and Family. Sincere Condolences. Our thoughts and prayers are with you at this most difficult time .
From:  Sandy and Agnes Scott
Catherine & Family
Sorry to hear of Howard passing Will keep Him & the Family in my Prayers May God Bless all of you
From:  Ada Hagen
So sorry for your loss.
From:  Phyllis Adams
Our heartfelt condolences to Sis and all the family…I met Howie and Sis early on in my sales career and instantly knew they were an awesome couple…always so friendly and genuine…many years later if we met … always a smile and a chat…always a gentleman…Howie will be missed by so many…..rest in peace….
AnnMarie & Phillip Gibbons, Mira…
From:  AnnMarie Gibbons
Oh Sis! So very sorry to hear of Howie's passing. My heart hurts. My sincere condolences to you and your entire family. Hugs to you – I know your pain.
From:  Brenda Philpott
Sis and Family: Our prayers and thoughts are with you at this very difficult time. We have wonderful memories of Howie over the years. He was a very special person
From:  Frank & Carlotta BINNS
Jenna. And. Family. Our. Thoughts. And. Prayers. Are with. You. At. This. Difficult. Time. Cherish. Your. Memories. He is at peace. Now. One day you. Will. See. Him. Again. Take. Care. Of. Your. Mom. She. Will need you. My. Condolences. To all. The. Family. RIP. Howard
From:  Anne. Marie. Desveaux
SO VERY sorry to hear of Howies passing.A TRUE GENTLEMAN.REST IN PEACE,SIR!
From:  Joan C Macintosh
To Mike, Shelly and your family. We are so sorry to hear of your father's passing. What a wonderfully full life he lived. We send our deepest condolences. Coleen and Allen
From:  Coleen Moore-Hayes
I knew Howie back when he lived on Kytes Hill. Howie and I coached and managed the very first Grand Lake Road Expos Little League team He did all the driving around as I was only 16. I remember him as a kind person to all and fun guy to know.
My condolences to Howie's family.
From:  Rick MacDonald
So sorry for your loss May God bless you all … Howie was one of a kind always made you laugh!
From:  Eileen and Allan Clarke
Howard was a personality plus person, always had time to chat and was a very witty person . Loved chatting with him and Sis at Tim's or casino . He will be missed . He is in God's hands now . R.I.P. My friend
From:  Wayne Nichols
Catherine and family. So very sorry to hear of Howie's passing Our love,thoughts and prayers are with you and yours during this sad and difficult time. God bless
From:  Walter and Shirley Wojick
So sorry for your loss. Howie was a gentleman and will be missed.
From:  Tom Bond
My deepest condolences Sis & family on Howie's passing. I remember well our working days at Canada Packers. Forever in your hearts!
From:  Maureen Lynch
Dear Mike and Shelly….our deepest sympathies to you and your family. Hope all your memories of your Dad will help you during this very difficult time.
From:  Don and Joyce
Very sad to hear of Howie's passing.
To All of you….. my heartfelt condolences.
So many great memories of Howie and fabulous family times; crazy conversations, laughter, food and the occasional cocktail.
May you all find comfort in your memories, now and always.
From:  Lisa LeDrew
I am sorry to hear that Howie passed away. Howie coached me in Little League with the Athletics in the Pier in 1963 and we have been friends since. I saw him many times in the Northend while doing my walking tours and we always had time to chat. Howie was a respected man and always had a smile. My sincere condolences to Sister and the family. Rest in Peace Howie.
From:  Jay Duguid
Sis, our deepest sympathy to you and your family. We will always remember the happy, fun times we spent with Howie. Our love to you all…
From:  Gordon and Sally Matheson