Sydney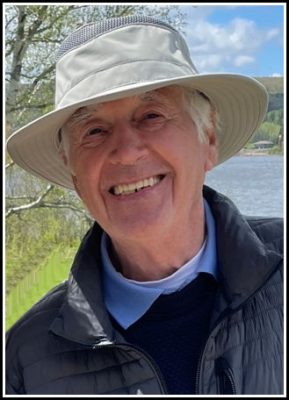 Early on Monday, March 21, 2022, the world lost an incredible husband, brother, father, uncle, grandfather, great-grandfather, mentor, and friend.
John Kennedy was born on September 2, 1938, in New Waterford to the late Neil and Sadie (MacNeil) Kennedy, the third of nine siblings. With his charm, curly dark hair and dance moves, John was fighting off ladies left, right and centre until the 1950's when he met the love of his life, Sondra, and it was game over. John and Sonnie built a beautiful and fulfilling life together on Borden Street in Whitney Pier and raised four children. She was always by his side, his best friend and his biggest supporter.
A charismatic, kind and hard-working man, John had time for everyone he met no matter what walk of life they came from or how they crossed paths. He remembered everyone. Those who had the pleasure of knowing him would all say the same thing, he was one of the best storytellers on the Island. His stories were riddled with the knowledge he gained from the many hats he wore in our community, from coal miner and salesman to deputy mayor, entrepreneur and teacher.
John's barber shop in the Pier changed its location a couple times, but the comfort and inclusiveness he provided never wavered. It wasn't just a "chop," it was an experience. People came to John for the safe space he fostered or sometimes just for a good laugh. His family loves hearing the endless stories of how John encouraged and supported people of all age.
For many years John's devilish smile and twinkling blue eyes was a sight to see as he welcomed you with open arms onto his many boats, but his most beloved was the "Just Johnny" named in memory of his late grandson. He thrived with his family and friends out on the water and was eager to take newcomers out for a rip, always letting them take over the wheel to captain the boat. If you were lucky, you might have been dragged to a dance floor by John and taught his favorite move, "the freeze".
John also loved hockey, playing it, watching it, and coaching it. His enthusiasm, grit and underdog mentality guided his children and grandchildren through their own hockey experiences. As a die-hard leaf's fan, he got animated watching them to say the least.
The Kennedy family had John and Sonnie out for cards weekly but were always on the lookout for his slight of hand. He would say his mother taught him and she was the only one to blame. John taught his grandchildren and great-grandchildren to play as well, upping the ante with pennies or the promise of treats from the store, but usually let them win anyway.
John preached and portrayed loyalty, perseverance, and gratefulness every single day. He lived life to the fullest and would drop anything for those he loved, and even for those he didn't but knew needed him.
John will be forever cherished by his devoted wife, Sondra, who he affectionately referred to as 'Red'; sons, Vince (Ann Marie) Kennedy, David (Cathy) Kennedy, Derek (Ellie) Kennedy, and daughter, Carol Kennedy Rizzetto; grandchildren, Kyle, Jenna, Liz, Cammy, Manda, Breton, Kendra, Ashley, Jordan, and Maria, Tony, Gianni, and Sophia (father, Joe Rizzetto); great-grandchildren, Hayden, Nolan, Alivia, Emma, Mia, Riley, Hannah May, Lucius, Cole, Myla and Luna; brothers, Alex (Dolores), Paul (Pam), Steve (Liz), Archie and Joe; sisters, Helen, Dolores, and sister-in-law, Pricilla.
Besides his parents, John was predeceased by brother, Neil (Deet's); grandson, Johnny Kennedy; granddaughter, Sondra Rizzetto, and son-in-law, Gilbert Oravcez.
John's family would like to thank Dr. Myatt and Janice for a lifetime of care alongside the doctors and nurses in palliative care and on 3B for their attentiveness and compassion over the last couple weeks. We would also like to thank all our family and friends for their continuous support and thoughtful gestures.
It is requested that donations to the Children's Wish Foundation be made in memory of John, in lieu of flowers.
Visitation for the late John Kennedy will be held at the Pier Community Funeral Home, Whitney Pier, 1092 Victoria Rd. (entrance on Church Street) from 4-7 p.m. on Friday, March 25, 2022. A celebration of John's life will be held in the funeral home in the All Faith Chapel on Saturday, March 26, 2022, at 2 p.m. with Fr. Paul Murphy officiating. Interment will take place St. Alphonsus Cemetery, Victoria Mines.
Covid protocols will be practiced at the service and for those unable to attend, Live Streaming will be available on our website.
Click Here:  https://www.facebook.com/35925689617/live/
Funeral arrangements are entrusted to the care and direction of Pier Community Funeral Home.

Online Condolences
All my love goes out to my family during this time of loss. Wish I could be there with you all. Love, Aunt Rona
Sondra, Vince, David, Carol, Derek & Family,
Please accept my heartfelt condolences on the loss of John. To know John was to love him and we all loved him immeasurably. I was happy I was able to spend some time with him last year when I was home. I will hold those memories and my heart forever. My thoughts are with you at this difficult time. XOXO
From:  Sharon MacPherson-Nemeth & Family
Carol, Maria, Tony, Gianni and Sofia:
We are so sorry for the loss of your Dad/grandfather. We hear lots of great stories of how kind and humorous he was. We are thinking of you all!
From:  Howard and Kim Lake and family
Carol and family, I am so sorry to read of the passing of your dear dad. Please accept our condolences at this very difficult time. I hope that your wonderful memories will bring you some peace and comfort.
From:  Dave & Cathy MacNeil
Our most sincere sympathy to Sondra and the entire family. Our thoughts are with you all during this difficult time.
From:  Andrew and Cathy Fraser
Our thoughts and prayers are with the family on their loss of John.
From:  Nick & June Usher
Sonnie and family: My condolences to you and all your beautiful family on the loss of John! You are in my thoughts and prayers at this most difficult time! RIP John Image removed by sender. 🙏Image removed by sender. 🙏Image removed by sender. ❤
From:  Bonnie NacNeil
Carol and family …So sorry to hear this news. I remember your father's smiling face every time I went into Kennedys Dairy , in the Pier , he was always so pleasant. Lovely man . He will be sadly missed ! Condolences to all the family.
From:  Lori Rudderham
Carol & Family,
So sorry to read of the passing of your father. Your Dad was a great man and the write up is a beautiful tribute to his life and how he lived life. May the wonderful memories help to ease your sorrow. Our deepest condolences to you Carol, your Mom and all of your family.
Sincerely, Donnie & Ellen Bacich
Condolences to Johnny's Family .
He was a Good Man and served Family and this community well .
He will be missed.
From:  Hugh Fraser
Condolences to Johnny's family. He was a very positive and respected man in the community. He left a lot of great memories to be remembered by for sure. R.I.P. Johnny.
From:  Fogarty/Primmer families
To Sonnie & Family:
Saddened to hear of John's passing. Sending our most heartfelt condolences to you and your family.
Love and Prayers,
Sally and John
Sally Maclean
My deepest condolences to the Kennedy family , i had the pleasure of meeting John many moons ago . A fine gentleman he will be dearly missed.
From:  Paul OToole
Dear Sonya and family-Gary and I were very sad to hear of John's passing. Our thoughts and prayers are with you at this painful time.
From:  Gary and Elaine Evely
Sincere condolences Carol and all your family. RIP John.
From:  Janet DeYoung
Our hearts, prayers and hugs go out to Johnny's family. He will be forever missed.
From:  Eleanor Gillis
Sondra & Family,
I am so sorry to hear about John's passing. I will always remember as a young lad his positive words of encouragement whether it was in the Whitney Pier Rink or his barber chair. He was a great man. My thoughts and prayers are with you and your family.
From:  Francis Reppa
From my family to yours we send our deepest sympathies for the loss of your father. We are wishing you all peace and comfort during this time.
From:  Paul Fernandes
So sorry to hear of your loss. Our thoughts and prayers are with you during this difficult time. Sincere condolences.
From:  Linda & Dave
Condolences to the Kennedy family. John coached me in hockey and cut my hair until I left Sydney. John was one of the good ones and will be missed
From:  Joe Collins
Carol, Sondra and families;
It was sad to hear about John's passing. My condolences. He was a true gentleman and when you talked with him he was always engaged and affirming.
I hope the great memories and good times will help ease your grief as you remember him. Take care.
Greg Boone
New Victoria