Sydney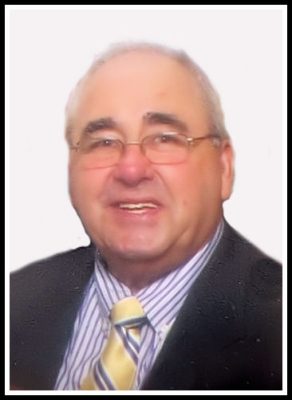 It is with great sadness that the Marsh family announce the passing of Frank Stephen Marsh at age 82 on Saturday, February 12, 2022, in the Palliative Care Unit of the Cape Breton Regional Hospital, Sydney.
Born November 5, 1939, in Sydney, Frank was the son of the late Louis and Beatrice Marsh.
Besides his parents, Frank was predeceased by brother, Louis Marsh and sister, Edie Snow.
Frank is survived by his wife of 61 years, Rose (Doucet) Marsh; brother, Fred Marsh (Ann); sons, Darren (Carolyn), Kerry (Alison), and Todd; grandchildren, Stephen, Aidan and Claire; great-granddaughter, Sawyer; as well as several nieces & nephews with special mention to Lori Ann (Doucet) MacLean and Tressa MacLeod.
Frank grew up on MacKenzie Street, just off Townsend Street and he often spoke fondly of his times hanging around Kay's and being a rink rat at the old Sydney Forum. He was an avid sportsman that loved hockey, baseball, and harness racing.
Frank spent the majority of his career working for the Cape Breton County School Board. In retirement, he started a business with a couple of friends, the Leisure Gardens Bingo Hall and its success was a source of great pride.
The Marsh family would like to extend a special thank you to Dr. Myatt (and staff Janice and Laura), staff at Palliative Care at Cape Breton Regional Hospital, and VON.
There will be no visitation or service at this time, for the late Frank Marsh but a memorial service will be held at a later date.
Donations in memory of Frank may be the Palliative Care Unit of CBRH or the Cape Breton SPCA.
Funeral arrangements are entrusted to the care and direction of Pier Community Funeral Home.

Online Condolences
Rose, so sorry to hear of Frank's passing. My thoughts and prayers are with you and the boys at this difficult time
From:  Janice Lewis
Dear Rose:
Eunice and I would like to express our sincere condolences to you and your
family on the loss of your Dear Frank, he was a great guy and always a
gentleman, may he Rest In Peace.
From:  Eunice and Les Chiasson
My sincere sympathy Rose and family.
From:  Louise Fitzgerald
Oh! Rose ,we are so very deeply sorry to hear of Frankie's passing. Our sincere condolences go out to you and your family, from our family!!! REST in peace, dear man.
From:  Joan C Macintosh
Sooo sorry for your loss Rosie Darren Kerry Todd and family. Eileen and I are filled with great memories of Frankie. Mom and dad were especially fond of him as anyone would. Being at the bungalow at Big Pond sits high on my list of great times we had together. Rip Frankie you will be greatly missed.
From:  Eileen and Wally Forrester
Rosie and Family,
Sorry to read about Frank's passing. Our thoughts and prayers are with you and your family members.
From:  Archie and Anne Patterson
Rose and family, so sorry to hear of Franks passing, thinking of all of you, our thoughts and prayers coming your way.
From:  Jackie (Cormier), Murdock and Angie Cormier.
Dear Rose & Family:
Please accept our deepest condolences and heartfelt sympathies. Frank often walked by our house with his dog.
From:  Jim (Diamond) & Marg Johnson
Dear Rosie and Family.
Please know that others are thinking about your loss. My deepest condolences. God Bless
From:  DeeDee
Dear Rose and Family Sincere condolences on Frank's passing. A great guy and hockey dad; always had a good story.
From:  Derek and Denise Chiasson
Could you please forward our sincere sympathies and condolences to Rose and family on our( Les and Eunice Chiasson)behalf, thank you,
From:  Les Chiasson
Very sorry for your loss
From: Miranda Skrypnick