Sydney/Whitney Pier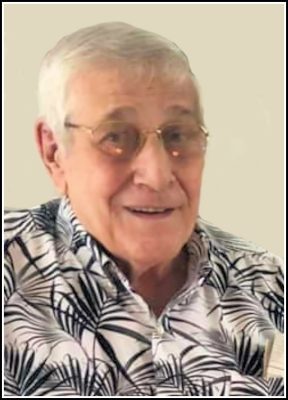 It is with great sadness that we, the family, announce the passing of Donald Albert Madore, beloved husband, father, grandfather, and friend, at his home on Thursday, February 10, 2022.
Born in Whitney Pier, Sydney, Donald was the youngest child of the late Peter and Angela (Bruno) Medora. Upon graduation from Sydney Academy in 1953 he set out for a career in business. He married his sweetheart, Jean in 1956 and established their home in Whitney Pier and later Boulderwood.
Left to mourn are his wife of over 65 years, Jean; sons, Paul (Yvonne Howell), Halifax and Dean (Debbie McDonald); grandchildren, Christopher (Amanda), Calgary, Nicholas, Halifax, and Sarah, whom he will forever cherish in his heart; sister, Gloria Davis (Roy) and brother, Eddie (Lallie).
Besides his parents, Donald was predeceased by siblings, Freddy (Sadie), Dr. Patrick, Dr. Mike (Pauline), Josephine, and Theresa 'Dolly' (Tommy MacKinnon).
Always the businessman, and never a fan of blue jeans, Don could always be found in a dress shirt and pants. His career as a businessman included his work as a sales representative with companies including Benson and Hedges, and Benjamin Moore, and Gillette, and he operated his own hardware store at one time. He also extended his business skills to his local community with involvement in the CBRM Chamber of Commerce, Board of Directors for Employment Insurance, Board of Trade and the United Commercial Travelers just to name a few.
As a proud father, Don celebrated both his son's achievements and together they enjoyed ball or street hockey in the yard, watching sports, and Monty Python episodes on TV. His personal highlight was his attendance at a New York Yankees baseball game at Yankee Stadium. Later, the grand part of being a grandparent found Don enjoying his grandchildren with eagerness.
Don was always fond of fancy cars, enjoying each of the many personal and company vehicles he drove. He pledged his loyalty to the Montreal Canadiens, a passion he passed on to both his sons. He kept his mind keen with brain teaser puzzles and his heart full of the romantic music of the Italian artists of the 1950's and 60's. His intense dislike of anything mechanical led to many frustrating, but comical moments. He enjoyed a vivid sense of colour, as reflected in their homes exterior over the years which was transferred into colourful language while completing projects around the home.
Don will be most notably remembered for his hard work and dedication to the Ukrainian Church Community. Both him and Jean gave countless hours of dedication to the Church, including the Men's club and support for fundraising activities. He was always ready with a smile, a handshake and enjoyed a good chat. Donnie enjoyed working with people, sharing a story. He loved a good conversation with a drink of Rye Whiskey and always held true to his word.
As an ardent supporter of medical science, Don's remains have been donated to the Human Body Donation Program-Department of Medical Neuroscience, Dalhousie University.
Memorial service to celebrate the life of Donald Madore will be held at Pier Community Funeral Home, 1092 Victoria Rd. (entrance on Church St.), Whitney Pier on Thursday, February 17, 2022, at 11 a.m. with Fr. Roman Dusanowskyj officiating.
Covid protocols will be practiced at the service and for those unable to attend, Live Streaming will be available on our website.
Click Here: https://www.facebook.com/35925689617/live/
In lieu of flowers, donations in memory of Donald my be made to the Ukrainian Parish, 49 West Street, Sydney, Nova Scotia, Nourish Nova Scotia – Nourishns.ca, or charity of choice.
Funeral arrangements are entrusted to the care and direction of Pier Community Funeral Home.

Online Condolences
Dean and family…our deepest sympathies to you all for the passing of your father. Our thoughts and prayers are with you at this difficult time.
From:  Sydney Family Dental Centre
Jean, Paul and Dean
Sorry to read of Donnie's passing, our thoughts and prayers are with you at this difficult time.
From:  Stanley and Estelle Reppa
Jean, Paul and Dean and families
So very sorry to hear of Don's passing. My thoughts and prayers are with all of you at this time. Memories will keep him alive in your hearts.
From:  Helen MacLeod
Our deepest condolences are extended to Jean and family on the passing of Donnie. He always took the time to greet and talk to me at times I was home and attended activities at the Ukrainian Hall. He certainly will be missed. Our prayers are with you at this sorrowful time.
From:  Joh & Sandra Hawrylak
Dear Jean and family.
I was so saddened to read of Donnie's passing. Keeping you and the family in my thoughts and prayers. Big hugs
From:  Judy Sampson
My condolences to Don's family on his passing. I volunteered with Don at the Board of Trade. Don was a gentleman and his dedication was second to none. God bless!
From:  Paul Carrigan
Our most sincere condolences to you and your family at this sad occasion. Wishing you comfort and love in the days ahead and hoping your memories will bring smiles again
From:  Leo & Darlene Baggio
Our deepest sympathy at this difficult time. We will keep you all in our thoughts and prayers.
From:  Blair and Josie Locke