Promoted to Glory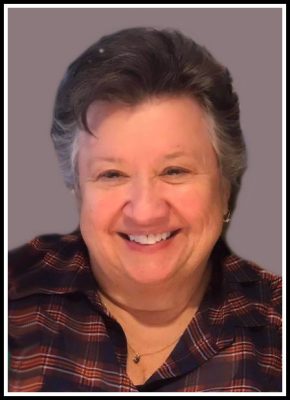 September 12, 1947 – February 20, 2022
Louisa passed away suddenly on the morning of Sunday, February 20, 2022, in the comfort of her home. Louisa, predeceased four months ago by her mother, Tena Head, is survived by her loving husband, Major Max Frampton; father, Major Bill Head; Aunt Lyda 'Sis' Hollahan; children and stepchildren, Lisa (Don) Smith, Greg (Beverley) Burton, Leslie (Steve) Wiseman, Sheldon Frampton, Michelle (Weldon) Flynn and Shannon Frampton; siblings, Lori (Dez) McCarthy, and Jim (Lorena) Head; in-laws, Theresa Frampton, Beatrice Butler, Susie (Kirby) Butler, Violet Maye, Ethel (Raymond) Butcher, Marie (Terry) Downer, Sydney (Marilyn) Frampton, Jack (Amelia) Frampton, Melvin (Irene) Frampton, and William Frampton. "Grandma" is survived by her precious and adored 15 grandchildren and nine great-grandchildren.
Louisa was born to Bill and Tena Head in Sydney. When she was 12 years old, her parents became Salvation Army officers, affording them the opportunity to live in different places. As a teenager, Louisa's family was living in Springhill. There she met and later married her first husband, Gary Burton in 1966. Gary and Louisa eventually settled in Dartmouth, where they had their 3 children. While raising her children, Louisa made her living by being a caregiver to a multitude of children over the span of two decades. "Mrs. Burton" was the well-known babysitter, giving new meaning to the role of 'Block Parent'.
Once her children were grown and married, Louisa began a new chapter in life by moving to Saint John, NB, to work with the Salvation Army Family Services. While there, she continued her legacy as a joyful servant for over a decade. In 2008, she married Major Max Frampton and moved to Mount Pearl, NL where they spent the formative years of their marriage.
Her life that began in Sydney brought her full circle back to Sydney in 2012 when Max and Louisa embraced a new chapter in life by becoming caregivers to her aging parents, serving with love until her final breath. As a devout follower of Jesus, Louisa actively and effortlessly, lived out her faith. She was known for encouraging, including, and positively impacting the lives of all who knew her. Her smile and laughter will be etched on our hearts forever. Well done, good and faithful servant!
Visitation for the late Louisa Frampton will be held at the Pier Community Funeral Home, Whitney Pier, 1092 Victoria Rd. (entrance on Church Street) on Friday, February 25, 2022, from 7-9 pm. Funeral service will be held at The Salvation Army Sydney Community Church on Saturday, February 26, 2022, at 11 a.m. with Lieutenants Dion and Jenelle Durdle officiating. Interment will take place Eastmount Cemetery, Whitney Pier, at a later date.
Covid protocols will be practiced at the service and for those unable to attend, Live Streaming will be available on the Salvation Army Facebook page.
Click Here: https://www.facebook.com/sasydneycommunitychurch/photos/gm.449261883645633/5290462364310870/
Donations in memory of Louisa may be made to a charity of one's choice.
Funeral arrangements are entrusted to the care and direction of Pier Community Funeral Home.

Online Condolences
Max and extended family members….Special thoughts and prayers in the passing of Louisa. We know her faith and witness has touched many lives. May God's Holy Spirit give you all a sense of Comfort and Peace.
From:  Fred and Lorraine Veysey, The Salvation Army, Moncton Citadel Community Church
To: Max and extended family,
Leslie, Stephen and family.
So saddened to hear of Louisa's passing. She was such a wonderful lady whose Christian influence touched many lives over the years. We were privileged to have gotten to know her during our time in Saint John, NB. She was always such a blessing and daily reflected Christ in her life.
We are praying that God will bless each of you with his peace and comfort in the coming days. Love & Prayers
From:  Stephen & Elaine Hibbs Fort McMurray, AB
Sorry for your loss to Bill Max and all the family my thoughts and prayers are with u
From:  Debbie A Edwards