Sydney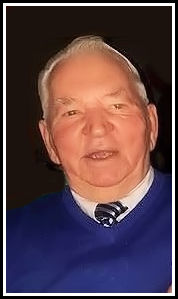 It is with broken hearts that we, the family, announce the passing of John Anthony Violande, 85, on Sunday, January 30, 2022, at the Cape Breton Regional Hospital, Sydney with his daughter by his side.
The son of the late Guiseppe and Sarafina Violande, John is survived by his loving wife of 66 years, Kay; sons, John (Trilby), Jim (Pam), and Robbie (Michele); daughters, Rose (Dave Shaheen), Debra (Robert MacPherson), and Cathy. Known as Papa, he is also survived by his 16 grandchildren, 14 great-grandchildren, and 1 great-great-grandchild, all of whom brought him tremendous joy. Also left to mourn are his brothers, Anthony, Michael, Brian, and Tommy; sister, Shirley; brother-in-law, Alphonse; sisters-in-law, Mary, Rose (Basil), and Rose Conohan. He will also be remembered by Harold Legge and Nancy LeBlanc, to whom John provided love and fatherly support.
John was predeceased by his birth parents, Salvador and Mary Degiobbi, as well as his granddaughters, Debra and Jennifer.
John was employed by CBRM Recreation department for 33 years. He was a devoted husband, father, and grandfather. Dad was loved by many, as he had a pleasant personality, a genuine interest in people, and was always thankful. He loved hunting at Little Joe's with his sons, grandsons, and hunting buddies, never missing a season in the past 72 years. John also loved the decades of annual fishing trips with his sons, grandson, and son-in-law. Most of all, John loved family gatherings and celebrations. His passing comes after a life well lived.
Visitation for the late John Violande will be held at the Pier Community Funeral Home, Whitney Pier, 1092 Victoria Rd. (entrance on Church Street), Wednesday, February 2, 2022, from 6-9 p.m. A Funeral Mass will be celebrated on Thursday, February 3, 2022, at 10 a.m. in Holy Redeemer Church, Whitney Pier with Fr. Paul Murphy officiating. Due to Covid restrictions only invited guests will be able to attend. Interment will be in New Calvary Cemetery, Whitney Pier at a later date.
Covid protocols will be practiced at the service and for those unable to attend, Live Streaming will be available on our website.
Click Here:  http://Face Book at Holy Redeemer
Donations in memory of John may be made to a charity of one's choice.
Funeral arrangements are entrusted to the care and direction of Pier Community Funeral Home.

Online Condolences
Kay & Family
So sorry to hear of John passing My thoughts & Prayers are with you all may God Bless you all
From:  Ada Hagen
Kay, Robbie, Michele and families, so sorry to hear of Johns passing, our thoughts and prayers are with you all.
From:  Murdock, Angie Cormier, Jackie, Bruce Matthews, Victoria Matthews.
Sorry for your Loss RIP
From:  Mike & Debbie Mahon, Louisbourg
Jim & Pam & Family- Our sincerest condolences to all the family. Hugs & prayers.
From:  Gwen & Joey MacLean
Kay & family so sorry to here of Johns passing, he was a fine &gentle man. He will be missed RIP John. I got Covid-19 so I can't attend, will talk to you at a later date.
From:  Elton Martin
Kay our prayer are with you and your family at this difficult time
john was a great friend I will miss him GOD BLESS
From:  Albert & Elizabeth Murphy
Dear Cathy and family, we are sorry to hear of our Dads passing, you are all in our thoughts and prayers at this time.
From:  Vanessa Pettipas
To Kay and the whole Violande family, I am so sorry to hear the sad news about John. He will be greatly missed by everyone. Always kind and gentle, John and Domenic had great talks about memories from the old days whenever they got together. My sincere condolences to you all for this big loss to your family. God Bless and may John rest in peace!
From:  Joan Camilli
Very sorry to hear of the passing of John Violande. May the memories created be present forever. Thinking of you all.
From:  Scott MacKenzie and family.
Kay, my deepest condolences, Johnny will surely be missed. God bless you and your family.
From:  Joseph Mombourquette (Joey)
I had the great pleasure of meeting you years ago and knew right then that you were a great and caring man…RIP Johnny…
From:  David Nemis
To Kay and family our sincerest condolences on John's passing. He was a very sweet, kind, and gentle man and he will be missed. Please know that our thoughts and prayers are with you all at this sad and difficult time. Linda and Myrna Ross.
From:  Linda Ross
Kay & family, I am so sorry to hear of John's passing. He was such a great neighbor and father figure when we were growing up on Lingan Rd. As we got older he always welcomed us into your home. He was always so friendly and I loved hearing the hunting stories about my father. My condolences to you all. May he rest in peace.
From:  Janet Ross
Prayers go out to the Johns family for the loss of John.
May he rest in piece.
From:  Michael Muise
My deepest condolences to Kay, John Jr., Rose, Debra, Kathy, James and Robert. My thoughts and prayers are with you all.
"Che dio la protegga Giovanni"….
From:  Anthony Magliaro
My Heart goes out to You Kaye, & Family! My Sincere Condolences & Thoughts & Prayers are with You ALL at this sad time. Glad to know John & liked to hear His stories about hunting & fishing trips. His soft voice told it all about Him. Rest in Peace Dear John!
From:  Marie MacDonald
Dear Kay and family,
So very sorry to hear about John's passing. Such a lovely man. His obituary does reflect a life well loved and well lived! Our thoughts and prayers are with you all at this difficult time.
God Bless, Allan and Julia Townsend
From:  Julia Townsend
I am so sorry to hear of John's passing. My condolences to the family.
My name is Mickey Stephenson. I lived up the street from John, across from Harold and Gerald Legge, and have many great memories of John.
One comes immediately to mind. As 13-year-old kids we used to collect scrap iron every summer – me, Silvie Magliaro and Jimmy Bacich. Jimmy started the chip wagon in Sydney and later turned it over to his brother Donnie who we all called Fuzzy, and it became Fuzzy's Chips.
John, who was always called Johnny back then in our terrific close-knit neighbourhood, was 4 years older (I'm 81). And more important, Johnny had a driver's license and a truck!
Every time our pile of scrap got big enough we loaded up Johnny's truck and he drove us over to the scales at Hashem's scrap yard, where we cashed in. He only ever charged one dollar each time, and every one of us always came away happy. Just one sweet memory of John and our wonderful Pier neighbourhood.
From:  Michael "Mickey" Stephenson